When it comes to browsing the web, what's your tool of choice? Google's Chrome browser is the world's most popular desktop internet portal, likely in part because it integrates so well with other popular Google products and there are so many useful extensions. Internet Explorer and Edge are popular with Windows users since they come preinstalled on PCs that run Microsoft's operating system, while many Mac users stick with Safari. And then there's Firefox, which was a hugely popular option until Chrome came along.
That's just the tip of the iceberg. There are actually dozens of web browsers out there, many of which you haven't even heard of. Some are better than others but by and large, a browser is a browser is a browser. They all look about the same and they all function about the same. But Opera has a bold vision for the future of web browsing, and the company just released an exciting new concept web browser that is available for download right now.
Tabs. An address bar. Buttons. Favorites. A browser window. There are variations here and there, but most browsers have the same basic look and functionality. Opera Neon is not most browsers.
In a sense, Neon is a web operating system that lives on top of either Windows or macOS. Many people spend almost all of their time on a desktop or laptop computer in the browser anyway, so it makes sense to take things in this direction. By creating an app-like interface and adding in smart features like an intelligent tab management system, a simple split-screen view and a versatile and configurable omnibox, Neon lets the user stay inside a single browser window while multitasking. There's even a feature similar to picture-in-picture that lets users pop out a video and continue watching while browsing other pages.
"Web browsers of today are basically from the last millennium, a time when the web was full of documents and pages," Opera boss Krystian Kolondra said. "With the Opera Neon project, we want show people our vision for the future of the web."
Opera says its new Neon browser won't replace the existing Opera browser, but some features of Neon will be added to the main Opera browser this spring. We can only hope Neon's new tab management solution is among them. Opera likens the solution to gravity, and the concept is quite simple: frequently accessed tabs will "float" to the top of the new icon-based tab switcher while tabs that haven't been used in a while sink to the bottom. The result is quicker access to commonly used tabs without any thought or action on the part of the user.
A screenshot feature has also been integrated directly into the Neon browser. With it, users can capture an image of the entire browser window or crop a portion of the screen, and then save the resulting picture to a gallery. Using the gallery, screenshots can be accessed quickly and shared easily.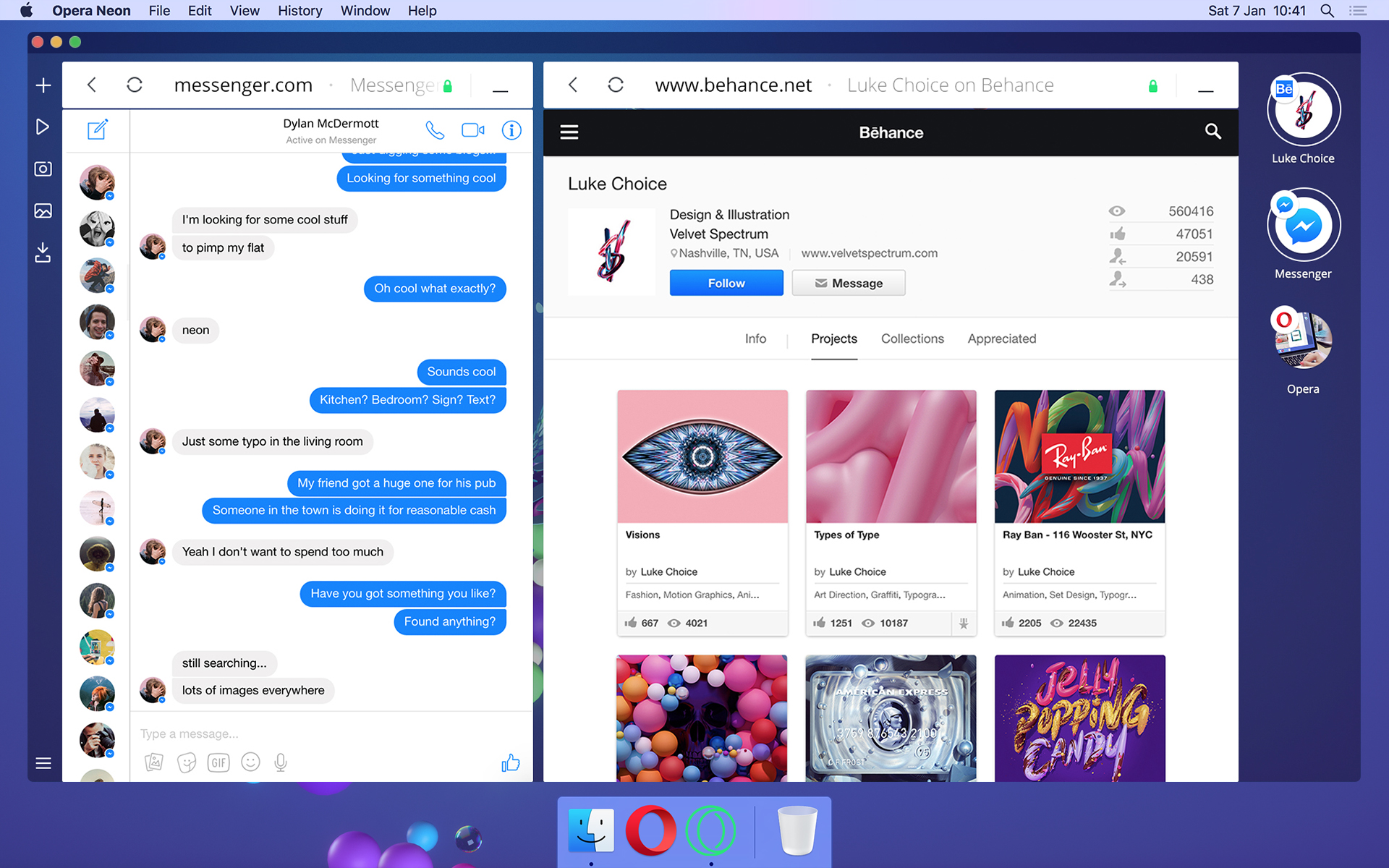 Neon as a whole is a very nifty concept, though users who rely heavily on extensions will have a difficult time switching to it entirely at this early stage. Even still, Neon introduces a number of intelligent new features that are a breath of fresh air in a software category that has been stagnant for practically a decade.
Opera's Neon browser is available as a free download for Windows or Mac on the Opera website. A video of the new Neon browser in action is embedded below.