There's only one top-tier Android phone that I'd advise you not to buy this year, and that's the OnePlus 5. The new #NeverSettle phone has been plagued by controversies from the moment the Chinese company launched it, and it looks like OnePlus isn't done giving you reasons not to buy the phone just yet.
To quickly recap, the OnePlus 5 looks like an iPhone because it was the easiest way for OnePlus to design an iPhone rival. The phone was already caught cheating in benchmark tests, and it has a screen defect that OnePlus refuses to acknowledge. Other issues, including the inverted audio problems or the life-threatening 911 call blocking bug, may be fixable — but they're still annoying "features" of a device that's supposed to deliver a high-end experience.
So what did OnePlus did now? Well, it sent its customers an unsolicited push notification, asking them to provide feedback about the OnePlus 5 to win — get this — a OnePlus 5.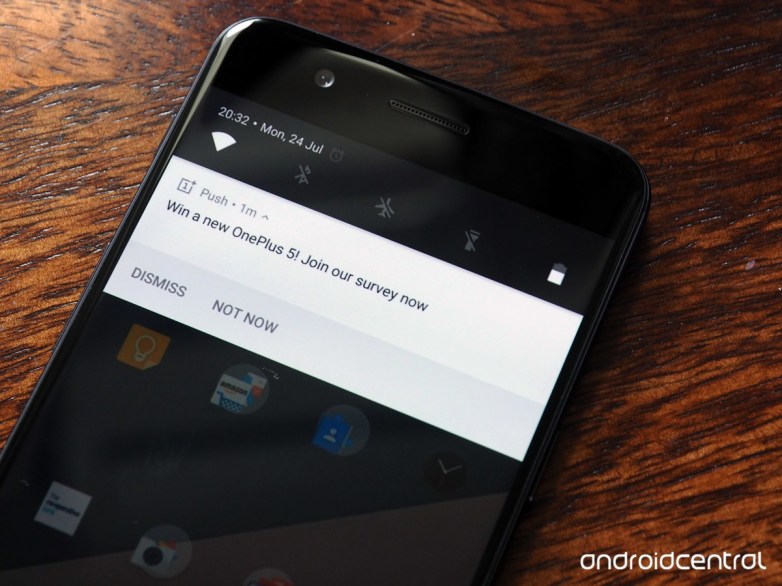 Some people will say it's a minor thing. But this is the second time OnePlus has done it in a matter of months. Previously, it did so to advertise the incoming OnePlus 5. Is it going to be a regular thing? Will OnePlus keep pushing ads to OnePlus 5 screens?
More annoyingly, this is the kind of notification that you can't turn off for good. As Reddit users discovered, the "Push" system app is sending these alerts.
As expected, OnePlus does have an excuse for that:
Feedback from our community has always been at the heart of our product decision making, and as part of this feedback loop, OnePlus 5 users have been sent a notification to share their personal experiences about the OnePlus 5 with an option to opt-out. This is to help with the continuous improvement of our products and to better understand our community of users.

We thank all those who have taken part.
Well, OnePlus, there's plenty of OnePlus 5 feedback online, you don't need to send out any surveys.