Earlier today, Samsung finally admitted all Galaxy Note 7 devices — even the replacement "safe" ones — are not safe. According to Samsung, you should turn off your Note 7, put it in a box, and not even think about Snapchatting with it.
So why are so many people still using their Note 7 devices?
DON'T MISS: Hot tip: Don't buy a Galaxy Note 7 on eBay today
Data from Apteligent, which analyses app usage data to get information on smartphone usage, shows that use of the Galaxy Note 7 actually peaked yesterday, with no indication that it's slowing down. Since the first Samsung recall, usage of the devices (a rough indicator of how many phones are in active use) has gone up by nearly 15 percent.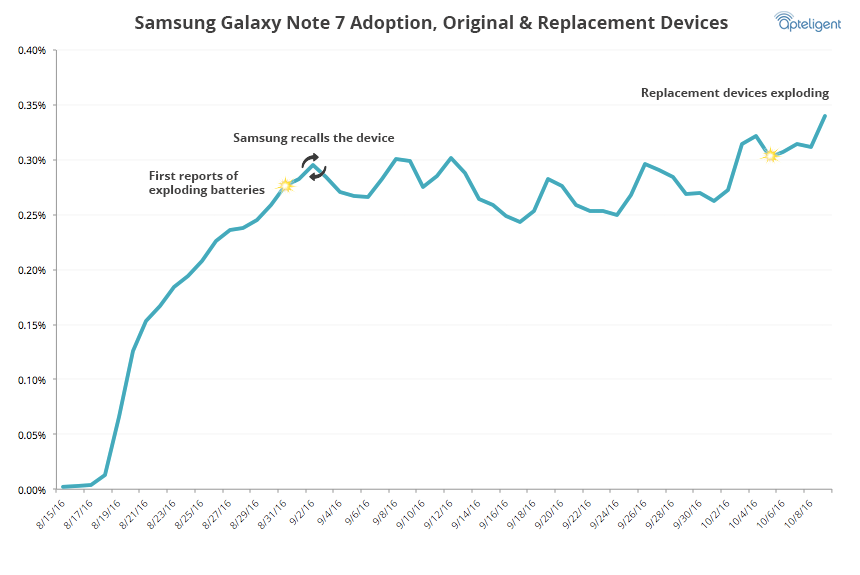 In other words, people seem to be ignoring Samsung's warning, and carrying on using their Note 7 devices as per usual.
Look, I know. You just have that one email to send or the thing to do you need your phone for, and then you'll go dig up that four-year-old Moto Droid and use it for a couple days until the replacement comes. Only like a hundred phones have burned and no one died so I mean driving is more dangerous and you went on a ladder this morning and you could have died so who really cares, right?
Nope. People have already been to hospital, planes evacuated, Burger Kings set on fire. Burger King! Won't you think of the Whoppers?
But seriously: this is a device that you sleep next to, fondle all day long, and quite possibly put in your pants pocket next to something you really don't want burned. Lithium-ion batteries are scary, volatile bits of technology. Without the proper testing and fail-safes (hi, Samsung engineers!) they're not appropriate pieces of technology to be wandering around with.
There's a reason Samsung is shipping out fireproof boxes to mail back Note 7s in. Turn yours off. Put it in something non-flammable, far away from things that you care about, and go buy another phone.