We've been talking about the Nokia 9 for about a year now, but HMD Global has yet to unveil it. We've seen variants of the Nokia 8, yes, but they don't feel like the best of the best new Nokia smartphones. A new leak gives us a look at the purported specs of the Nokia 9, including a triple camera system similar to the one on the recently unveiled Huawei H20 Pro.
According to Finnish-language blog SuomiMobili, the full specs sheet of the Nokia 9 has leaked. And it does look exactly like the kind of press materials you'd expect to see from HMD. Assuming it's genuine — which isn't a given, considering the source has a mixed track record — the specs list suggests the phone will indeed be HMD's best ever Nokia-branded handset.
We're looking at a 6.01-inch AMOLED screen with an 18:9 aspect ratio, and a ceramic back plate with gold accents. Other specs include Qualcomm Snapdragon 845 processor, 8GB of RAM, 256GB of storage, 3,900 mAh battery with wireless charging, dual SIM, and USB-C connectivity.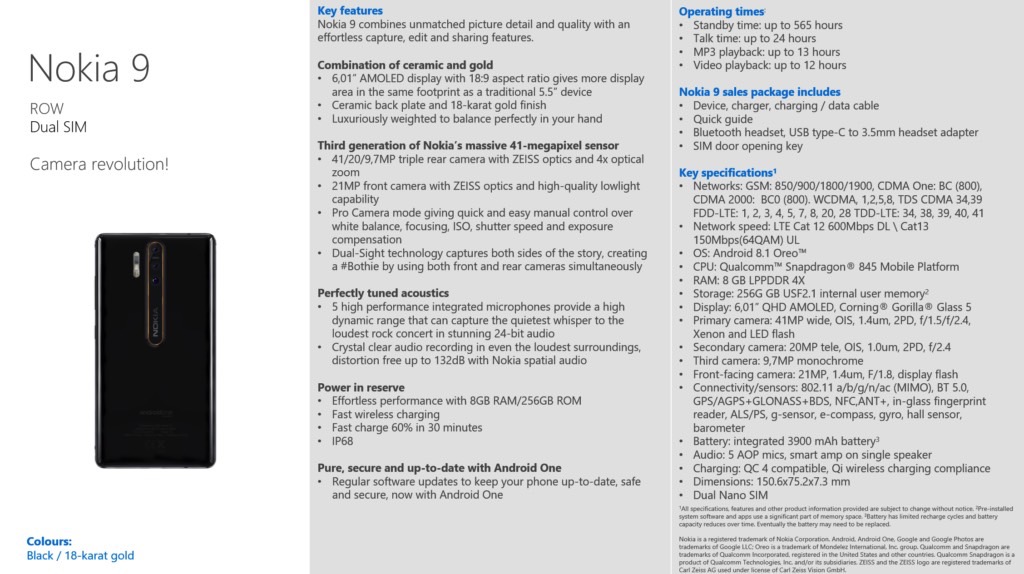 The image above suggests the phone's fingerprint sensor will be located on the front, which means you can expect a sizable chin on the bottom. As far as the camera goes, we have 41-megapixel, 20-megapixel, and 9.7-megapixel sensors on the back with Zeiss optics and 4x optical zoom. The selfie cam has a 21-megapixel shooter with Zeiss optics and high-quality low-light photography.
The camera experience comes with Nokia's Pro Camera mode available on other models and the dual selfie mode that takes a picture on both sides of the phone — yes, it's the dreaded #Bothie. The triple camera on the back, meanwhile, is placed centrally, rather than on the side like the Huawei P20 Pro.
That said, we have no idea whether this document is real. And even if it is, there's no telling when HMD will actually unveil and release the Nokia 9.