Netflix is winning the streaming battle with competing services including Amazon Video and Hulu when it comes to original shows, a new report shows. Interestingly, HBO Now isn't included in the comparison.
How is it possible to declare a winner when comparing these services given that Netflix doesn't share any actual data regarding viewership? Business Insider explains that Parrot Analytics looked at other factors to measure demand, including file-sharing and social media chatter.
Apparently, demand for Netflix originals was eight to nine times higher last year than demand for Amazon and Hulu shows last year. In the comparison table below, only Amazon, Crackle, Hulu, and Netflix are included. HBO Now isn't even mentioned. Game of Thrones and Westworld are at least two HBO shows that have generated plenty of attention. On the other hand, you can watch the shows through your regular cable subscription, or HBO Go.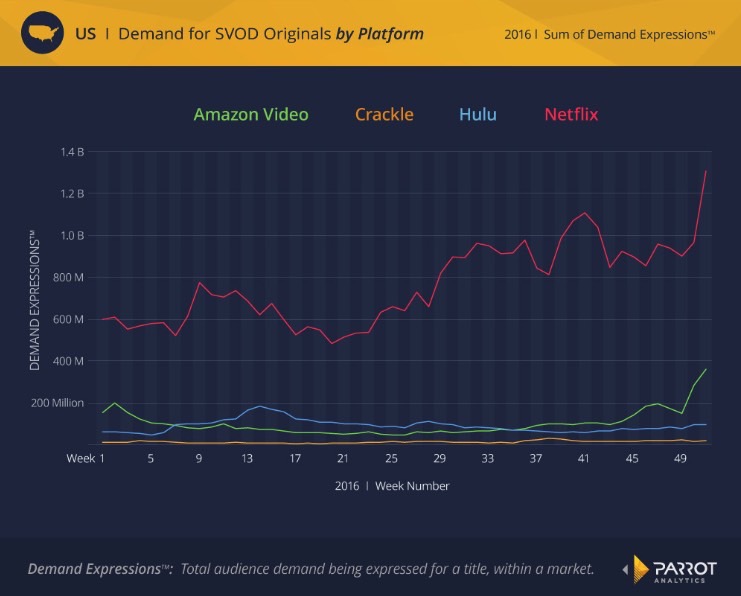 The same analytics firm concluded that Netflix's increased focus on creating high-quality TV show of its own is working. Parrot found a correlation between demand for Netflix originals and Netflix stock. That certainly seems to make sense. The more people want to watch Netflix content, the more likely to get/keep a subscription and drive Netflix's profits, and stock, upwards.
It doesn't hurt that Netflix has had an incredible run at churning out TV hits last year. Shows like Stranger Things, Luke Cage and The OA are just some examples of programs that went viral, but Netflix has a large number of other original TV shows and movies that are also very popular with the crowds.