If you throw a rock in a home improvement store you'll hit at least two dozen different home lighting solutions. There's smart bulbs and dumb bulbs, island lights and track lighting, and so many sizes of lamps that you could spend a day browsing and still not get through them all. With that being the case, you'd think there's not really any room for a newcomer to innovate, but it turns out you'd be wrong.
Nanoleaf is a tiny company doing some pretty big things. It was founded in 2012 and its modular light panels were an early Kickstarter success story. The company crushed its funding goal and began manufacturing its light panel kits, which quickly became a trendy lighting accessory for home offices and game rooms. Today, the company makes a couple of different lighting kits, and I was able to try out the Rhythm Edition, which includes nine light panels as well as the "Rhythm Module" that allows the the panels to react to music. If you're into smart lighting, you're going to want to pay attention.
The panels, which are triangular shaped, link together with tiny two-sized "linkers." You can arrange the panels in whatever design you want, and the Nanoleaf controller can handle as many as 30 panels simultaneously. With the nine panels from the Rhythm kit and three additional panels from an expansion pack, I ended up with a kind of zig-zag design that fit nicely above the monitors on my desk, but I could have just as easily made a big circle, a huge triangle, or some other shape.
The both the Rhythm kit and the expansion kit come with everything you need for mounting, including stencils to plan your design and adhesive strips for attaching them to the wall. Conveniently, the strips are the wall-protecting kind, so you can easily remove them and rearrange things without damaging your wall. A big thumbs-up from me on that decision.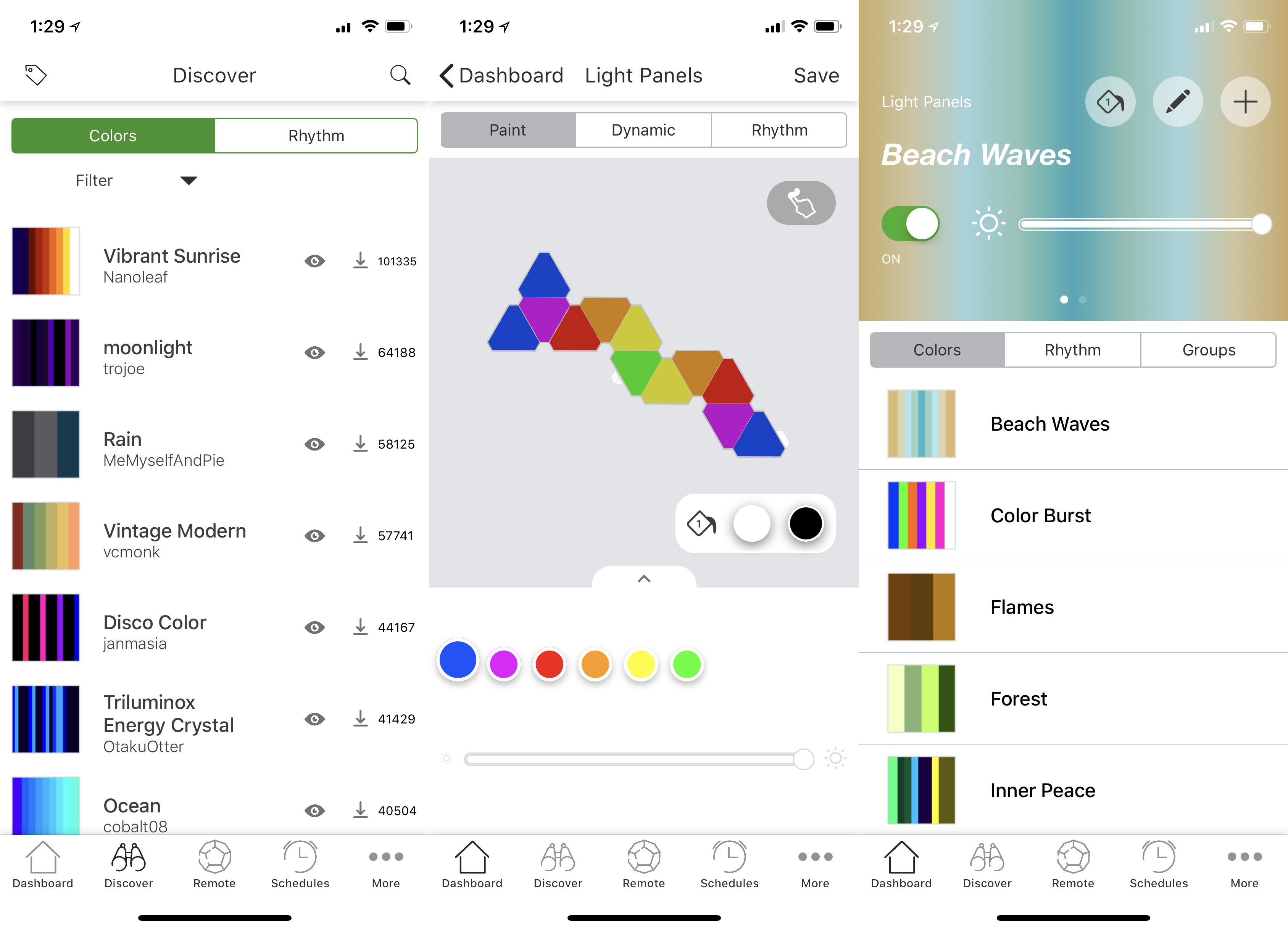 The control module needs to be powered, so you have to kind of plan your design so that at least one side is near-ish to a power source, but the power cord is nice and long so you shouldn't run into an issue. The controller has a pair of buttons; a power button and a button for cycling through the various modes, but you're likely going to be doing most of the controlling through the Nanoleaf app.
The app is incredibly powerful but also pretty intuitive. You can customize the color of individual panels, set patterns to cycle through, and control the brightness. Once the app syncs with your panels it automatically knows the layout of your design, which is a stroke of genius.
For me, it actually took a while to decide what I wanted to do in terms of colors and patterns and brightness. I played around with different shades, tried some fast-moving designs, and even spent some time with the panels in an all-white, full-brightness setting. They might not look like it in the photos, but these panels can get incredibly bright if you want them to. At night, the zig-zag on my wall can easily light up the room as well as a couple of lamps would.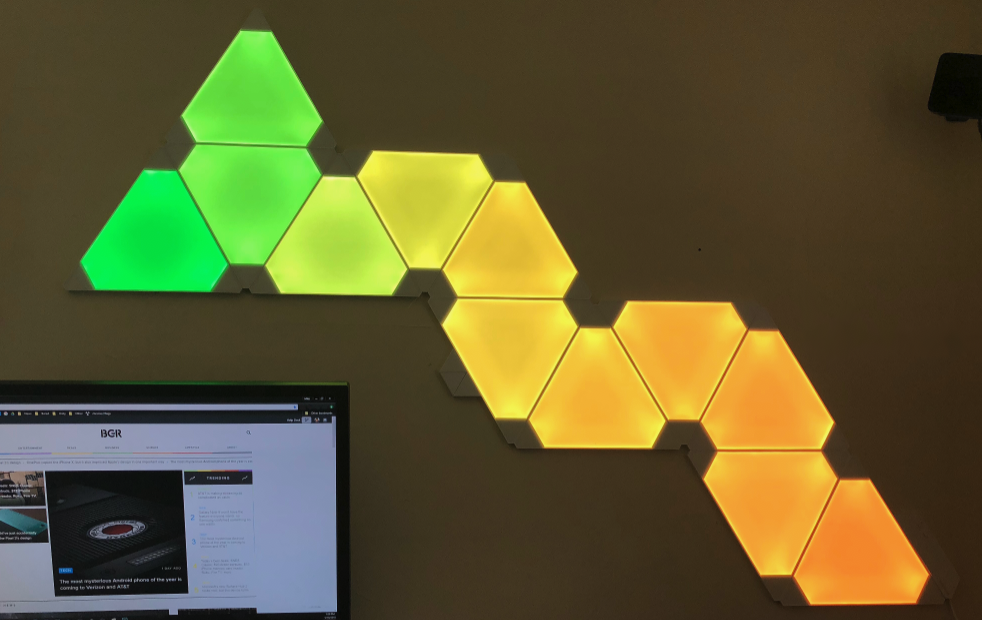 For daytime I went with a pattern called "Beach Waves" which I found in the app's "Discover" section, which lets you browse user-created designs. The pattern slowly cycles soft tans and yellows with light blue and teal. It's not distracting or annoying, and the panels are bright enough that it almost acts like an extra window, which is something I hadn't expected. At night sometimes I switch it up to something more bold and colorful, especially if I plan to stay awake for a while.
The Rhythm Module — that's the little audio-sensing accessory, can be plugged in anywhere on the design, and it's quite sensitive to ambient noise. When music is playing, it picks up on it quickly and acts like a huge musical visualization right on your wall. Just like with the other designs, you can customize how the Rhythm patterns work from inside the app, tweaking the sensitivity and color scheme. I tried out a red-and-white design for this and it looked amazing, with bright red rolling through the panels in sync with the rhythm of the music.
As you'd expect from anything that calls itself "smart lighting," Nanoleaf works with Homekit, Google Assistant, Amazon Alexa, and even IFTTT. You can schedule it to change patterns and brightness based on the time of day, and it should be a pretty seamless addition to any home lighting routine.
Ultimately I was very impressed with the whole system right from the start. Setup, mounting, and syncing was a no-hassle affair and there's so much you can do with the panels that I feel like as time goes by I'm going to find even more uses for them (syncing the panels with Twitter via IFTTT for notifications is on my to-do list).
At $229.99 for the Rhythm starter kit (again, that's nine panels, all the hardware, and the Rhythm Module) or $199.99 for the standard starter kit (also nine panels), it's not cheap to jump in, but for smart home lighting that's actually not all that expensive either. The modular design means you can add on any time you want, and with expansion kits priced at a pretty reasonable $59.99, I'll probably end up doing just that.