Even now, I look back at the days when I was rocking a Motorola RAZR with fondness. Those were simpler times, well before the revolution the iPhone started. The RAZR was one of the best looking phones of its era, and a massive hit for Motorola, which sold some 130 million RAZR phones according to the most recent stats. The original RAZR line died a long time ago, as did Motorola's first attempt at reviving it, but there might be a way for Motorola to make the RAZR great again: Launch a RAZR-branded Android smartphone with a folding display.
It's Dutch blog MobielKopen that discovered a new Motorola patent application that describes a foldable Android smartphone — an "electronic device with hinge and similar systems and methods" as the company calls it. As you can see in these images, we're looking at a phone with a big display that would fold inwards like a wallet.

It's not pretty either, as that hinge area at the middle of the phone creates a rather annoying shape. But the patent proves that Motorola is at least working on creating foldable smartphones of its own.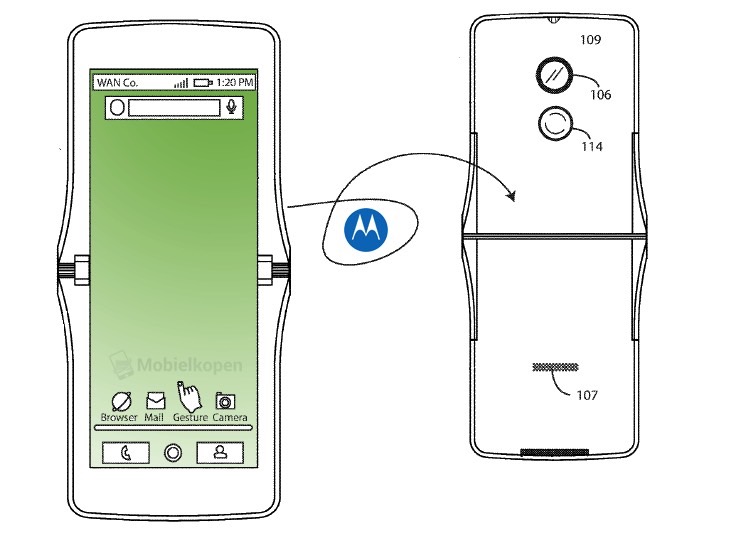 Foldable smartphones are a big thing right now, with Samsung and Huawei in a race to bring the world's first foldable device to market. Again. ZTE Axon M and similar phones don't qualify since they just have two separate screens and a big gap in the middle. But Samsung and Huawei aren't the only companies planning foldable handsets. Apple, LG, and Motorola are also rumored to be developing handsets that can fold, and so are other Chinese smartphone makers like Xiaomi.
Getting back to Motorola's patent, I'll tell you the same thing I repeat with each patent revelation: There's no guarantee that Motorola will make foldable phones, or that any foldable phones it releases in the future will look anything like the handset in these drawings.
But I will also remind you that earlier this year, Lenovo CEO Yang Yuanqing told reporters that foldable devices are in the making, hinting they might bear the RAZR brand:
"With the new technology, particularly foldable screens, I think you will see more and more innovation on our smartphone design," he told TechRadar when asked about the future of the RAZR family. "So hopefully what you just described [the Motorola RAZR brand] will be developed or realized very soon."
While we wait for that to happen, let's enjoy this too-good-to-be-true Motorola RAZR concept phone created by TechConfigurations back in March, well before Motorola's patent application was discovered: