The first thing you have to know about the Moto Z2 Force is that without a Moto Mod on the back, you're basically holding an unfinished design. The Z2 Force looks like a real Android phone on paper, and it certainly runs like one when you use it. But all the standard phone stuff aside, it's clear that Motorola designed this phone around the modular add-ons — and it worked.
Let's start with the phone's physical design, without mods. Motorola has taken the sleek black rectangle aesthetic to the extreme here: there's no accent colors or chrome buttons, and the closest you get to a color variation is a small matte metallic surround for the rear glass plate that you won't notice unless you go hunting. If you're a fan of clean, understated design, the naked Z2 Force is a masterpiece. d
It's also just 6mm thick — and calling that "thick" almost seems stupid. For comparison, the Galaxy S8 is 8mm, and even the svelte iPhone 7 is just 7mm thick. The Z2 Force is so thin that it's actually rather annoying to hold. Like many other naked flagship phones, it'll slip out of your grasp with half an opportunity, but the Z2 Force goes a step further by making it painful and difficult to hold on. There's no grippy surface on the phone, and the edges are so thin that they'll dig in. After an hour of extended one-hand use on a train, the thin design had gone from cute to annoying.
But that's really an irrelevant complaint, because it's clear that Motorola wants you to use this phone with at least one of the Moto Mods. Those are enhancements that have an extra backplate, and attach magnetically to the phone to add some kind of new feature. Moto Mods are a common feature through Moto's existing smartphone lineup, and include a 360-degree camera, a gamepad, extra speakers, battery pack, wireless charger pack, and even a Hasselblad camera with 10x optical zoom. The mods are all extra, and cost anything from $40 to $300. For a limited time, Motorola is giving away a projector mod with the Z2 Force, so at least you won't be starting from nothing.
Snapping one of the mods onto the back makes the phone design make a lot more sense. Regardless of the extra features, just the couple extra millimeters of thickness, texture, and a rounded back all make for a much more comfortable device. The attachment is done via magnets, and 16 pins make the data and power connections from the mod to the device.
Mods themselves are managed through a Moto Mod app on the phone, which handles connectivity and device management. Actually using the extra features from the mods doesn't feel like using an external accessory, but rather something that's designed to be part of the phone. You can snap on the 360-camera mod, instantly fire up the same built-in camera app that you'd use to take selfies, and you can instantly shoot 360-degree video if that's your thing.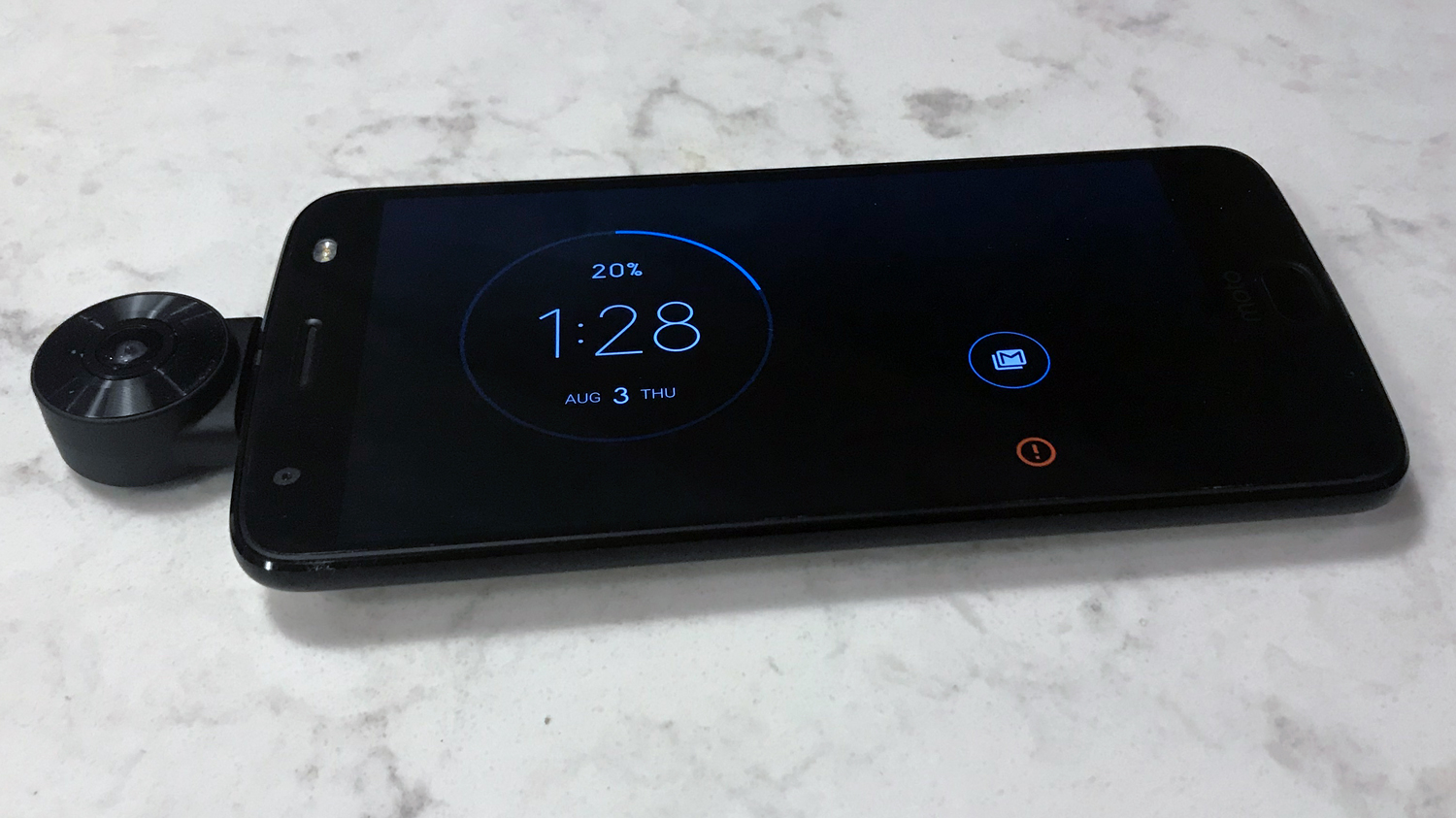 Under the hood, the Z2 Force is as powerful as any other flagship phone these days. It's got the same Snapdragon 835 processor you'll find inside a Galaxy S8, 4GB of RAM, 64GB of internal storage, and a 2,730mAh battery. It's running Android 7.1 with a promise to upgrade to Android O in the near future. One of the best things about any Motorola is the lack of skin on top. It runs a nearly-pure version of Android, without any custom skins or bloat on top.
All that means that for everyday use, once the phone is open and you're flicking through apps, it feels exactly like every other top-tier Android smartphone you can buy right now. Internet browsing is seamlessly fast, app transitions are as quick as you'd expect from 4GB of RAM, and even playing the Play Store's most graphics-intensive games doesn't visibly tax it.
One thing that is very different is the screen. The panel is a 5.5-inch QHD AMOLED display, and it looks fantastic. All those adjectives people like to use to describe pretty screens — sharp, clear, vibrant — apply here. But the screen covering is a very different story.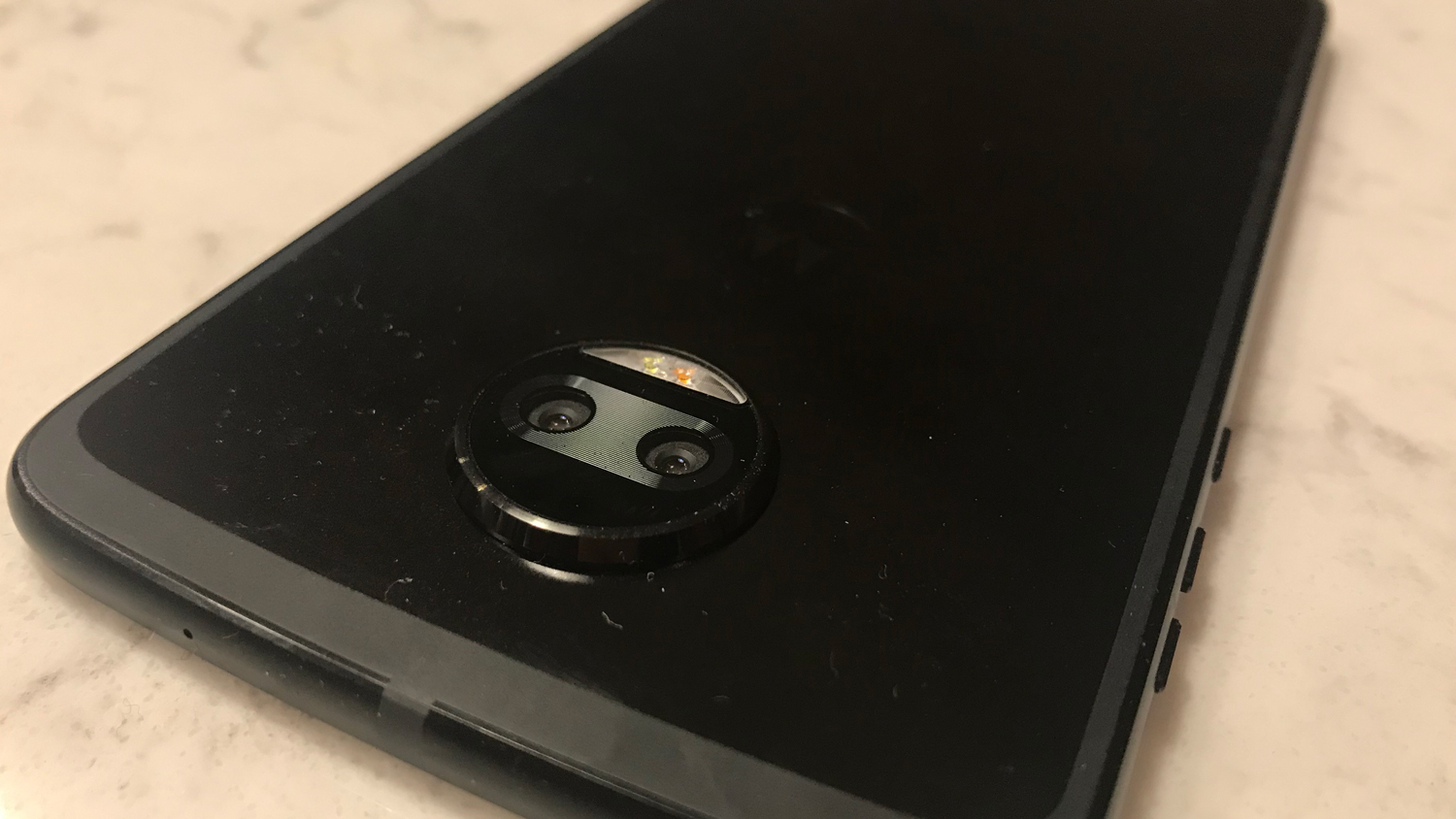 Just like on last year's flagship, Motorola has opted to go with a plastic screen panel, rather than the high-temper glass that's more common. Motorola's reasoning is that most phone screens shatter, rather than getting scratched, and plastic is more malleable than Gorilla Glass, and almost impossible to shatter.
That's true, but it's not worth the tradeoff. Gorilla Glass is much harder and resistant to scratches than plastic, and it shows on the Z2 Force. After a week of light (and careful!) use, I've already got one tiny scratch on the corner of a screen. It's certainly not a big deal yet, but I'd be worried about what the front of this phone will look like two years down the line.
While we're talking about the screen, it's also worth mentioning another minor annoyance. Motorola has bucked this year's trend, and kept the fingerprint sensor on the front of the phone. It's more conveniently located than the rear fingerprint sensor on the Galaxy S8, but it also feels like a waste of real estate. The sensor doesn't double as the home button, unlike the iPhone 7 or older Galaxy phones, which means Motorola has wasted a bunch of bezel at the bottom of the phone on simply having a more sensible fingerprint sensor.
I know that the sensor couldn't go on the back of the phone, thanks to Moto Mods, but it still seems like an imperfect solution. Moto suggests using the fingerprint sensor both to lock and unlock the phone, but I found myself accidentally hitting the fingerprint sensor thinking it was the home button. (The home button, by the way, is virtual, and sits alongside virtual multitasking and back buttons, just like on most other Android devices.)
One pleasant surprise was the battery life. On paper, the 2,730mAh battery and large display aren't a good match, especially considering the 3,000+ mAh cells you'll find in other Android flagships. But in reality, the Z2 Force had more than enough battery to get through a moderate day of usage. The percentage falls a little faster than you'd want when you're doing something intensive like gaming, but the Snapdragon 835 and unadulterated Android build do a good job of sipping power when the phone's on idle and in your pocket.
Overall, it seems like Motorola might have actually pulled off a good modular phone — something that's been tried and failed before. The keys here are simple: it's a fantastic phone to use without investing in any of the mods, so it's not a niche phone for a very particular kind of person; it's launching on all the major carriers, instead of being an exclusive; and the variety of mods available means that it might be more than a novelty.