Microsoft CEO Satya Nadella just wrapped up the keynote at the company's big developer conference, Microsoft BUILD. This year, the keynote was a wild ride through the future of what Microsoft thinks the world will look like, but in between the philosophy quotes and visions of dystopias where you have Skype embedded in your car dashboard, Microsoft actually did reveal a few new projects and products.
This year is all about software, AI, distributed computing, and the "multi-device" experience. In case it wasn't clear before, Microsoft wants to make it clear that it doesn't care if you're using a Windows PC, a Mac, an Android phone, or anything else that can access the internet. It just wants you to be using its platform and its software to do so, and that's at the core of everything the company announced today.
Microsoft Your Phone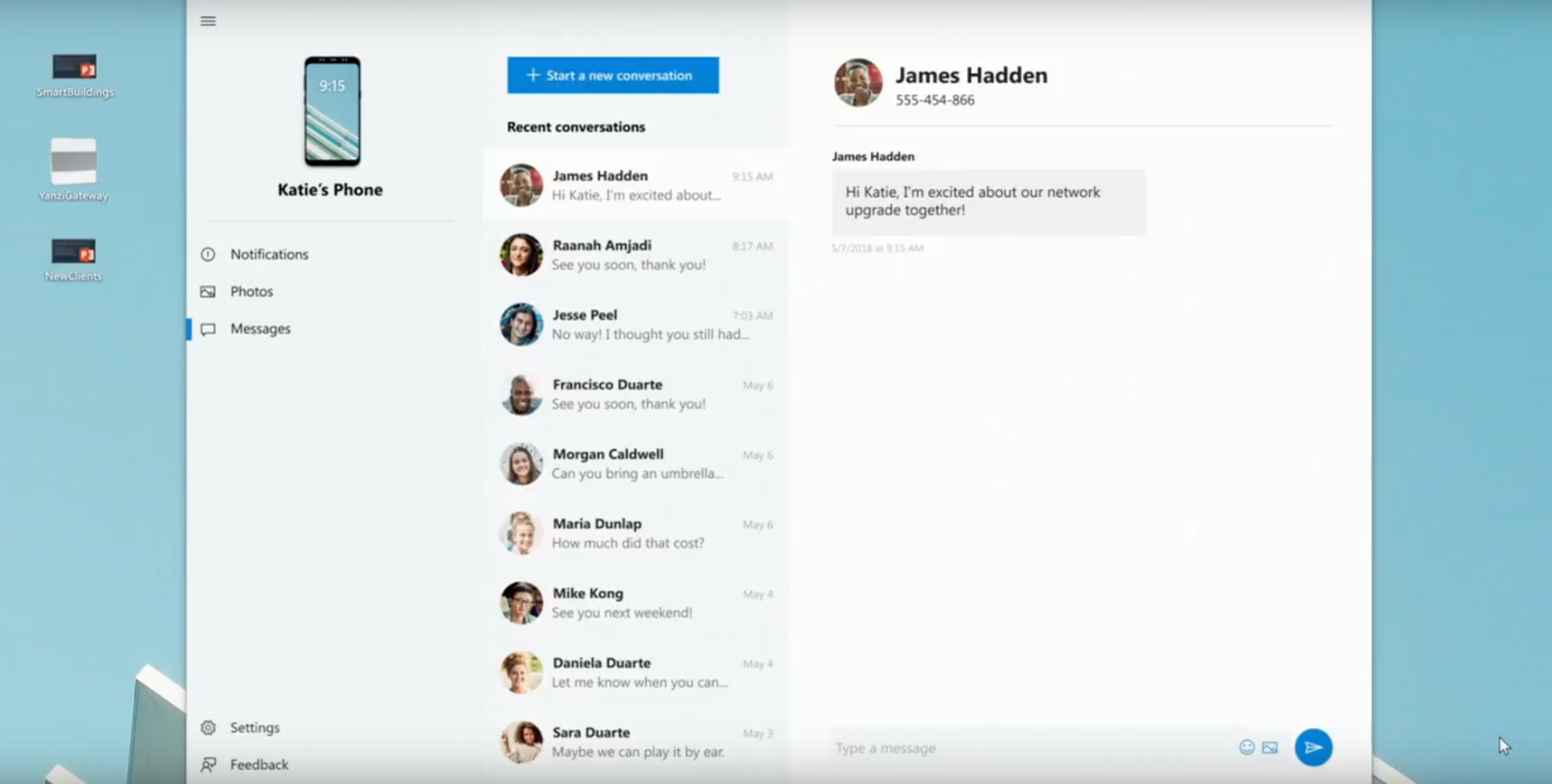 The most instantly-useful thing Microsoft showed off is an app called Your Phone. It provides a mirror of both Android and iOS devices to your Windows 10 PC, letting you manage phone apps directly from the desktop. The level of integration you get depends on your device (as you'd expect, Android allows far more access to core features than iOS). Microsoft can mirror the entire Android interface to a Windows 10 PC, while iOS is limited to things like texts, photos, and notifications.
Your Phone will be available to Windows Insider beta testers this week, with the feature set to come to all users in a Windows update this fall.
Microsoft Layout
Microsoft Layout is the latest evolution in Microsoft's push towards mixed reality. The tool lets you design and visualize real-world spaces using a Microsoft HoloLens headset, or a third-party mixed reality headset. You can define a virtual floor plan, and then move models around it, resizing and placing using gesture control. The applications are obvious for designers, architects, and engineers, with the focus clearly being on business rather than consumers.
We've seen VR and AR apps that let you visualize furniture or appliances in your own home before buying, but this is clearly meant more as an extension of commercial CAD programs rather than a way for Ikea to sell more dressers. The uses being shown in Microsoft's keynote were for process engineers designing items for factory lines, or architects visualizing the interior of buildings.
Hey Cortana, meet Alexa
A surprise guest at Microsoft's event was an Amazon executive, who showed up to demonstrate a new tie-in between Cortana and Alexa, two supposedly-rivalrous AIs. Amazon is allowing Cortana as a skill on its own Alexa devices, so that you can access your calendar and email through Cortana rather than Alexa. It's less convenient and noticeably slower than Alexa right now, but it's still a big deal that Microsoft is running its AI on an Amazon Echo. It seems that Microsoft is accepting it's lost the race to make Cortana relevant for your smart home experience, and that fight is up to Amazon Alexa and Google Home instead.
So, for the time being, Microsoft is selling Cortana as your personal assistant to manage schedules and emails, rather than turn lights on and off or play music. But to keep Windows relevant, Microsoft is also allowing Alexa to run natively on Windows 10 PCs, including always-listening voice commands.
Microsoft running your meeting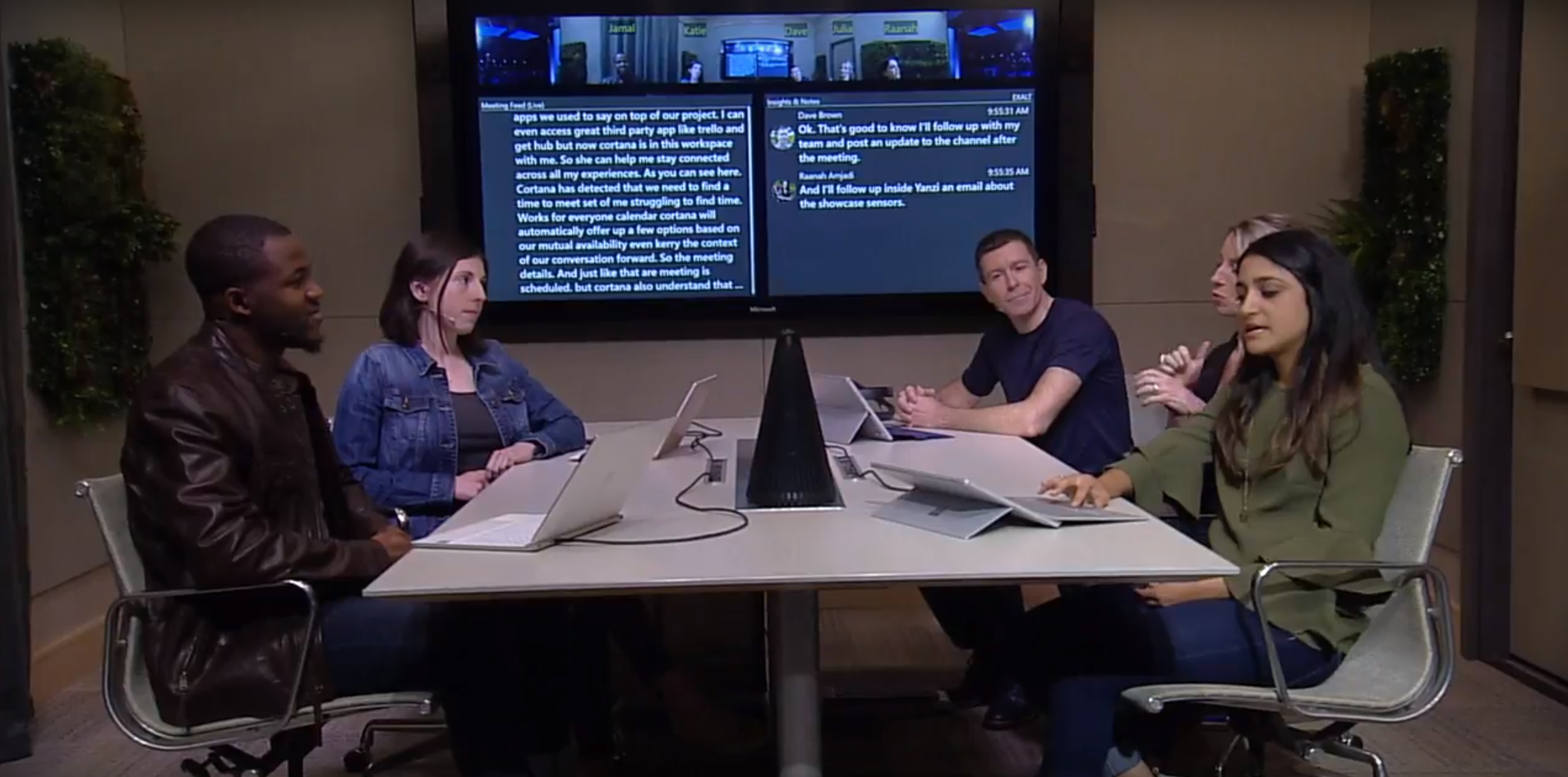 Office productivity was at the core of everything Microsoft was showing off today, and its meeting demo was perhaps the most complete example that Microsoft demoed. It rigged a conference room with a Surface Hub smart screen at the front, smart speaker in the center of the table, and internet-connected cameras monitoring the room. By combining the data from the microphones and the cameras, Microsoft's AI can build up a real-time record of the meeting. A transcript of the conversation, divided by individual user, shows up just seconds after the words are spoken on the side of the screen. The AI recognizes actionable statements ("I'll follow up with him) and puts them in a ledger on the right, and can facilitate conversations in an ongoing way. Microsoft also says that the transcript can be translated into different languages in real time.
Microsoft then took things a step further by integrating Hololens, so that a user can pair with the Surface Hub and then examine an image or dataset in VR, while everyone else in the meeting can see what they're seeing. The example on stage was slightly forced and unnatural, but it's easy to see the potential of a more intelligent meeting format.
AI for accessibility
Throughout Microsoft's entire presentation, accessibility was an everyday theme of its products. The meeting transcript, for example, let a deaf employee participate more fully in the meeting, as well as being useful for every single attendee as a record of the meeting. But Microsoft is also making a more specific commitment to accessibility with a $25 million fund, which will go to developers, universities, nongovernmental organizations, or anyone who wants to use AI to improve the lives of people with disabilities.
There are three main areas of focus: work, life, and human connections, with Microsoft aiming to provide seed funding to ideas, and then further funding for the most promising endeavors. In a blog post, Microsoft President Brad Smith highlighted Microsoft Translator, Helpicto, and Seeing AI as examples of the kind of products it wants to develop.