Apple's new MacBook Pro is already available for sale, but only the "dumb" version — that's the 13-inch model that lacks a Touch Bar touchscreen and only has two USB-C ports. The laptop is meant to replace the MacBook Air, which isn't receiving any more updates. It's also not as exciting as the 13-inch and 15-inch versions that come with a Touch Bar.
That said, the first benchmarks for the laptop have emerged, proving that the MacBook Air replacement is faster than last year's base MacBook Pro option.
DON'T MISS: Apple should kill the iPhone's Lightning port next
According to the first benchmark scores found on Geekbench, the entry level MacBook Pro sports an Intel i5-6360U Skylake processor that goes up to 6970 in tests.
Comparatively, last year's base 13-inch MacBook Pro has an average score of 6497. The high-end early 2015 MacBook Pro scores 6983, while the mid-range option reaches 6782 according to these tests.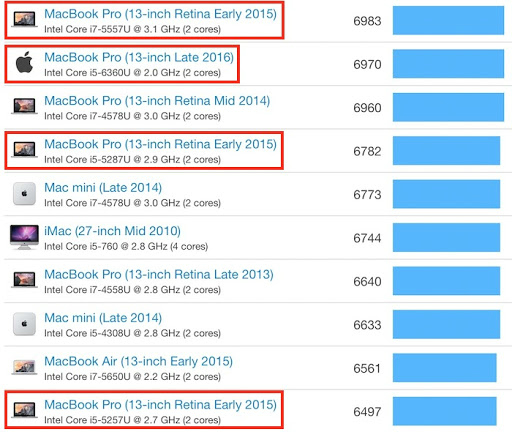 What's also important to note, aside from the marginal speed gains, is the energy efficiency of the new silicon. It might not be Intel's latest chips powering the late 2016 MacBook Pro, but Skylake chips are more efficient than Broadwell-based 2015 Intel chips.
According to MacRumors, the new chips consume 15-watt, which is almost half of the 28-watt power requirement of last year's I5 chips. That's why the 2016 MacBook Pro has comparable battery life to last year's model even though Apple had to reduce battery size from 74.9-watt-hour to 54.5-watt-hour.
The late 2016 MacBook Pros with Touch Bar and Touch ID will be available for testing in about a month, and they're likely to score even higher than the dumb option, as they all ship with slightly faster chips.