Lenovo unveiled a bunch of new laptops at IFA 2018, including the new Windows 10 and Chrome machines we expect from any computer maker at tech trade shows. But the company also released two unique notebook designs: one device powered by Qualcomm's Snapdragon 850 platform, and a dual-screen laptop that's the world's thinnest and lightest dual-display laptop in the world.
Unlike the Asus Precog concept that we saw earlier, the Yoga Book C930 is a device that has a price and release date. We're looking at a $999.99 price tag for the device, which should hit stores in October.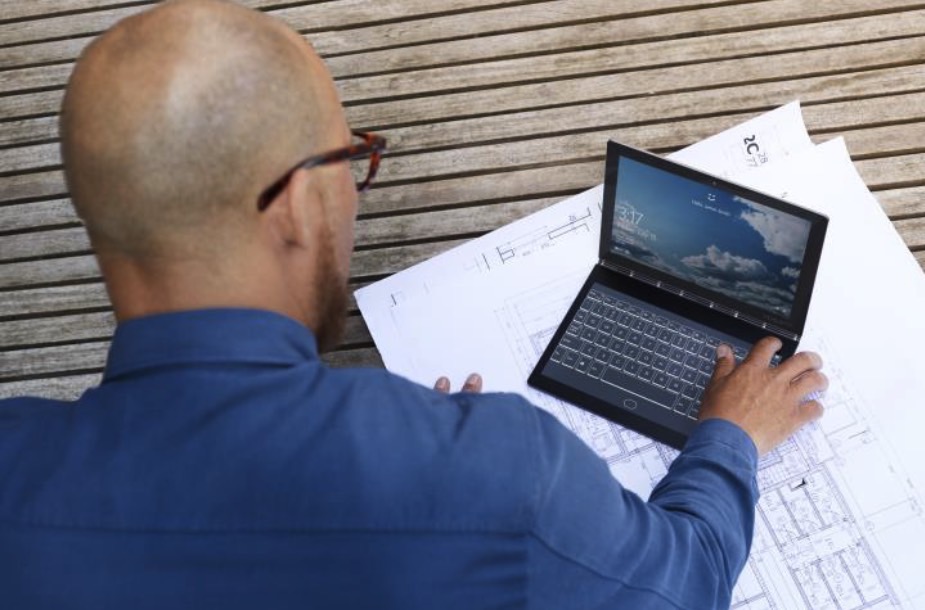 The Yoga Book C930 is the successor of the Yoga Book that Lenovo unveiled two years ago. The new notebook measures just 4.4mm at its thinnest point, or 9.9mm when closed. The Wi-Fi-only version weighs only 1.71 lbs (775g), while the LTE model is a tad heavier at 1.76 lbs (799g).
The laptop features a main 10.8-inch QHD touchscreen display and a secondary E Ink touchscreen with Full HD resolution. Specs include a choice between Intel 7th-gen Core i5 or Core m3 processor, Intel HD Graphics 615, 4GB of RAM, up to 256GB SSD, 802.11 ac Wi-Fi, two speakers with Dolby Atmos technology, 2 USB-C ports, fingerprint reader, stylus support, and Windows 10 OS.
The dual-display laptop will get you up to 10 hours of battery life. And, just like the Snapdragon laptop, the C930 doesn't have fans either.
The laptop packs a few unique features that aren't available on other devices, because this is a dual-display laptop. For example, the specially crafted hinge allows you to use the Yoga Book C930 in a variety of modes, and you can choose the secondary E Ink display when dealing with documents or reading on the laptop. The hinge also hides the Wi-Fi antennas and should withstand plenty of usage.
Lenovo also designed a neat trick to open the laptop. Just knock twice on it, and the computer will know you want to pop the lid open and do just that. It all happens thanks to two magnets which can switch between pull and push modes.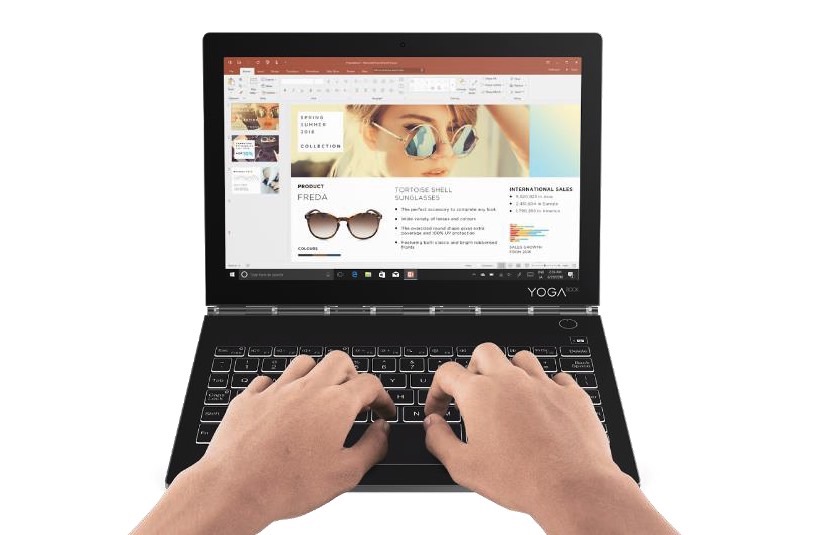 The E-Ink display is also where the laptop's keyboard will show up whenever it's needed. It's a virtual keyboard that has been improved to provide a better typing experienced. Lenovo says the E Ink keyboard is "a self-learning keyboard," which means it learns from your typing habits and can compensate to reduce typos and increase typing speeds.
To make touch typing feel better, Lenovo also improved the auditory and haptic feedback. Visual feedback is also available, as the keys look more three-dimensional when pressed.
Other keyboard features include support for three different layouts, skins, multiple languages and non-QWERTY keyboards.
Finally, the E Ink and LCD also come with stylus support, so you can take notes, annotate documents, and doodle on either screen.