At IFA 2018, Asus unveiled a bunch of new products including plenty of new Windows 10 laptops. We've got new ZenBooks, including regular, S, and Pro models; new VivoBooks; and the all-screen device in the image above, Project Precog. Speaking of all-screen devices, the regular Zenbooks also got a design update you'll undoubtedly appreciate, including a nearly bezel-less screen.
ZenBooks
Earlier this year, I review Huawei's MateBook Pro laptop, also an all-screen notebook, and the screen alone blew me away. Thankfully, it looks like bezel-less screens are going to become a thing when it comes to other laptops as well, and Asus's 2018 ZenBooks prove that.
The new notebooks, feature the same screen sizes that you expect, including 13, 14, and 15 inches, but because the top and side bezels have been significantly reduced, they'll be a lot smaller than their predecessors, which means they'll be lighter and more portable than before. The bottom bezel is slightly more prominent, but it disappears as soon as you open the lid, as the ErgoLift hinge pushes the base upwards for a more comfortable typing experience. The Verge's video below illustrates how it works.
Aside from the Full HD display (up to 4K on the 15-inch model) and the 95% screen-to-body ratio, the new ZenBooks pack a 3D infrared HD camera that works with Windows Hello, up to 8th-gen Core i7 processors, up to 16GB of RAM, up to 1TB of SSD, USB-A, USB-C, and microSD ports, backlit keyboards, and a touchpad with a few extra tricks.
The laptops will start at $899 when they're released next month. But before you decide to buy a new ZenBook, you should also check out the brand new ZenBook S and Pro, as well as the 2018 VivoBooks that Asus just announced. Those models might not offer you the same screen-to-body ratio as the regular ZenBooks, but they'll deliver better specs. And speaking of screen-to-body ratios, let's check out Project Precog.
Precog
Precog doesn't have the traditional keyboard and touchpad you expect on the bottom of a regular laptop. Instead, it features two screens and a bunch of artificial intelligence (AI) tricks meant to help you make the most of them. Here it is again: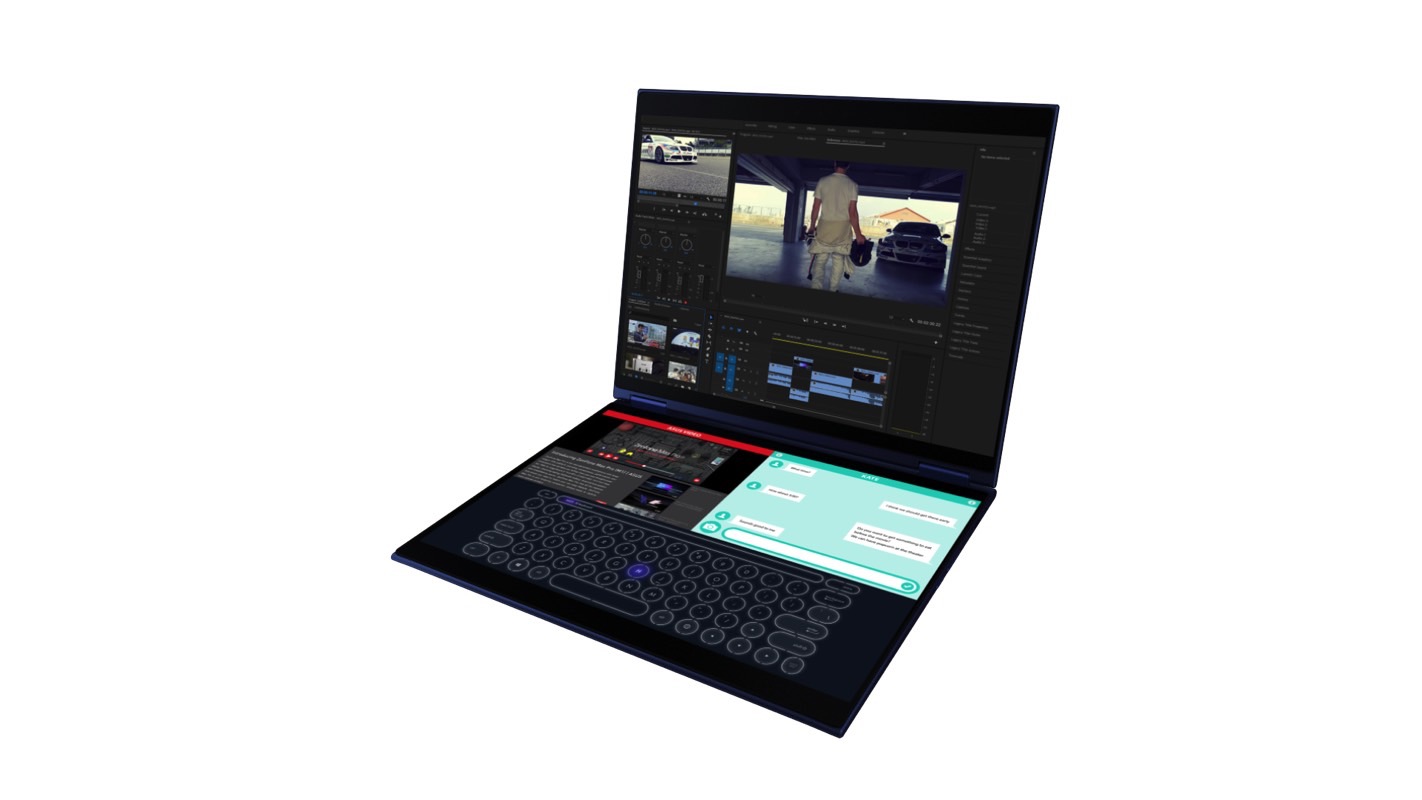 Precog is just a concept for the time being and there's no price or release date for it. But Asus said in its press release that the notebook is one of the "first convertible, dual-screen notebooks with fully enhanced AI features."
The PC can be used in four modes, including Stand, Book, Tent and Flat, and the AI will automatically detect how you're using it. Intelligent Touch recognizes an active input touch and changes the user interface accordingly. It'll adjust keyboard placement depending on where your fingerprints touch the secondary screen and switch to stylus mode when a stylus touches the lower display.
We don't have actual hardware details for Precog and Asus didn't actually specify availability details for this laptop. You can expect it to be a bit more expensive than the 2018 ZenBook notebooks when it finally does launch.