Apple's new Jet Black iPhone 7 and iPhone 7 Plus are obviously the hottest new iPhones of the year. Apple introduced not one but two new colors to its iPhone lineup this past September, but the glossy Jet Black finish is all anyone could talk about. The company's new Jet Black iPhones were practically impossible to find for months after launch — especially the larger iPhone 7 Plus. Of course, Apple fans are never satisfied and after seeing the Apple Watch Series 2 Edition model in white ceramic, they began to yearn for a Jet White iPhone to complement the new Jet Black model.
Rumors first began to emerge late last year that Apple is planning to release its iPhone 7 and iPhone 7 Plus in Jet White at some point, but those rumors have cooled off since last November. Regardless of Apple's plans, we have some good news: The Jet White iPhone is real, and it'll only cost you $19 to get one.
Jet Black is beautiful, but Apple's new mirror finish gets all scratched up the instant you take your phone out of the box. Just look at all the photos people are sharing of their mauled Jet Black iPhones. It's a nightmare.
The fragile finish on the Jet Black iPhone 7 and iPhone 7 Plus is a good reason to get Apple's latest iPhone in a different color, since the rest of Apple's options are all far more resistant to light scratching and swirling. For those who purchased an iPhone 7 or iPhone 7 Plus in a color other than Jet Black and now wish they could enjoy the unique finish, there's a paper-thin case available for either model that instantly transforms and iPhone into a Jet Black iPhone.
Now, the same company that sells those nifty thin Jet Black iPhone cases is back with a new version, and this time it's Jet White.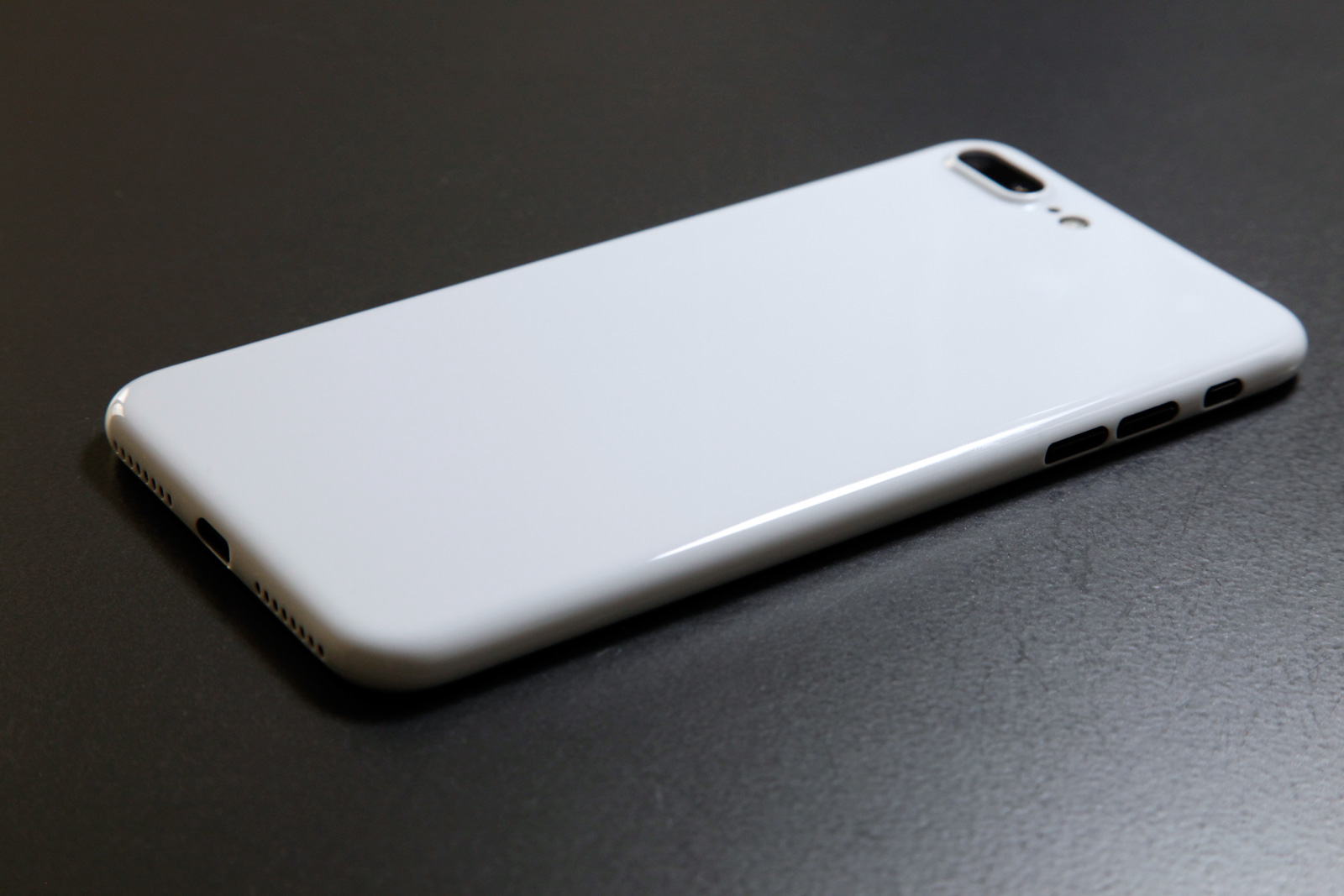 Like Apple's Jet Black Finish, the Jet Black finish on third-party cases tends to collect grease and show scratches almost immediately once you begin using it. That's not the case with the new Jet White version, which I have been using on my own iPhone 7 Plus.
Totallee's new Jet White version of its "Scarf" case is just 0.02 inches thick, essentially adding no bulk at all to your iPhone. It's made of a soft rubbery material just like the Jet Black version, adding much-needed grip to the smooth aluminum finish on Apple's iPhones. It also protects from scratches and scrapes, though it won't do much to protect your handset in the event of an accidental drop.
The company's new Jet White iPhone case is available for all iPhone models on the Totallee website beginning Friday, and it costs $19. The new Jet White scarf case is also being sold on Amazon for the iPhone 7 Plus and the iPhone 7.