Both the iPhone XS and iPhone XS Max should deliver better battery life than the iPhone X, Apple said on stage. The iPhone XS should last 30 minutes longer than last year's flagship, while the XS Max should last up to 90 minutes longer than the iPhone X. But a battery life tests show that neither model lives up to those estimates.
The battery test comes from Tom's Guide, which is putting every new smartphone through the same test. This involves continuously surfing the web at 150 nits of screen brightness, with Auto-Brightness and True Tone turned off. It's all done over a 4G connection boosted with the help of T-Mobile's 4G LTE CellSpot. Here are the results: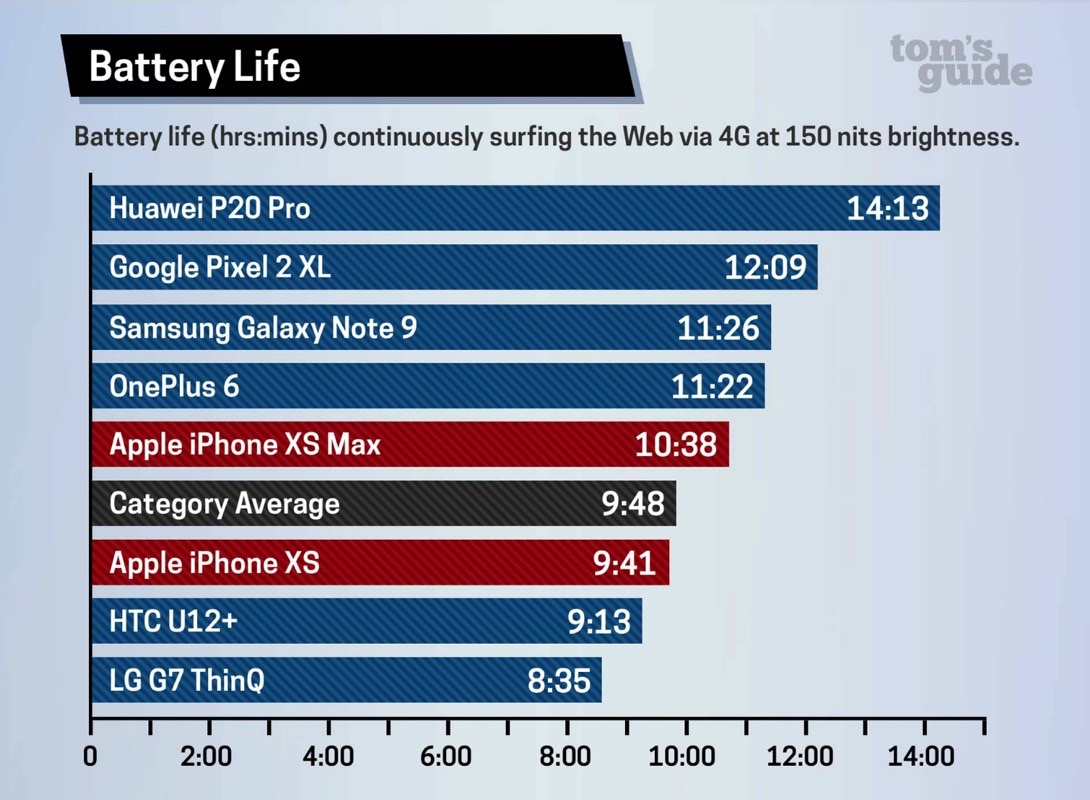 As you can see, the iPhone XS Max delivers almost an hour of extra battery life compared to the iPhone XS. But neither model outperformed the iPhone X:
The iPhone XS Max turned in a run time of 10 hours and 38 minutes, which is well above the smartphone category average of 9:48. However, the iPhone XS lasted for just 9:41, which is slightly below the average. Last year's iPhone X lasted 10:49 on the same test, despite claims from Apple that the iPhone XS was supposed to last 30 minutes longer.
Some of the iPhone XS and XS Max's most notable rivals, including Huawei P20 Pro, Pixel 2 XL, Galaxy Note 9, and OnePlus 6, all fared much better than the new iPhones. But that's hardly surprising, considering that Android phones usually pack bigger batteries than iPhones.
iFixit's iPhone XS and iPhone XS Max teardown revealed that the iPhone XS packs a novel battery, which explains why the overall capacity is slightly smaller than iPhone X — that's 2,659 mAh vs. 2,716 mAh, respectively.
It's unclear how Apple performs its battery tests for the iPhone. Here's what Apple says in the footnotes of its iPhone comparison page about batteries:
All battery claims depend on network configuration and many other factors; actual results will vary.
Apple internet use estimates for the iPhone XS and XS Max batteries are at 12 hours and 13 hours, respectively, The iPhone X should also last for 12 hours in the same test, as you can see below:
Just because Tom's Guide wasn't able to replicate Apple's claims in its tests doesn't mean you're going to experience poor battery life on the iPhone XS or iPhone XS Max. You should be able to get through the day with either phone, especially with the Max.