It's iPhone XS launch day, which means we're learning all the little tidbits about the new iPhones that Apple or in the early reviews never detailed. For starters, the first YouTube drop test shows the iPhone XS is a lot more durable than the iPhone X. We also found out that Apple may have wanted to launch AirPower in time for the iPhone XS's arrival, but that obviously didn't work out. Now, thanks to the teardown everybody was waiting for, we've learned a peculiar little detail about the iPhone XS that comes as a complete surprise.
Earlier this week, iPhone XS documentation that Apple filed with a Chinese regulator revealed that the iPhone XS features a battery that's slightly smaller than last year's iPhone X. Even so, the iPhone XS should last for 30 minutes longer overall than last year's model. iFixit's just-released teardown of the iPhone XS and XS Max and found the explanation for the smaller battery. The iPhone XS has a single L-shaped battery, while the iPhone XS Max features two battery cells, just like the iPhone X. Here's a side-by-side comparison, with the iPhone XS placed in the middle between the iPhone X (left) and the iPhone XS Max (right). But if you look closely at the iPhone XS, you'll notice a peculiar hidden notch in the battery.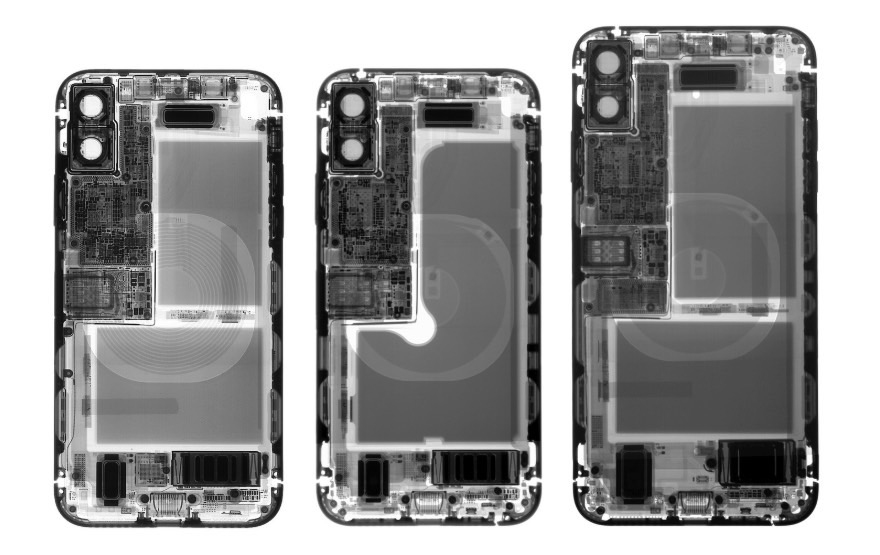 What you see above is an X-ray photo of the three phones, which reveals a strange battery design for the iPhone XS. There's the hidden notch I was talking about. Apple even describes it as a notch in at least one battery design patent. But why does the battery need that notch? iFixit explains:
The challenge with any lithium-polymer battery cell is that each corner needs to be sealed to prevent undue stress from thermal expansion—and since the battery of the XS has 6 sides vs. the traditional 4, those extra corners can be tricky. To reduce the stress on the corners, Apple notched the internal corner of the battery (as described in this 2016 patent). This dramatic shift opens up a lot of design possibilities, but the large notch is responsible for the decrease in capacity relative to the X. Only time will tell how this new cell performs with age.
The teardown, available at this link, also notes that there's no new evidence of new waterproofing, suggesting Apple may have undersold the iPhone X's water ingress protection. Also, Apple has designed a brand new chip, the Apple 338S00456 found inside the Max model, which is a power management processor.
The new iPhones get the same repairability score as the iPhone X, which is 6 out of a maximum of 10. Cracking the rear glass is the most annoying thing that can happen to your phone because fixing it requires dismantling the entire phone. Maybe that's why it's so expensive.