Samsung is one of the few Android vendors that has not copied Apple's iPhone X design this year. Even the ones that did were not able to afford screens like Apple's corner-to-corner display. But Samsung may soon create an iPhone X rival with a screen that has no bottom bezel. But don't worry, Android fans, because we have some good news: The company might be able to pull it off without copying Apple's notch.
A new patent discovery from Dutch-language blog MobielKopen reveals that Samsung is working on eliminating the bezels on its phones. The bottom chin, present on all iPhone X clones, might be the first one to go in future Galaxy S and Note designs: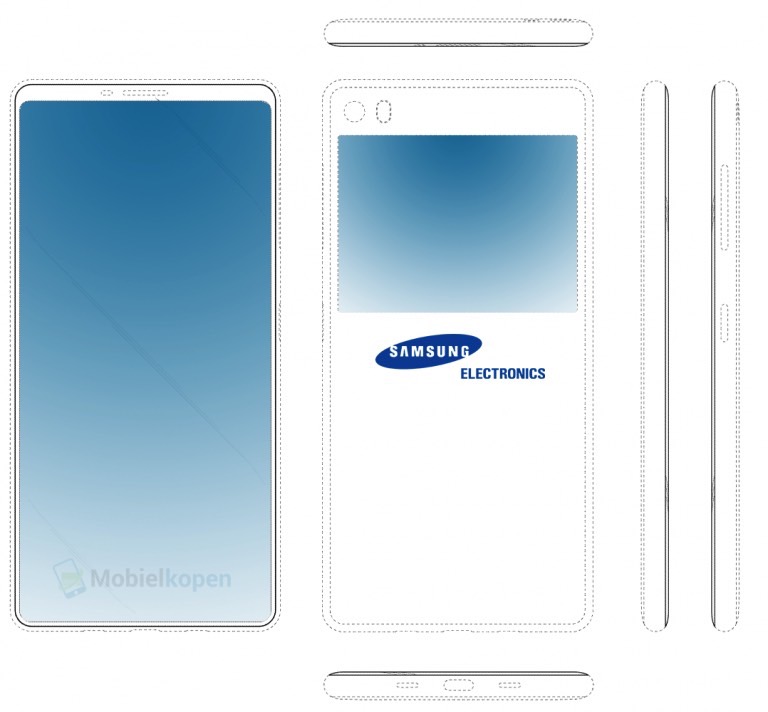 There's no notch on top. Instead, we have a slim bezel that houses a speaker and front-facing camera. To pull it off, Samsung might have to kill the headphone jack. As you can see in the image above, there's no 3.5mm audio jack anywhere on this handset.
On the back, Samsung only shows a single-lens camera. But what's more interesting is the secondary display that seems to be present on the rear panel.
An opening for a built-in S Pen stylus isn't featured either. But this particular design can still be applied to a future Galaxy Note model. In fact, we should remember this is just a design patent, and we have no guarantees that Samsung will make use of it in any future commercial products.