There's no smartphone like the iPhone when it comes to setting the pace in the mobile industry. Every major hardware push Apple makes with its iPhones is quickly followed by its rivals, even if Apple wasn't the first to introduce that particular feature.
Take OLED screens, which Apple just made great again. Yes, Samsung is the absolute leader in mobile OLED display tech, and its Galaxy S and Galaxy Note OLED dazzled our eyes for many years ahead of the iPhone X's arrival. But no Galaxy S or Note model was enough to push anyone else to adopt OLED screens.
But as soon as Apple was rumored to launch its first OLED iPhone ever, rumors from Asian-based OLED display makers started to pile up. Companies like Samsung, LG, Japan Display, BOE, and others, were ready to invest in massive OLED projects, all looking to secure Apple's orders.
It was Samsung that ultimately won iPhone X OLED exclusivity, as Apple's biggest rival is the only one that can meet Apple's demand this year, both when it comes to quantity and quality.
Up until recently, LG was rumored to be the next in line to provide OLED displays for iPhone X successors, as Apple is trying to reduce its reliance on Samsung.
But Chinese display maker BOE is aggressively pursuing the iPhone X opportunity, willing to develop a multi-billion iPhone-only factory that would churn out supply only for Apple's products, at least at first. That's according to ETNews which claims that BOE officials already met with Apple to discuss a potential deals.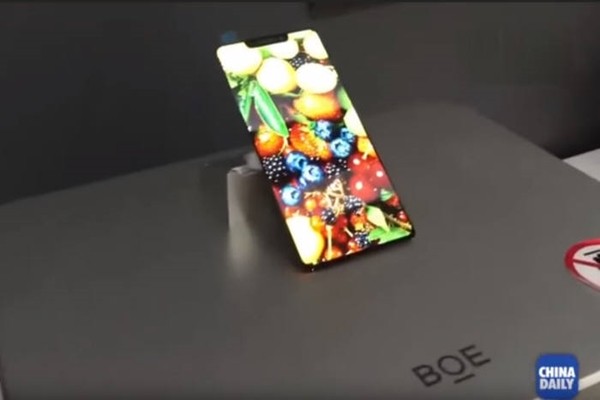 BOE plans to invest $7.04 billion in a new display plant (B11 in Sichuan), while a second OLED plant (B12 in Chengdu) would be dedicated to Apple's products. It's unclear how much the facility would cost, but it's also likely in the billions of dollars. Of note is that all potential iPhone OLED screen suppliers out there are rumored to invest billions of dollars into OLED-related plans, Samsung included. But only BOE appears to be ready to offer it an iPhone-only line.
Pouring in cash into new OLED facilities isn't enough, the report notes. BOE screen quality has to meet Apple's standards, and the certification may be a lengthy process. But it may be all worth it. Getting Apple's approval will likely transform BOE into a reliable OLED display supplier for other smartphone makers out there, and a strong Samsung rival.
BOE seems determined to gain iPhone orders, the report indicates. The company already demoed OLED displays that would fit an iPhone X, notch included (image above). The company is also working on flexible screens that can be folded inwards and outwards, to equip an iPhone X generation of the future. A recent patent discovery made it clear that Apple is working on foldable iPhones.
BOE plans to produce flexible and foldable OLED at its B11 and B12 plans — that's 70% flexible, 30% foldable mix for B11 and a 50% flexible, 50% foldable mix for B12. Does that mean half of iPhone X successors that will sport BOE OLED screens will be foldable smartphones? Sadly, it's too early to tell.