Apple kicked off iPhone X preorders on Friday around the world, and the handset sold out within minutes. Ship times slipped to 1-2 weeks in less than five minutes after preorders went live in the US, and quickly dropped to 2-3 weeks in international markets. Delivery estimates continued to worsen, falling to 4-5 weeks and then 5-6 weeks. That's bad news for many iPhone fans, who won't be able to get the handset next Friday. Some might not even get it in time for Christmas.
On the other hand, if money is no object, then you can purchase an iPhone X right now from sites like eBay and Craigslist.
Some iPhone X buyers are getting the handset just so they can resell it, and they'll charge you up to 100% premium on the handset. Prices may go even higher on auction sites like eBay thanks to the bidding systems.
The 64GB iPhone X sells for $999, and the 256GB option costs $1,149 if you order from Apple and carriers — these prices do not include taxes.
eBay prices, meanwhile, will not be anywhere close to that. The highest rate for a 256GB iPhone X right now is at $6,000, and that's for a phone that might ship on November 10th at best. One user is selling a 256GB AT&T iPhone X for $5,000 and will ship it worldwide.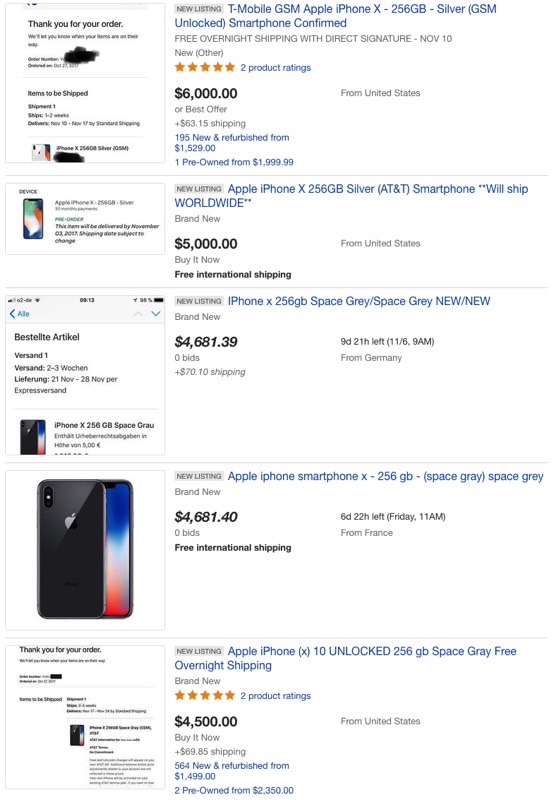 With almost 3,000 results for iPhone X on eBay right now, chances are you'll find yourself an acceptable deal. Again, don't expect to pay retail prices, but you can at least hope not to speed to pay too much on top of the regular cost.
You can expect the same thing from Craigslist when it comes to pricing. The difference is that you won't have to engage in bidding wars with other buyers. Here are a few examples for the New York area: