This year is set to be something of a special year for Apple because it will mark the completion of a major transformation that began in 2017. Apple's iPhone X marked the first complete overhaul of the iPhone's design since the original model was released back in 2007. iPhones over the years had shared a few important characteristics in common until then, but the iPhone X was an entirely different beast. It ditched the iconic home iPhone button, it completely changed the way users navigate the interface, it replaced aluminum with stainless steel, and it introduced a controversial new feature that uses a person's face instead of a fingerprint to verify identity. The iPhone X was nothing short of a complete reimagining of the Apple smartphone.
People are scared of change, and that may be why Apple also released two very familiar iPhone models alongside its overhauled tenth-anniversary iPhone. The iPhone 8 and iPhone 8 Plus looked and functioned just like the iPhones that came before them, and many people have opted to buy one of them instead of a new iPhone X. Price is undoubtedly a factor since the iPhone X starts at a whopping $1,000, but resistance to change also played a role. In 2018, however, Apple's iPhone transformation will be complete. All three new iPhone models set to debut next month will feature Apple's new iPhone X design, and now we know exactly when they'll be announced and released.
Despite the fact that Apple's iPhone lineup will be completely different in 2018 than it has been in previous years, the events that have taken place in the lead up to their unveiling is exactly the same. First, a few rumors start to trickle out, then the world's top Apple insider weighs in and tells us exactly what to expect, then as months go by the picture he painted gets more and more clear as subsequent leaks back up all of his claims.
The insider we speak of is of course TF International Securities analyst Ming-Chi Kuo, formerly of KGI Securities, who first pulled back the curtain on Apple's 2018 iPhone lineup about a year ago. Here is the picture he painted in late 2017: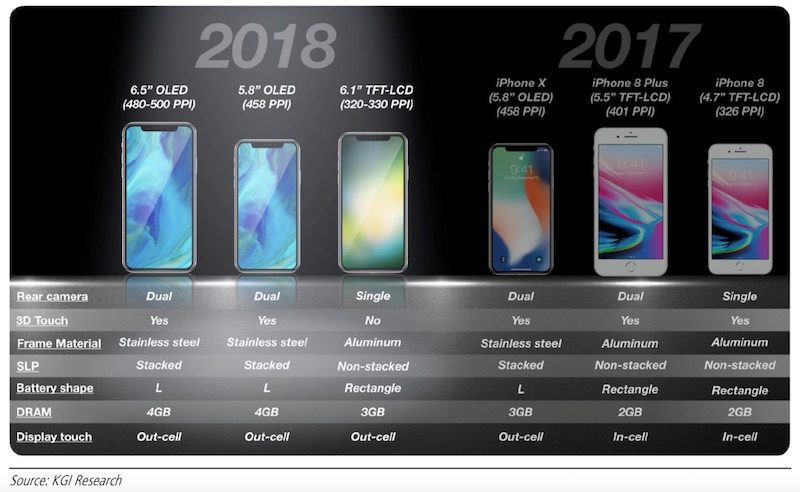 Now, with less than a month to go before Apple is expected to announce its next-generation iPhones, it once again appears that all of Kuo's claims were accurate. Thanks to leaked schematics from Foxconn's factories and more than a dozen independent reports, we know that these are indeed the three new iPhone models Apple plans to introduce this year.
First, we have a next-generation version of the iPhone X, which will look the same and pack the same 5.8-inch OLED screen, but will have upgraded internal components to boost performance. We don't know the phone's name yet, but think of it as an "S" upgrade. Then we have a larger version of the phone that will feature the same core specs, but with a 6.5-inch OLED screen. This phone has been referred to as the "iPhone X Plus" even though that obviously won't be the device's launch name. And finally, we have a new lower-cost iPhone model with less impressive specs and a 6.1-inch LCD screen. All three new iPhone models will share the same design as the current iPhone X, though the LCD iPhone will have slightly thicker bezels around the screen.
We clearly know all about the new 2018 iPhones, but when will Apple introduce them? A report from earlier this week cited information from sources at German carriers in claiming that Apple plans to open up preorders for its 2018 iPhone lineup on Friday, September 14th after an announcement on September 12th. That certainly makes sense since Apple announced last year's iPhone lineup the week after Labor Day and began taking preorders on September 15th.
Following that report, BGR can now safely say that it's accurate. Why? Because multiple Apple partners and third-party accessory makers have sent us PR pitches for mysterious new products with embargoes that lift on, you guessed it, September 12th. We won't mention any of these careless companies by name, though we're obviously not bound by anything since we never agreed to any of these careless embargoes.
For those unaware of how PR works in this industry, companies often send unsolicited pitches with a small amount of information, and then share the full details of the news only once a reporter has agreed not to share the news until an agreed upon date and time. This is a common practice that helps PR companies and media companies alike, and a good PR person will refrain from sharing any specific details until after the reporter has agreed to the embargo. A bad PR person, on the other hand, will share details of the announcement even before anyone has agreed to the embargo.
Suffice it to say all of the unnamed companies we have received the aforementioned pitches from are in a position to know exactly when Apple plans to take the wraps off of its next-generation iPhone lineup. And they all have new accessory announcements coming at some point on the morning of September 12th. This date has been mentioned a few times as the likely target for Apple's 2018 iPhone event, and now it's all but confirmed. An announcement on September 12th would mean that Apple will indeed begin taking preorders on Friday, September 14th. Staying true to form, the new iPhone models will then be released one week later on Friday, September 21st.
Again, nothing is confirmed until Apple sends out invitations to the media and specifies the date on which its late-summer press conference will take place. But based on all of this information, we'd say it's now safe to go ahead and mark your calendars.