You'll see notches everywhere you look this year, and that's because Apple said so. The iPhone X may not be selling as well as some industry watchers had hoped, but it's still driving profits to new quarterly records. Then you have all the Android-powered iPhone X clones that have started shipping this year, which replicate Apple's iPhone X design. After 10 years of iPhone, the market still follows Apple's lead.. But this time around, Apple may have set the perfect trap for any Android phone makers copying the iPhone X.
We're currently in what I'll call Phase 1 of this Android trap, and before we start, I have no way of knowing whether Apple designed the iPhone X the way it did to screw with Android device makers. In fact, that was probably the least of the company's worries. Apple develops its devices on its own schedule, and the iPhone X has been in the making for years. The fact that the notch can have devastating effects on the competition is probably just an added benefit.
Phase 1
The iPhone X notch is an unsightly compromise meant to deliver the user two things that aren't available on any other phone, a 3D facial recognition system (the TrueDepth camera's Face ID feature) and an edge-to-edge display made possible thanks to this subtle Apple innovation.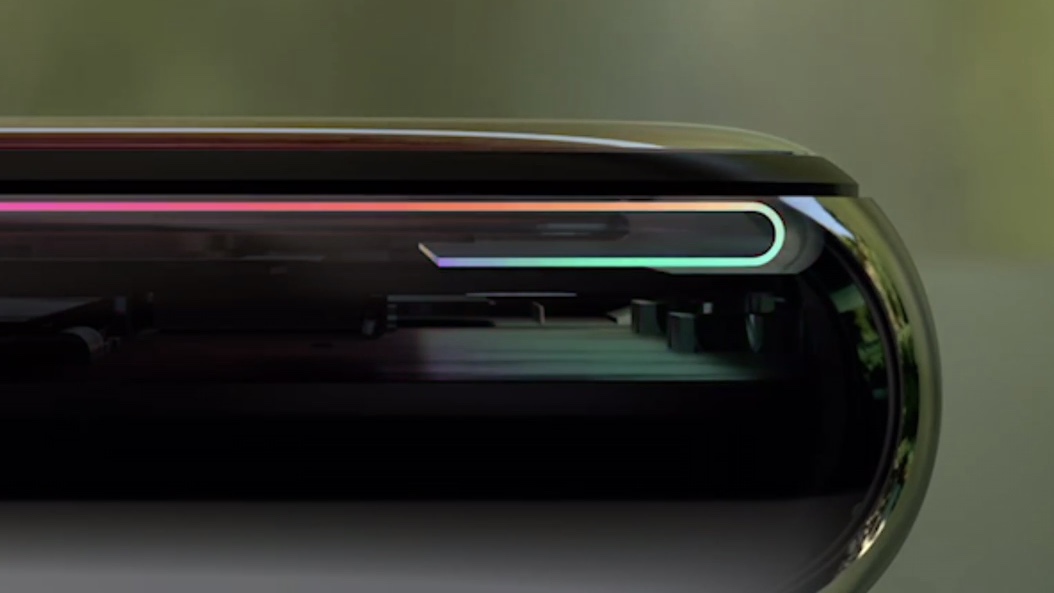 Android device makers, including the biggest and most popular ones, do not have the resources to replicate the iPhone X design perfectly. Their notches do not have 3D cameras. Their all-screen displays do not extend from corner to corner like Apple's.
In the case of the former innovation, it's because Apple has cornered the TrueDepth camera supply chain, and Android is estimated to lag some two years behind Apple when it comes to 3D facial recognition. Not even Samsung is doing it… yet.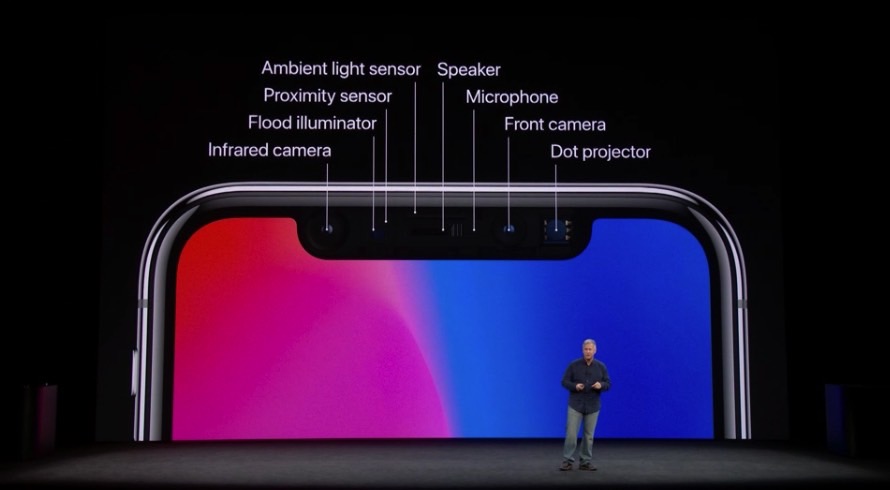 Secondly, Apple is willing to pay the price for that bendable OLED display that curves behind itself so that there's no bezel on the bottom.
Android device makers were therefore forced to copy the overall design of the iPhone X, without getting the finer details. What was surprising to me was the sheer number of companies that blatantly copied Apple. It's not just unknown smartphone makers from Asia, but popular brands too.
Some acknowledged Apple's lead and courage, like Huawei. Others were apparently ashamed so they tried to deny the fact that they copied Apple, like OnePlus and LG. There's also the camp that claims they do the notch better than Apple, like Asus, but that also misses the point.
All these companies know that the iPhone design is still what trends and what buyers want. And they're ready to offer a half-baked notch design even if the user experience is sacrificed in the process. It's likely that some of them have indeed developed notch displays that never made it into consumer products well before 2018. But all of them decided to go for the notch on September 12th, 2017, regardless of prior plans.
Which brings me to…
Phase 2
Apple will keep and refine the iPhone X design for at least one more year. The phone may be even more affordable than before, and Apple will probably not run into any supply issues as it did with the original. The next logical step for the iPhone design is to become a true all-screen display. Like this: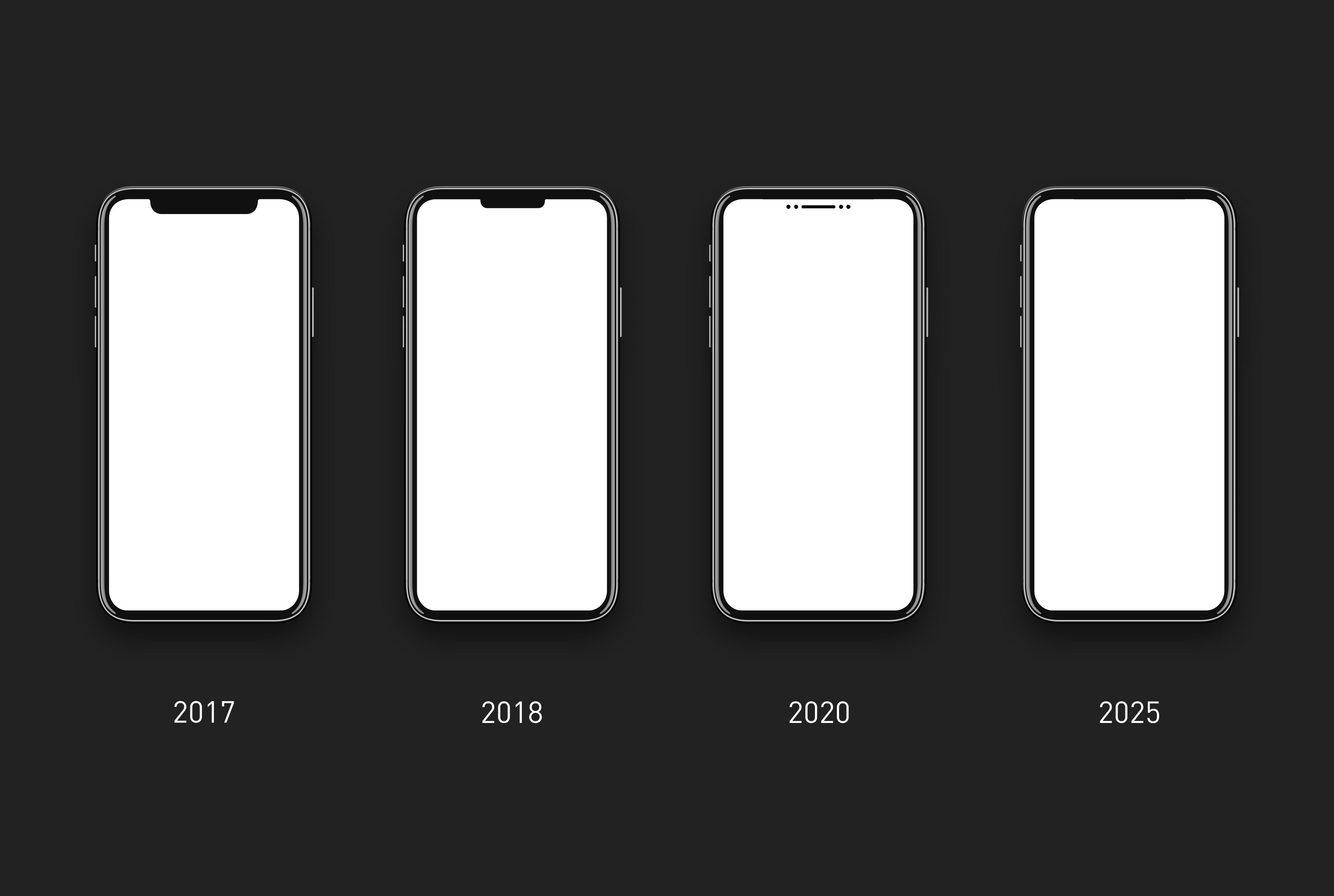 For that "2025" design to become a reality, OLED screen tech has to evolve to the point where the cameras can be placed under the screen. The same goes for the front speaker and all the sensors. Apple, of course, has patents on that. Others may be working on it too.
But Apple will only have to remove from the iPhone X notch to get its true all-screen design. The costs may be elevated, but Apple can afford it. Android device makers that aren't Samsung, which will also move to all-screen displays in the future, will have a different price to pay. They'll probably be quick to copy Apple once again, like they did this year, but they still have additional hurdles to overcome since their phones still have "chins."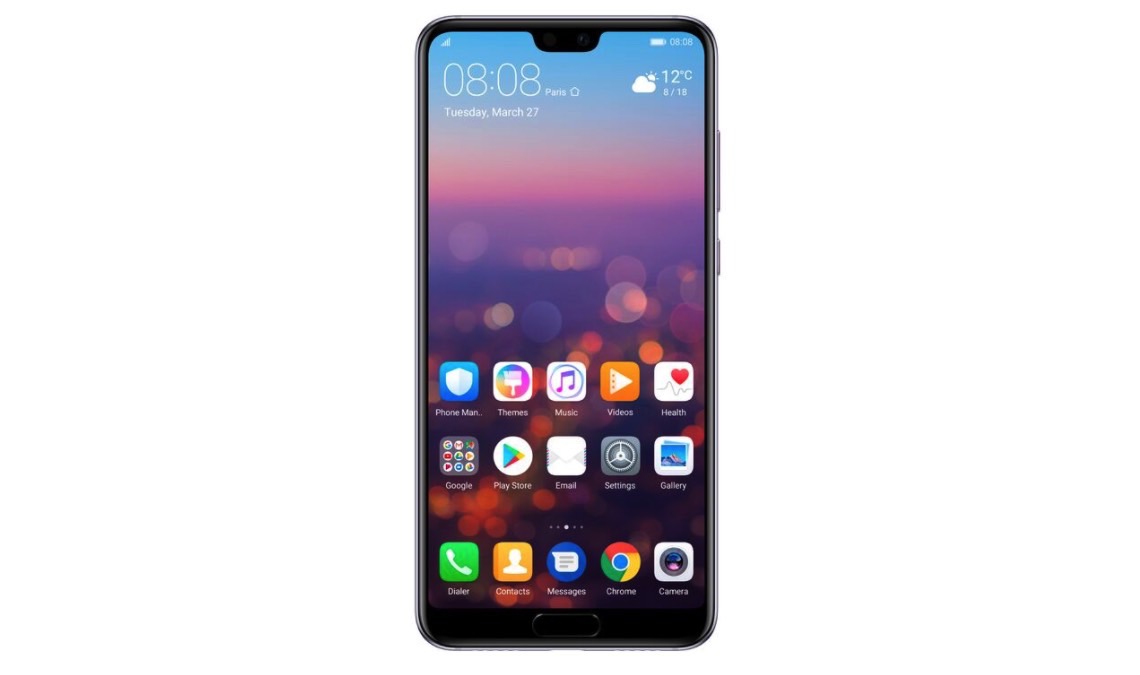 But they won't be able to ignore the price. The current iPhone X display, the one that bends behind itself, costs some $110 according to estimates. It's the most expensive iPhone X component, and a huge cash cow for Samsung. Android device makers that have cloned the iPhone X could have ordered a similar screen from Samsung and the company would probably have delivered it. Not the same kind of display as the iPhone X, which is built to precise Apple specification, but a similar one nonetheless. But nobody else is willing to pay that price. That's why we have phones with chins at the bottom like the Huawei P20 Pro and the OnePlus 6. That's why the Pixel 3 XL will be extremely ugly if this leak is accurate.
When the true all-screen iPhone X does come, all the companies that copy Apple will have to pay whatever it costs to get similar screens — and these will have to be high-end OLED displays to bend like that. Sure, Apple will drive the cost down, as Samsung Display won't be the sole source of such screens, but it'll still be a massive investment from Android handset makers.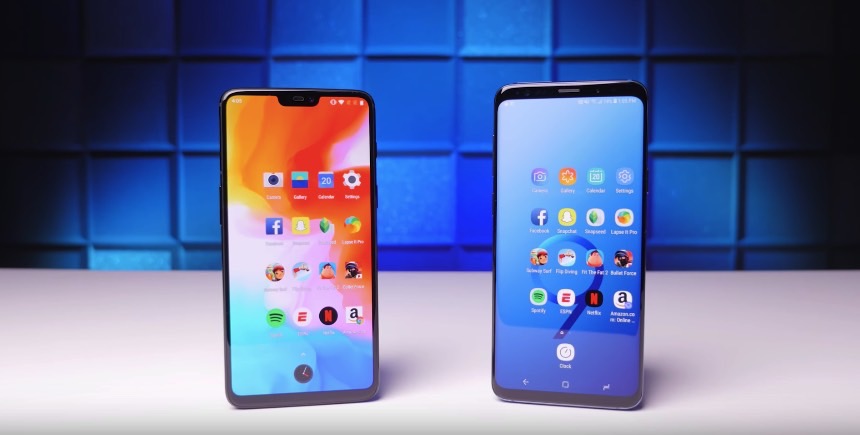 Add 3D camera tech to the mix, and wireless charging and manufacturing costs will continue to pile up. Even if Face ID isn't coming to Android, 3D cameras will be required for advanced AR features, so it's not like Android device makers can avoid them for much longer.
Those costs will have to be passed down to buyers, which would undoubtedly increase the average selling price of high-end Android handsets. All the while, Apple can afford not only to not increase the cost of the iPhone but even reduce it. That all-screen iPhone might seem even more appealing to buyers than the next best thing.
The iPhone X is a lot more important for Apple than raising the iPhone ASP to new highs. Long term, the phone and its notch can seriously hurt some of the regular iPhone competitors out there. And that's why the iPhone X lays the perfect trap for Apple's rivals.