Apple has slowly been limping towards making an actual dark mode for iOS. In the latest iOS 11 update, there's an Accessibility setting called "Smart Invert" that's sorta-kinda a dark mode, with a bunch of caveats.
At this point, it feels like Apple should just bite the bullet and make a proper dark mode. Next year's iOS could be a good time to make that happen: dark modes make the most sense on devices with OLED screens, as having a dark color scheme can save significant power. Coincidentally, Apple is rumored to be putting OLED panels in all three new iPhones next year.
If a lack of inspiration is what's stopping the iOS design team from going dark, there's an easy fix: just throw a bunch of money at the college student who came up with this dark mode concept, and put it straight in the next iPhone X.
As you can see, there's not much to it: just keep all the app icons the same, switch most of the system toggles to a black background, and use shades of grey for cards in applications like Mail.
Even the Settings app, which is traditionally one of the hardest things to make dark while keeping readable, looks good in this color scheme. It's a little more monochromatic than the current iOS, but that's not a bad thing. Apple could even encourage black-and-white photos for contacts to keep things consistent.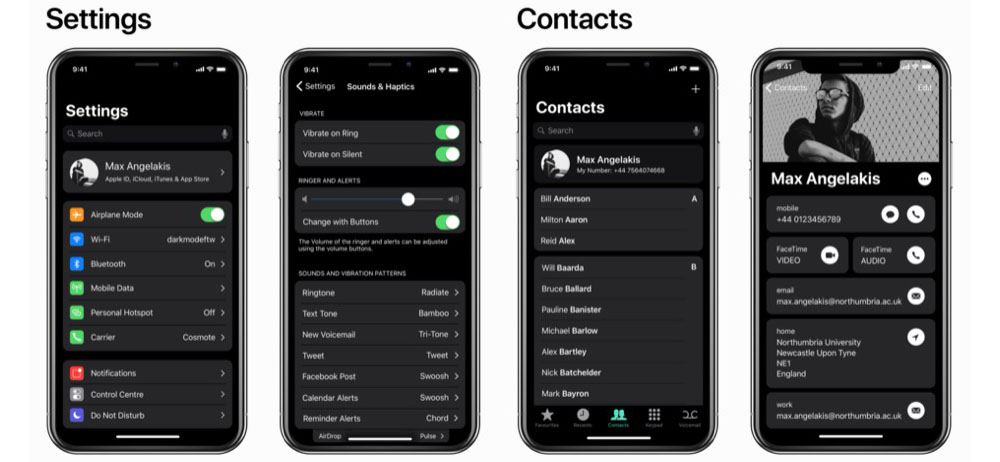 The concept was designed by Maximos Angelakis, a Greek-born industrial design student at Britain's Northumbria University. He says that his work was inspired by the dark color theme on watchOS, which makes use of the Apple Watch's OLED screen to maximise power savings. Angelakis suggests that thanks to the power savings from having a dark mode, the iPhone could have an always-on minimalist lock screen with time and notifications.
The full set of images with all of Angelakis's work is available on 9to5Mac.