As Apple and Android continue to fight for smartphone dominance, it seems as if Apple has already won over the hearts and minds of teenagers across the country. Earlier this week, Piper Jaffray released its semi-annual survey regarding smartphone preferences and revealed that Apple's iPhone remains the most popular smartphone among U.S. teens, a coveted demographic to say the least.
In a survey encompassing 6,000 respondents (via Barron's), we learn that 82% of teenagers — with an average age of 16 — currently own an iPhone, representing a modest increase from the 78% figure Piper Jaffray saw this past fall. Incidentally, the 82% figure marks the highest iPhone ownership rate among teens Piper Jaffray has ever seen.
As impressive as that is, the percentage of iPhone-toting teens stands poised to increase in the months and years ahead. To this point, the survey found that 84% of teens are planning to make their next smartphone purchase an iPhone. Notably, the 84% figure also represents all all-time high.
As evidenced via the chart below, iPhone ownership among teens has increased by quite a bit over the past few years. It remains unclear, though, if this is due to the iPhone's rising popularity, more wallet-friendly iPhone options, or perhaps a cultural shift with respect to the age that teens start using their own smartphones.
Either way, the survey demonstrates that Apple's iPhone business remains sturdy, despite reports that iPhone sales have been somewhat disappointing this past quarter.
The survey also found that the Apple Watch is becoming more popular with teens, with 20% of those surveyed indicating that they own at least one Apple Watch device. During the fall of 2016, in contrast, that figure stood at barely more than 10%.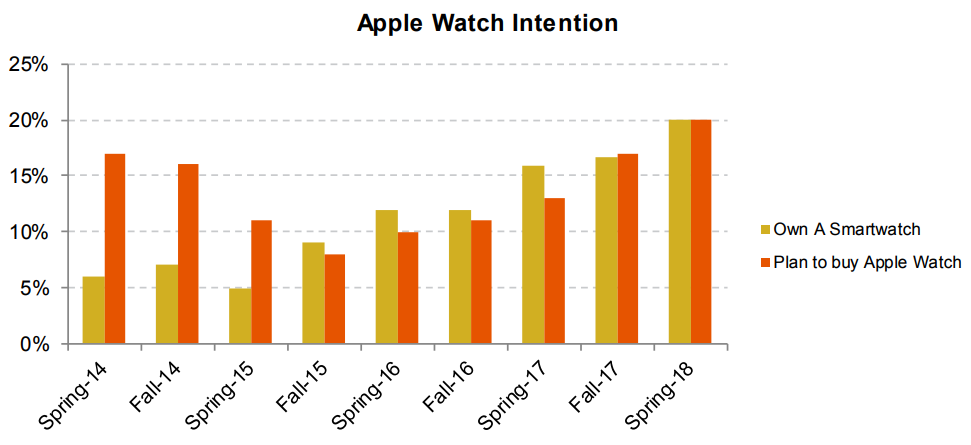 Incidentally, there have been rumblings that year-over-year Apple Watch sales may jump by as much as 33% by the time 2018 draws to a close. Of course, with Apple still refusing to divulge specific Apple Watch sales figures, we'll have to rely upon analyst estimates as opposed to cold hard data.
The survey results aside, we should get a clearer look at the state of Apple's business on May 1 once the company posts its earnings for the recent March quarter.