Every year around this time, iPhone owners start to become painfully aware of their phone's performance and battery life. Some users even go so far as to accuse Apple of employing a strategy of "planned obsolescence," — artificially limiting the life span of its devices in order to force consumers to upgrade to the newest phone or tablet.
Just last week, a story claiming that Apple is intentionally slowing down older iPhone models went viral, backing up the endless conjecture that has surrounded this topic for years. But on Friday, benchmarking firm Futuremark decided to put the issue to bed once in for all by examining actual data from the 3DMark benchmark tool.
Since 2016, Futuremark has collected over 100,000 benchmark results for seven different iPhone models running iOS 9, iOS 10 and iOS 11. First and foremost, by gathering the results of the 3DMark Sling Shot Extreme Graphics test run on the iPhone 5s from April 2016 to September 2017, Futuremark was able to determine that there had been virtually no change in GPU performance, regardless of which version of iOS was installed: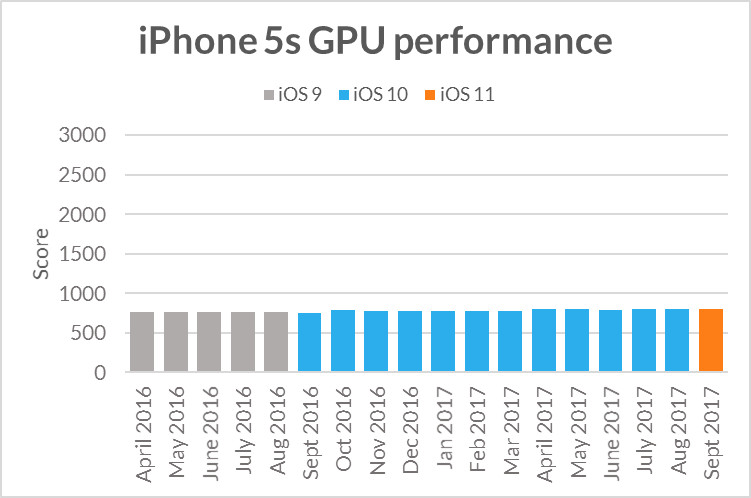 The same was true of the 3DMark Sling Shot Extreme Physics test conducted on the iPhone 5s. Once again, CPU performance fluctuated slightly over time, but didn't appear to have any correlation with the iOS version: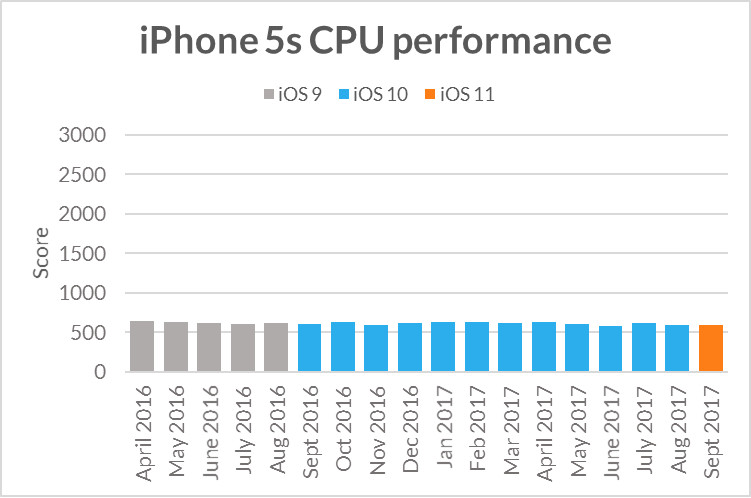 Futuremark ran the same tests on the iPhone 6, the iPhone 6s and the iPhone 7. Time and time again, the results were the same. In other words, there is no grand conspiracy, and Apple isn't doing anything to intentionally kill your iPhone battery or slow it to a crawl. Like any other electronic device, your phone will age and will undoubtedly feel slow in comparison to the next big thing, but the planned obsolescence myth is just that: a myth.