First released just last year, the iPhone SE became an integral part of Apple's iPhone lineup, reaffirming the company's interest in providing a pocketable iPhone with high-end specs to those buyers looking for smaller handsets. Of course, the media has all but forgotten the device, since it's not quite as appealing or as impressive as Apple's flagship iPhones. Perhaps the design is one big reason for the lack of attention. The iPhone 5s lookalike that sports iPhone 6s internals and lower pricing still became quite popular with some customers, but Apple decided not to release a new model this past March. However, a new leak from Asia suggests Apple may update the iPhone SE with a big redesign in the near future.
An image posted over on Weibo shows what appears to be the rear panel of an iPhone SE, according to the person who leaked it. What's immediately noticeable is that it features cutouts that would fit a vertical camera assembly. However, we're probably looking at a camera and flash setup, rather than a vertical dual lens camera akin to what we're expecting on the iPhone 8.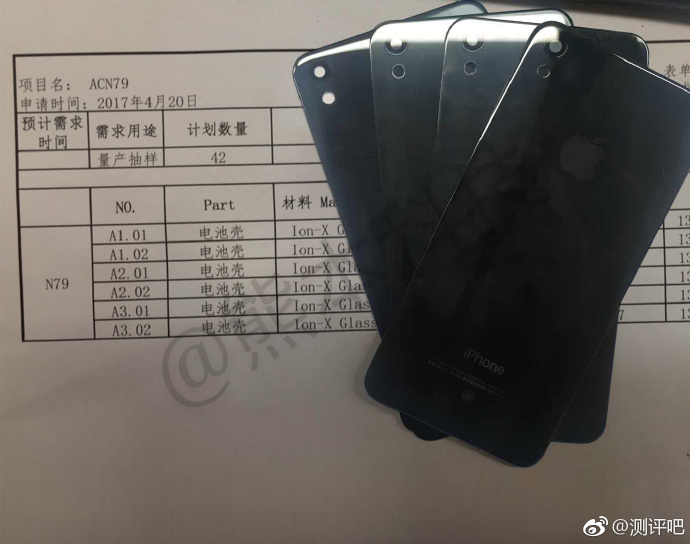 A Google Translate translation of the message reveals that the person who posted the image says the iPhone SE component is made of glass, just like what we're expecting to see from the iPhone 8's rear shell, and maybe even the iPhone 7s and 7s Plus. The new SE could be unveiled at WWDC 2017, the Weibo user also suggests. That said, if the new glass panel is there to enable wireless charging, it's doubtful that the phone will debut before the iPhone 8 in September.
As for the phone's name, if real, it's unclear what it's going to be. Will Apple sell the device as iPhone SE? iPhone SE 2 doesn't sound right at all. Maybe we're looking at an iPhone SE Series 2 model, a naming scheme that Apple has adopted for the Apple Watch family.