In what has to be incredibly depressing news for Samsung and its fans, Counterpoint reports that Apple's 8-month-old iPhone 8 actually outsold the 2-month-old Galaxy S9 and Galaxy S9+ this May. After catching up with and surpassing both the iPhone X and iPhone 8 in April, Samsung's latest flagship devices immediately fell out of first place, despite mass global appeal and the fact that both phones are still relatively brand new.
This is according to research firm Counterpoint, which regularly puts together a list of the best-selling phones around the globe. In April, the Galaxy S9 and S9+ captured 2.6% of the international market, respectively, while the iPhone X lagged behind at 2.3%. Keep in mind, April was the first full month after the S9's launch.
As you have likely heard more than once if you read our site with any regularity, Galaxy S9 sales were disappointing for Samsung almost immediately, and that has been reflected in Counterpoint's data. After leapfrogging Apple for just a single month, the S9+ fell to 2.4%, with the iPhone 8 regaining the lead by fractions of a percent.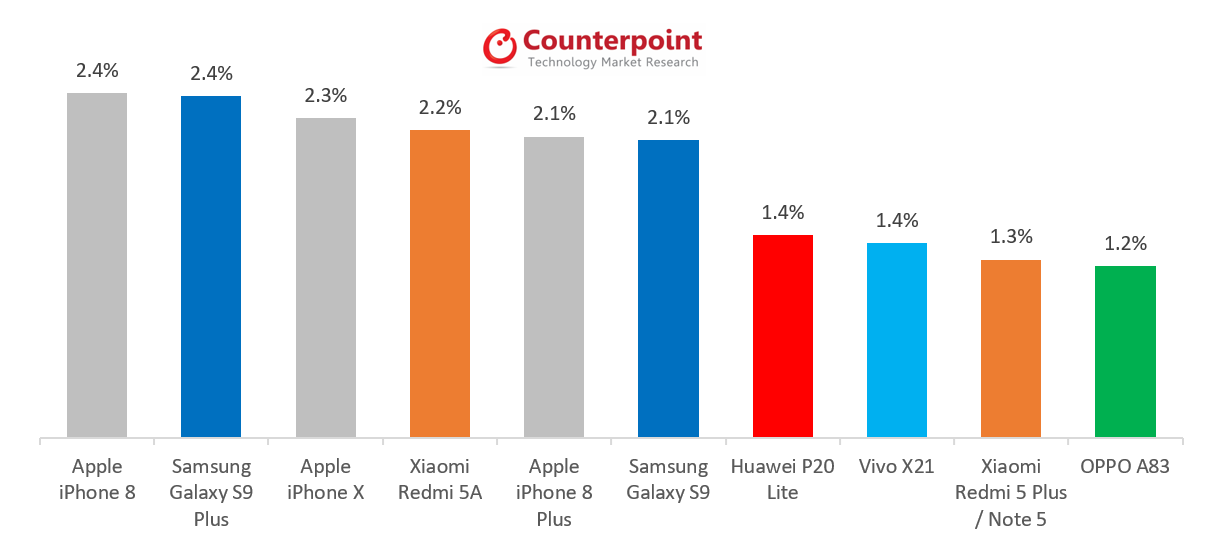 "According to the latest research from Counterpoint's Market Pulse, Apple regained the top spot in the global best selling smartphone list with the iPhone 8," says Counterpoint's Pavel Naiya. "Strong promotions ("How to shoot on iPhone") running up to the football (soccer) World Cup helped the tech giant to trigger buyer interest in Europe and other markets. iPhone 8 sales were steady in the US postpaid channels."
We didn't really need any further confirmation that the Galaxy S9 was a relative dud for Samsung, but the fact that an 8-month-old phone that doesn't even have a new design is already beating it is certainly not a good sign.