We're currently witnessing the biggest iPhone leak since an Apple engineer forgot an iPhone 4 prototype in a bar. Two months before Steve Jobs took the stage to unveil the iPhone 4 in 2010, the world got to see the handset in the flesh. This time around, we don't have an actual device to show you, but an Apple employee mistakenly released the HomePod software into the wild. And that firmware contains plenty of juicy iPhone 8 details.
Developers digging through it have already found a treasure trove of iPhone 8 information, confirming the phone's design and the new "Face ID" biometrics unlock feature. The speaker's software also revealed there's no home button on the phone, and that there's no Touch ID sensor in sight — or, at least, it's not mentioned in the software.
A new finding reveals more details about the iPhone 8's most important feature, seemingly confirming previous leaks on the matter.
The iPhone 8's main selling point will be its edge-to-edge display that'll give the user access to an even bigger screen in a device that'll be about as big as the 4.7-inch iPhone. That also means the phone has to deliver a better image quality than the 4.7-inch model, and that means better resolution as well.
The same Steve Troughton-Smith, the developer who first started tweeting findings from the HomePod software, discovered references to the iPhone 8's screen resolution inside the code.
There are little tidbits in the OS suggesting upcoming iPhone will have a 3x screen at 1125×2436. Hard to gauge what that will mean for devs pic.twitter.com/SK8QjOAfDt

— Steve Troughton-Smith (@stroughtonsmith) July 31, 2017
"There are little tidbits in the OS suggesting upcoming iPhone will have a 3x screen at 1125 x 2436," he said.
If those numbers sound familiar, that's because we saw them in the past. Well-known Apple Insider Ming-Chi Kuo said in February the iPhone 8 will have a 5.8-inch OLED screen measuring 2800 x 1242 resolution, of which the display area will measure 5.15-inch or 2436 x 1125, as seen in the following image.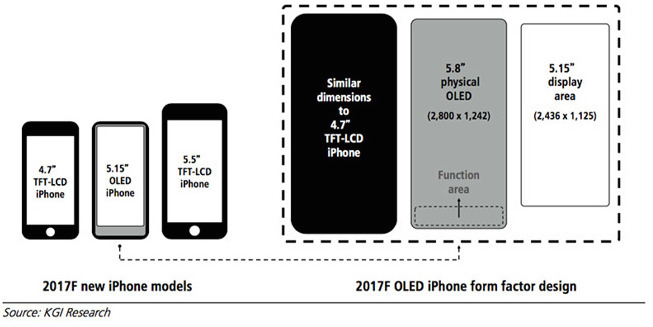 Then, in mid-June, MacRumors noticed in its website analytics programs references to iOS 11 devices sporting 2436 x 1125 screens, a resolution we've discovered in BGR's own analytics.
Troughton-Smith's discovery seems to confirm the iPhone 8's resolution and aspect ratio. Conversely, at 2436 x 1125, the screen would still be of Retina quality, measuring 521 pixels per inch (PPI). Retina displays are, in Apple's own terms, screens with resolutions exceeding the 326 ppl.