Apple's flagship 2017 iPhone will reportedly be such a drastic leap forward in design and functionality that Apple will reportedly call it the iPhone 8. Said to feature an edge to edge display, the iPhone 8 will likely smash all existing iPhone sales records and restore faith in Apple's ability to innovate.
While there's still a lot we don't know about the iPhone 8, a new research note from reputed Apple analyst Ming-Chi Kuo helps answer a number of lingering questions people have raised about Apple's next-gen smartphone. In a note obtained by MacRumors, Kuo writes that Apple's iPhone 8 will be about the same size as the current 4.7-inch iPhone 7 but will incorporate a display with about 5.15-inches of usable space.
Interestingly, though, Kuo anticipates that the iPhone 8's OLED display won't be truly edgeless as there will be extremely thin bezels on the sides and top of the device. The bottom of the device, meanwhile, is said to feature a "function area" that will presumably be similar in utility to the Touch Bar on Apple's recently released MacBook Pro. Regardless, the main takeaway here is that the iPhone 8 will manage to squeeze in an iPhone 7 Plus sized display onto a much smaller form factor.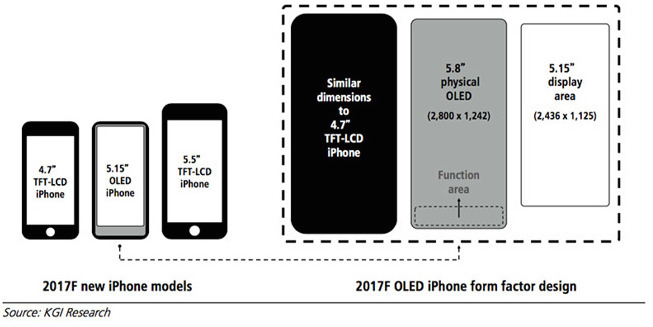 Assuming that the above illustration is accurate, one glaring question centers on what Apple plans to do with Touch ID on the iPhone 8. While some reports, bolstered by some patent filings, have suggested that Apple may integrate a Touch ID sensor onto the iPhone 8 display itself, Kuo believes that Touch ID may be non-existent on the iPhone 8 altogether. In its place, Kuo writes that Apple may implement a security verification system built around face recognition technology.
While it's hard to imagine Apple completely doing away with a technology as popular, seamless, useful and secure as Touch ID, there are a number of reports pointing to Apple incorporating 3D laser technology to achieve a robust verification system based on facial recognition software. In an ideal world, Apple would figure out a way to have Touch ID coexist alongside new any new facial recognition technology it plans to incorporate, but we'll have to wait until September before Apple's plans become clear.
As for other iPhone 8 rumors, Kuo earlier this week also issued a research note claiming that battery life on the iPhone 8 might be even better than the iPhone 7 Plus due to a stacked logic board design. Further, iPhone 8 battery life will also be bolstered by Apple's decision to go with an OLED display, a more power efficient option than the current LCD screens currently found on Apple's iPhone lineup.
As the iPhone 8 rumors continue to roll in — and we haven't even touched on wireless charging — it's becoming increasingly clear how Apple will be able to justify charging a reported $1000+ for the device. An ambitious price point to say the least, the surprising popularity of the pricier iPhone 7 Plus model last quarter underscores that iPhone owners will be more than happy to pay extra for additional features and enhanced battery life.