Japanese news agency Nikkei is hit or miss when it comes to unannounced Apple plans. This is a problem among many Eastern news agencies, in fact, and it often stems from gathering data from supply chain sources far too early in the product cycle. Plans often change often before a consumer electronics product reaches the late stages of development, so details surrounding a device like the iPhone 8 might change several times before the new models are released next year. With that in mind, it's far too early to instill too much confidence in the recent Nikkei report that Apple plans to launch the iPhone 8 in not two but three different sizes. It is definitely not too early, however, to check out a mockup that shows how fantastic it would be if Apple actually did release three different versions of its next-generation iPhone 8.
MUST SEE: We finally figured out why Google's Pixel looks so much like an iPhone
Earlier this week, we posted a beautiful mockup created by Latvian graphic designer and YouTuber Veniamin Geskin. The mockup showed what an all-screen iPhone 8 would look like if Apple could manage to ditch the home button and embed the fingerprint scanner, ear speaker and sensor beneath the display. The result is stunning, as you can see in this post, but unfortunately it's a bit ambitious for a 2017 smartphone. Apple's new iPhone 8 lineup is indeed expected to ditch the home button and embed a next-generation Touch ID module beneath the screen, but there will likely still be some space above and below the display.
In fact, odds are pretty good that the actual iPhone 8 lineup will look more like a different set of mockups created by Geskin. He drew up the tenth-generation iPhone 8 in the three different sizes that Nikkei reported, and you can see them all in the image below.
https://twitter.com/VenyaGeskin1/status/792909885520355328
Here's a close-up of the second image: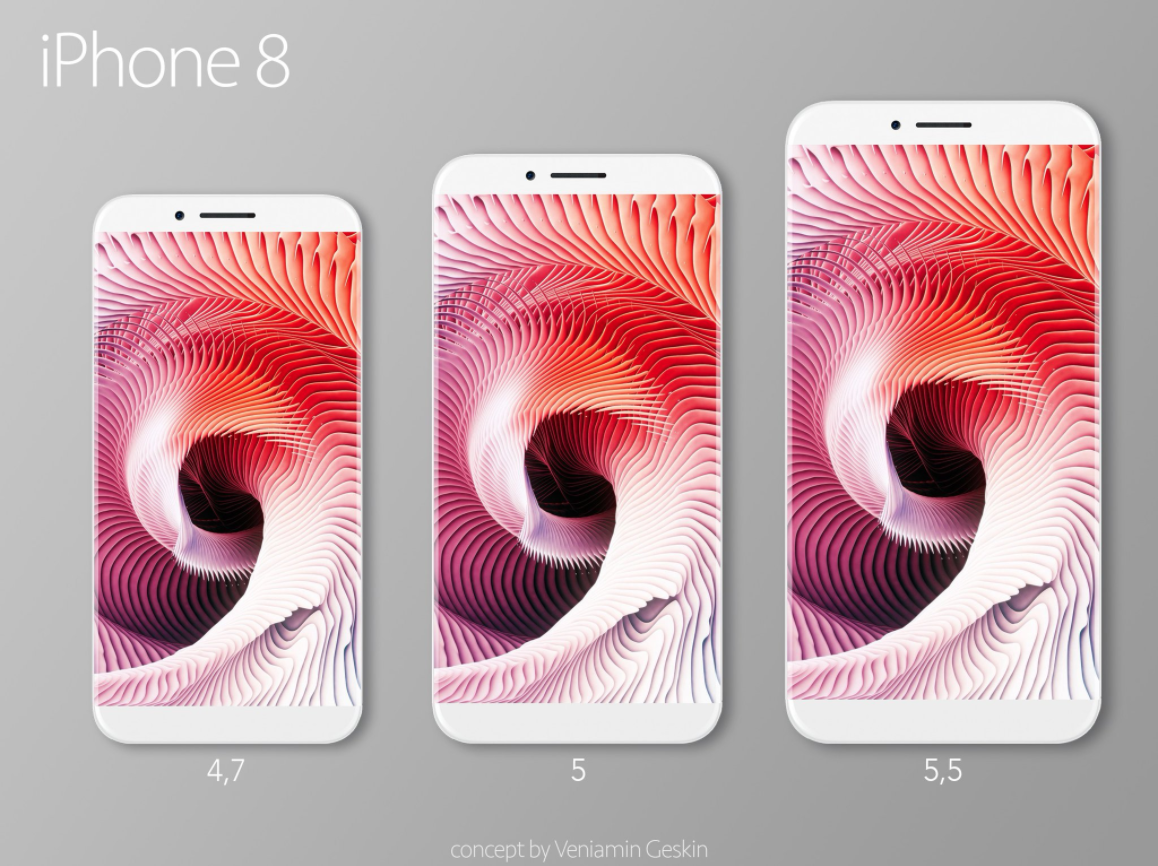 We have already seen a few claims that the Nikkei report is off base and Apple's new iPhone models will only come in two sizes, as they do now. But one look at the image above is enough to realize that a 5-inch iPhone 8 might just be the perfect size for many users who find the Plus too large and the 4.7-inch version too small. If Apple doesn't end up releasing three models, let's just hope that the 5.5-inch iPhone 8 is more compact thanks to its new design, which will reportedly feature a screen with curved edges and less bezel on either side.