It's a brand new day, which means we have to deal with not one but multiple new iPhone 8 rumors, including one that puts an interesting twist on the new phone's design. Buried in a series of leaks, a tweet indicates the iPhone 8 will have the great design we expect — the one that doesn't involve hunting for the Touch ID sensor on the back. More importantly, we may have an indication of exactly how Apple will accomplish it.
Twitter user Benjamin Geskin on Wednesday tweeted a bunch of leaks he found on various Chinese forums, including pictures and videos of an iPhone 8 dummy unit, and a new schematic of the handset.
Alleged #iPhone8 front glass part. pic.twitter.com/PF4oXVT75V

— Ben Geskin (@BenGeskin) May 23, 2017
We have no way of confirming that what he posts is accurate, and he doesn't always link the sites where he finds his images and info. But Geskin obviously gets his data from various sites around the web, and many of these rumors seem to be rooted in reality. A few hours ago, Geskin said on Twitter that the iPhone 8 will feature 3D scanning tech but no iris sensor, which is exactly what we're expecting. He also added an interesting detail about the screen: "The fingerprint scanner is all around the screen," he said.
That's certainly exciting because, if accurate, it means the Touch ID sensor will be placed on the front side of the handset, not the back.
#iPhone8: 3D scan technology, no IRIS. Fingerprint scanner all around the screen.

— Ben Geskin (@BenGeskin) May 23, 2017
But is it really possible? Yes, it is, and Apple has long been researching the technology that could make it happen. Before you start coming up with jokes about how you'd unlock the phone by just holding it, you should know this isn't your regular touch-based fingerprint sensing technology.
Rather than a sensor like the ones found in all iPhones since the iPhone 5s, the iPhone 8 might sport a fingerprint reader that's based on acoustics. Check out the following image: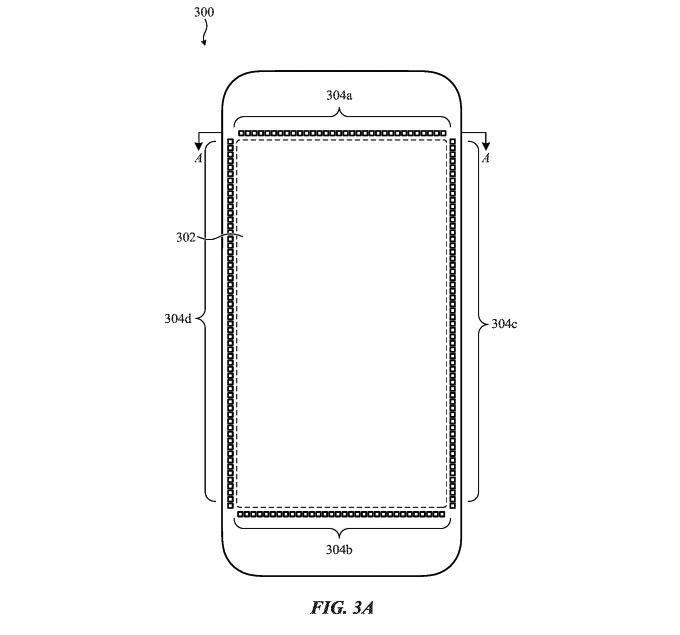 In this patent application, Apple describes ways of reading a user's fingerprint with the help of transducers placed all around the display to generate acoustic waves. The sensors would monitor the way these waves interact with objects they encounter, like the ridges of a fingerprint, and create unique signatures for each finger. The sensors could also recognize when the user is holding the device or talking on the phone, and the phone would not be unlocked.
In addition to the patent, a report in early March said that Apple created a new Touch ID sensor that uses ultrasound to read a fingerprint. Apple also has several patents describing such technology.