With iPhone 8 mass production inching closer with each passing week, the number of iPhone 8 leaks we've come across has increased markedly over the past few months. And while it's no secret that Apple tends to test a myriad of different iPhone designs in the build-up to a new model release, the consistency of the leaked photos we've seen over the past few weeks alone suggest that the highly anticipated iPhone 8 will easily live up to the hype. Aside from an edge-to-edge OLED display with minimal bezels all around the device, it appears that Apple has figured out a way to embed its Touch ID sensor into the display itself. In other words, we thankfully won't have to contend with an iPhone design with the Touch ID sensor located on the back.
Photos of Apple's upcoming iPhone 8 are certainly great, but noted leaker Benjamin Geskin recently upped the ante by uploading the first known video of what will presumably be Apple's final iPhone 8 design. Originally posted to Twitter yesterday evening, the new iPhone 8 video is a dummy model that corroborates our own exclusive iPhone 8 leak we published just a few days ago. Put simply the iPhone 8 is going to be an incredibly sleek device and will finally provide users in the market for an upgrade a brand new iPhone design worth getting excited about.
The video can be viewed below and it's worth noting that Geskin previously said that the iPhone 8 will incorporate a "back glass and metal frame" such that it looks and feels like a single component. As a result, Geskin claims that the iPhone 8 design is "even more merged" than Samsung's flagship Galaxy S8 to the extent that it will house "almost no transition between frame and glass."
While the video here gives us a broad sense of the device's dimensions, it's hard to know what to make of it without any additional context. Helping out in this regard, it's worth referencing purported iPhone molds which emerged online over the weekend. As evidenced below, it appears that the iPhone 8 will be slightly longer than the 4.7-inch iPhone 7s.
https://bgr.com/wp-content/uploads/2017/05/iphone-8-molds.jpg?quality=98&strip=all&strip=all
Additionally, the photos below suggest that the iPhone 8 may be slightly thicker and wider as well. So while early reports claimed that the iPhone 8 would have the same exact form factor as the current iPhone 7, that doesn't appear to be the case.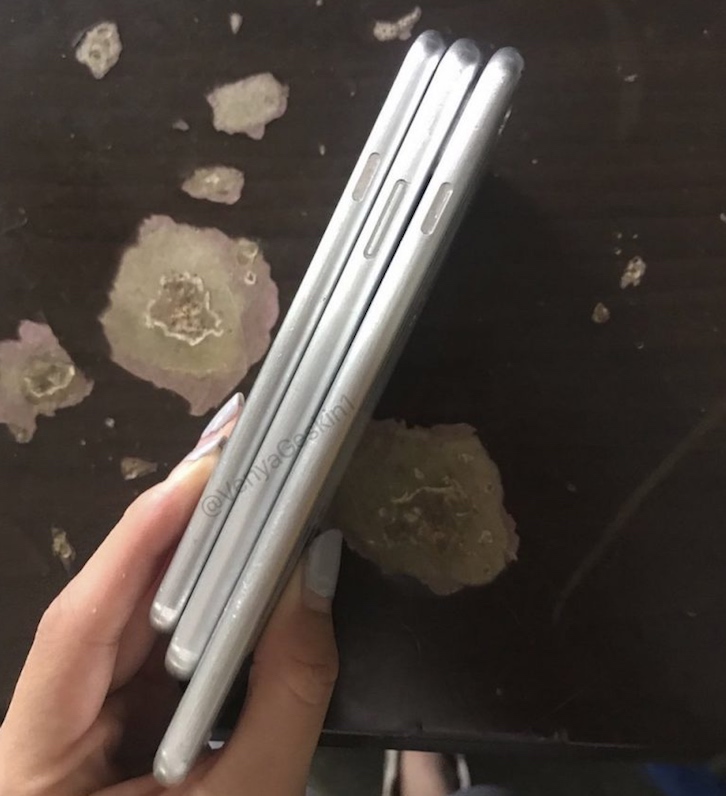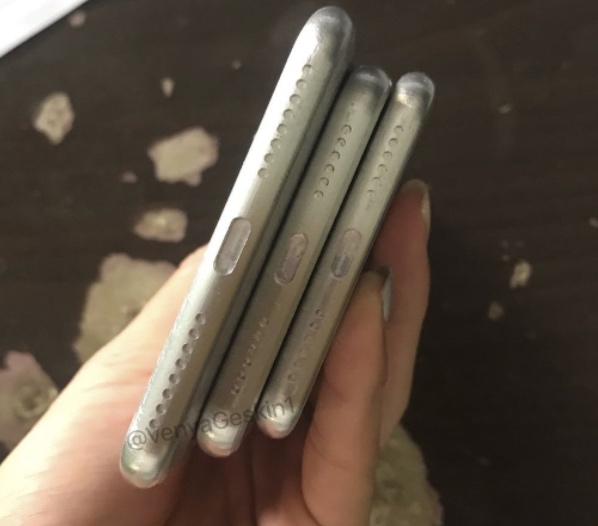 Aside from a bold and arguably long overdue redesign, the iPhone 8 will introduce a number of other compelling features, including more RAM, improved battery life, advanced facial recognition technology, support for augmented reality, and a 256GB storage tier. Taking this all into account, not to mention Apple's growing user base, there's a reason why many analysts believe the iPhone 8 will soon anchor the largest iPhone refresh in history.
Price wise, the iPhone 8 is expected to fall somewhere in the $1,000 range, though it remains unclear if the entry-level iPhone 8 will be priced above or below that figure. As far as a release date is concerned, a number of reputable sources in recent days have indicated that Apple will release the iPhone 8 in September. This is welcome news given the plethora of relatively outdated analyst notes claiming that the iPhone 8 release date might be pushed back as far as November. Now the bad news is that the iPhone 8, even though it may see a September launch, will likely be severely supply constrained for quite a few weeks.
Regardless, there's no question that the upcoming iPhone 8 is the most highly anticipated iPhone release we've seen in quite a number of years.