With the iPhone 8 release steadily approaching, a new research report from comScore reveals that iPhone ownership in the United States is at an all-time high. This bodes well for Apple, as it suggests that the number of iPhone owners in the market for an upgrade is larger today than it's ever been before.
According to the report, there are currently 85.8 million iPhone owners in the U.S. above the age of 12. Broken down across specific devices, the iPhone 7 and iPhone 7 Plus account for 12.6 million of those iPhones. That leaves upwards of 73.2 million iPhone owners currently using devices that will be two years old by the time Apple rolls out its 2017 iPhone lineup, a collection that will reportedly include an iPhone 7s, an iPhone 7s Plus and, of course, the flagship iPhone 8 with an edgeless OLED display.
Here's how all the data stacks up.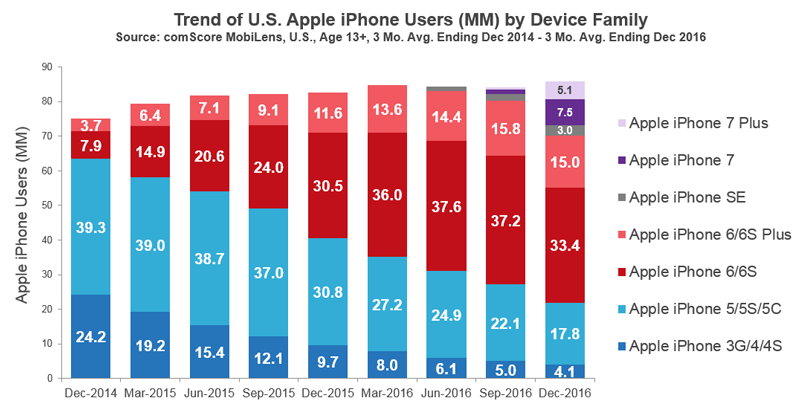 comScore adds:
According to comScore MobiLens, there are still nearly 50 million iPhone 6 users, in addition to the more than 20 million iPhone owners who have a 5 model or earlier. These 70 million collectively represent a huge base of users who are ripe for an upgrade cycle later this year when the iPhone 8 is expected to be released.
With such a large installed base of users, it's no wonder that many analysts are predicting that the iPhone 8 will help anchor the largest refresh cycle in iPhone history. Arguably, the iPhone 8 will be the most compelling new iPhone release since the iPhone 5 was introduced. For starters, the iPhone 8 will boast a brand new redesign, a welcome change given that the current iPhone form factor has remained stagnant since 2014. Further, the iPhone 8 will likely introduce a number of other compelling features, including improved battery life, wireless charging functionality, and, as rumor has it, a slew of augmented reality features.
Comparing the upcoming iPhone 8 release to the iPhone 6 release back in 2014, some analysts have said that the current iPhone installed base is a good 45-50% larger than it was back then.
All that said, it stands to reason that the iPhone 8 will be a monster release, unless of course the device is subject to delays. Indeed, we've seen some reports recently indicating that the highly anticipated device might not actually be released until October or November. Rumor has it that initial attempts to embed the Touch ID sensor into the iPhone 8's OLED display have resulted in disappointing yields. Consequently, it's believed that Apple may need more time to iron out the technology before the iPhone 8 is ready for mass production. One thing Apple has to be cognizant of, though, is that if the iPhone 8 release date is pushed back too far, it could have a discernible impact on the iPhone 7s and 7s Plus, two devices which will presumably go on sale in September of this year.