The iPhone doesn't seem like it should be the most powerful mobile device money can buy when compared to top Android devices. On paper, many of them offer better specs. However, in real-life tests and benchmarks, the iPhone always seems to outscore the best phones made by Apple's top rivals. The iPhone 7 is also expected to follow in its predecessors' footsteps, and crush recent competitors in tests.
A leaked screenshot showing a Geekbench score for the new iPhone seems to suggest the device will obliterate rivals once again, and it might be the first real iPhone 7 benchmark to hit the web after various other fake listings were posted online.
DON'T MISS: Massive iPhone 7 leak details enhanced display, improved storage options and much more
Last year's iPhone 6s did remarkably well in Geekbench tests, scoring 2490 in single-core tests, and 4332 in multi-core tests – the scores are at 2485 and 4341, respectively, for the iPhone 6s Plus. Comparatively, this year's Galaxy S7 edge apparently managed scores of 2141 and 5232 in the same tests. The Galaxy Note 7 Exynos version does up to 2081 and 6500 in the same tests, while the Qualcomm Snapdragon 820 version reaches almost 1900 and over 5500 in the same tests. Sadly, neither phone is on sale right now since Samsung issued a recall.
Found by My Drivers, the alleged iPhone 7 Geekbench score shows 3379 for single-core performance and 5495 in multi-core tests. That's enough to slightly beat the 12-inch iPad Pro which gets 3224 and 5466 in the same tests.
The image below shows the test was performed on September 4th for a device codenamed iPhone9,3, which is expected to be the 4.7-inch iPhone 7 given that it has 2GB of RAM inside. The handset is running iOS 10.1 and features a dual-core processor.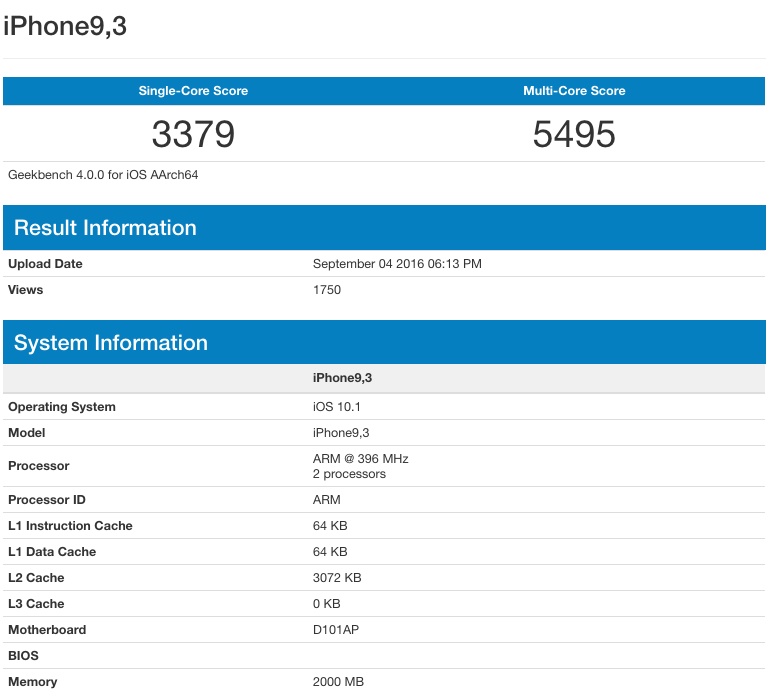 Apple will unveil the iPhone 7 during a special media event on Wednesday, and it's very likely processing power and graphics performance improvements will be among the iPhone 7 features Apple addresses on stage. After all, every year Apple explains how its newest iPhone is even more impressive than its predecessor in terms of performance.