The iPhone 7 will be a monster computer, a new leak shows. There are those iPhone fans who won't be happy to see the iPhone 6's design recycled for a third iPhone model but forget about design for a second. The real iPhone features you should always get excited about lie under the hood. It's a given the iPhone 7 will offer better hardware, and therefore better performance, than its rival, and more leaks seem to prove that. After a leak yesterday said the iPhone 7 might deliver better battery life than ever, a new report shows the first benchmark for the A10 processor that will equip the iPhone 7 models.
DON'T MISS: Galaxy Note 7 looks stunning in new leaked photos
Last year's iPhone "S" generation brought over a massive performance bump. More RAM and a faster, more efficient processor made the iPhone 6s upgrade a no-brainer – if you've used both the iPhone 6 and iPhone 6s you already know how incredibly fast the iPhone 6s feels.
With that in mind, we expect the iPhone 7 to be even faster than the iPhone 6s, and a first benchmark leak for the A10 says the new processor is going to be as fast as the Apple A9X CPU found inside the iPad Pro models. The following leaked Geekbench graphic, obtained by TechTastic, show the evolution of the Apple mobile chip, starting with the A4 and going all the way up to the A10.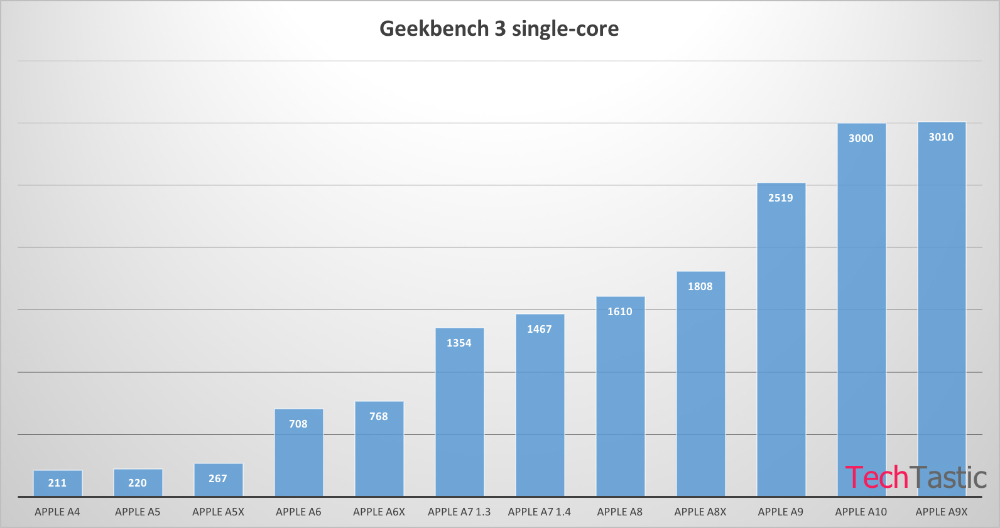 In other words, single-clock scores for the Apple A10 top 3000, nearly 500 points more than the Apple A9. We'll remind you that Apple's iPhone 6s manages to crush all rivals in real-life tests, even though these competitors sport better specs, at least on paper.
According to a message on Weibo, the A10 processor is a dual-core chip, featuring "invincible" single-core performance.
Created by Apple, the A10 processor is probably going to be mass-produced by TSMC on its 16nm FinFET process. Unfortunately, TSMC doesn't appear to be ready to mass-produce 10nm-based Apple A* processors just yet, which should be both faster and battery-friendlier than the 16nm A9 inside the iPhone 6s.