Apple's new iPhone 7 and iPhone 7 Plus are set to be unveiled next week during an event expected to take place on Wednesday, September 7th. Unless you've been living under a rock, you probably already knew that. In fact, you likely knew that even if you have been living under a rock. Nothing in the tech world garners anywhere near as much attention as a new iPhone launch, and this year has been the same as previous years despite the ongoing storyline among some blogs that suggest Apple's new iPhone 7 and iPhone 7 Plus are going to be "boring."
Well, boring or not — we're thinking "not," and we explained why in a recent post — Apple's new iPhone 7 lineup will be the biggest launch of the year, and a steady stream of leaks have painted a pretty clear picture of what we can expect. Now, on top of everything else, a new leak may have just revealed official specs for Apple's new iPhone 7 and iPhone 7 Plus.
MUST SEE: Leaked photos of iPhone 7 in blue remind us of the biggest remaining mystery
We don't truly know anything about Apple's iPhone 7 and iPhone 7 Plus with 100% certainty, and we won't until Apple makes its next-generation smartphones official next month. There are several details that we're very confident are accurate though, and that list may have just grown thanks to a new leak.
According to earlier leaks and well-sourced reports, Apple's new iPhone 7 lineup will look a great deal like the current iPhone models. They'll be marginally thinner and will feature redesigned antennas as well as new cameras. They also won't have standard headphone jacks, and they might be available in a hot new color that was just pictured in a recent leak.
As for specs, we know the iPhone 7 and iPhone 7 Plus will include a next-generation Apple processor, but nothing solid beyond that has been confirmed. Now, a new leak on Chinese microblogging site mirrors specs offered in two tweets from Twitter user The Malignant, suggesting that the 4.7-inch and 5.5-inch iPhones will feature more differences than just screen size and rear cameras.
Here's what the new leaks suggest:
iPhone 7
4.7-inch display, 1334 x 750 resolution
Apple A10 processor
2GB of LPDDR4 RAM
1,960 mAh battery
12-megapixel f1.9 rear camera
Improved water and dust resistance
iPhone 7 Plus
5.5-inch display, 1080p resolution
3GB of LPDDR4 RAM
2,910 mAh battery
Dual 12-megapixel f1.9 rear cameras
Here's the image offered in this new leak: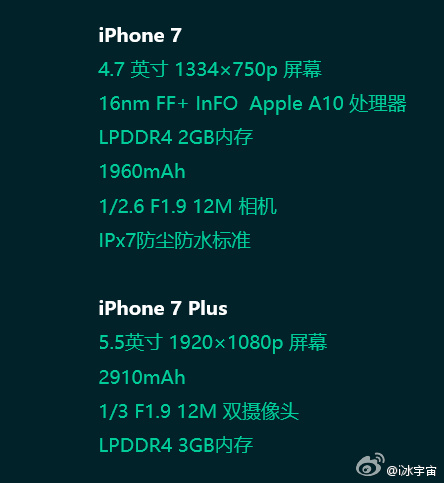 Apple's new iPhone 7 and iPhone 7 Plus are expected to be released on September 16th following an announcement on September 7th and preorder availability that begins next Friday, September 9th.