The web is full of believable iPhone 7 rumors, and earlier leaks have revealed almost everything about the phone. But there are a few questions that still linger, as leaks move back and forth on the answers. One in particular concerns the new iPhones' names. What will Apple call its "S" version of the iPhone 6s? iPhone 6SE is one name thrown around, but that's terribly annoying. Others say that iPhone 7 is the chosen name for the upcoming new models. But one European carrier seems to already know the answer, and it's not afraid to "mistakenly" list it on its website.
DON'T MISS: There are still two big problems with Apple's iPhones, but the iPhone 7 will solve one of them
We're talking about Vodafone Netherlands, which posted the following image on its website for a short time before pulling it. It's unclear whether this was intentional or just a test that was spotted immediately by an eagle-eyed customer.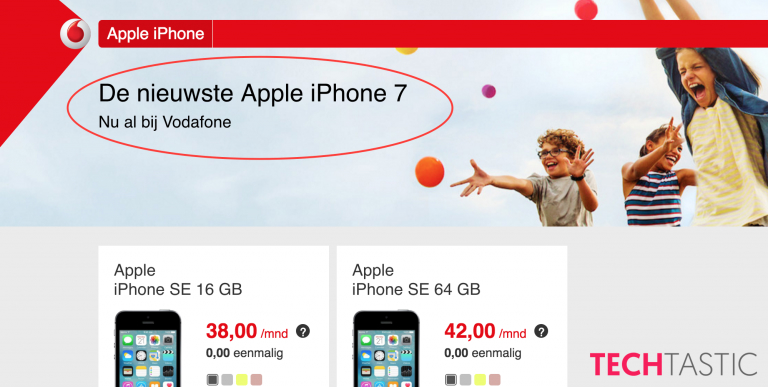 According to TechTastic, that same page now reads "You are not authorized to view the requested page," suggesting that the page may be a placeholder for the imminent iPhone 7 announcement.
The same carrier leaked the iPhone 6s product name last year, the site notes. But Phone Arena also reminds us that Vodafone UK once mistakenly identified the iPhone 5s as the iPhone 6 back in 2013.
Phone Arena also thinks there's one other hint that Apple's next iPhone will be called iPhone 7. "The manufacturer is holding its 'by invitation only' event on September 7th, not on September 6SE," the site notes. Hmm.
That said, we think we already know what's coming on September 7th.