Late last week, UK gadget-testing firm Which? published the results of battery tests that put the iPhone 7 head-to-head against the top three Android phones in the market: the Samsung Galaxy S7, HTC 10, and LG G5.
The magazine ran the phones through two different battery rundown tests, comparing life when making phone calls and browsing the internet. To the surprise of some, the iPhone 7 finished dead last in both tests, and in the case of the calling test, wasn't even in the same league. That goes against the anecdotal experience of reviewers and customers alike, who generally find the iPhone to be right up there in terms of battery life. So what's going on?
The real problem here is that battery testing is an incredibly imperfect science. Actually, to call it a science is unfair, because that implies that there's rigor and consistency somewhere in the process. Every battery test conducted by a tester is almost always different, but Which's is particularly skewed.
The site says that "for the tests we made a continuous call over 3G for the call time test and access a regularly updating special web page over 3G to measure web browsing time." That's a decent (but imperfect) way to measure how quickly the battery is drained making phone calls and accessing web pages over 3G, but let's be real here.
It's 2016, and your phone isn't really for making phone calls. Even internet browsing is only a small portion of the standard smartphone usage. Statistically speaking, when you're actually using your phone, it's going to be in apps rather than in the internet browser.
But battery life is battery life, right? Not really. While the cellular radio and the screen are two big users of power, how smartphones handle different apps and background services can be a more significant drain on your battery.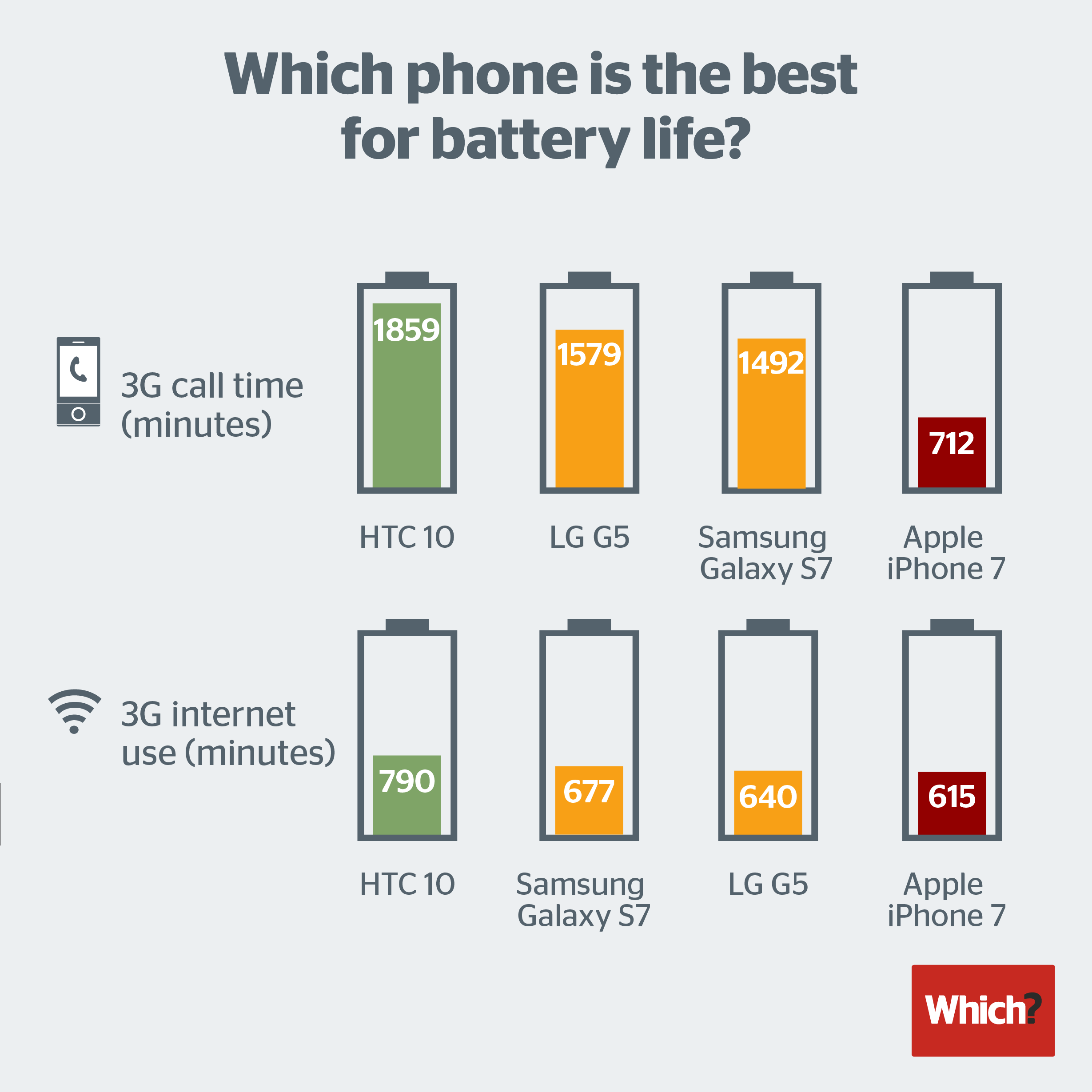 Smartphones actually tell you this nowadays! Head into the battery menu on an iPhone or Android, and it breaks down battery usage by app. For me, Spotify, Twitter and Mail are the biggest draw. Safari comes in at a measly 12%, and the phone app doesn't even register.
So basing "phone battery life" off those two very limited applications is going to get you imperfect data. But it also skews the field in favor of Android phones. One of Apple's best skills with iOS and the iPhone is managing apps and background processes very effectively, meaning that when your phone is in your pocket or you're jumping between apps, the iPhone uses less power than Android phones.
In the iPhone 7, Apple went out of its way to make sure that the standby and background power draw is as low as possible. The redesigned A10 chip has four cores for power, and four other cores for low-power applications. The iPhone also has specific low-power hardware to enable always-on Hey Siri and background activity tracking. These tricks aren't unique to Apple — Samsung actually pioneered the eight-core processor some time ago — but Apple does them best.
The numbers bear out in the real world. With your usual load of apps installed and running — Twitter, Snapchat, push email, etc — leave an iPhone and an Android phone on standby for a couple hours. I'd bet you money that 9 times out of 10, the Android phone will have used more power when you come back.
I know what you're thinking: that still doesn't explain why the Android phones slaughtered the iPhone on Which's test. But it's simple: in order to get roughly the same real-world battery life as an iPhone, Android manufacturers have to fit bigger and bigger batteries in their phones. The iPhone 7 has a battery two-thirds the size of most Android phones, so when you compare them on simple, artificial tasks (seriously, who makes 30 hours of phone calls without a charger?), the Android phones come out on top.
In the real world, things are much, much closer. I can't objectively say that the iPhone 7 has a better battery life than the HTC 10, Samsung Galaxy S7 or LG G5. I haven't run side-by-side standby testing, or used exactly the same apps on every single phone for the same amount of time.
But having used all of those devices in the real world for at least a few days, I can tell you it's way closer than Which's tests make it seem. Doing side-by-side rundown tests of smartphones doing different tasks is useful, for sure. But phones don't exist in magical testing vacuums.
Measuring battery life is hard, because different people use their phones in different ways. I've tried to come up with conclusive numbers before, and it's much harder than you think. So while I can't tell you exactly which phone will last the longest for your specific use, I can tell you this: the iPhone 7 doesn't have terrible real-world battery life. Unless you're a call center employee, in which case yeah, get an HTC 10.