Even though Android handsets cumulatively account for a majority share of the smartphone market, Apple's iOS ecosystem remains vastly more profitable for developers relative to Google Play. According to research data recently tabulated by App Annie, the average app found on Apple's App Store tends to generate nearly four times as much revenue as an app found on Google's rival platform.
DON'T MISS: We probably just learned the answer to whether or not there'll be a third iPhone 7 model
On a worldwide basis, App Annie found that Apple's App Store generates two times as much money as Google Play, notwithstanding the fact that the App Store sees about half as many downloads as its counterpart. Underscoring the monetary potential of the iOS ecosystem, Apple at WWDC this year made a startling announcement – to date, the company has doled out nearly $50 billion to developers.
To put that figure into context, consider this: It took Apple about 6.5 years before it generated its first $25 billion for developers. The next $25 billion came just 18 months later.
Now as for app downloads and revenue across stores, the following chart speaks volumes.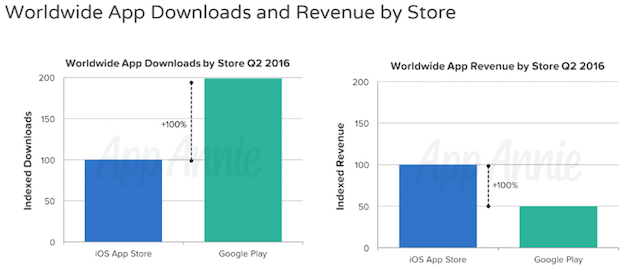 Notably, App Annie notes that the App Store is becoming even more developer-friendly over time: "Compared to Q1 2016, the downloads gap remained the same, but iOS extended its lead over Google Play in revenue by 10 percentage points."
Consequently, the dynamic where mobile app developers tend to release apps for the iPhone before Android still persists to this day. As a recent example, the incredible photo-app Prisma was released for iOS weeks ago and quickly became a top app across more than 40 countries. Meanwhile, a beta version of the app for Android only became available yesterday.
Now for those curious why Android still isn't as developer friendly as their market share would have you believe, a few reasons that were originally put forth by Benedict Evans back in 2014 still hold up today.
Android's market share is strongest in relatively lower income countries
Many people in those countries lack credit cards and Google has been very slow to offer carrier billing
Android phones average $250-$300 where iPhone average $600 – people who choose to spend the extra money are sending a signal about their intents. That is, we don't know what the ARPU for a Galaxy S5 user is, but it's probably very similar to an iPhone user – but Galaxy S5 users are a small minority of Android users
Apple offers a distinctly different proposition to Android: perhaps the people who are attracted to that proposition are just more likely to spend money – that is, maybe iPhone users do spend more than GS5 users.
Finally, this can become circular: if developers believe that Android users do not pay, then their behavior will be affected – they may offer a free ad-supported app instead of a paid app, or have a lower price. And if they decide not to support Android or support it second, then their users will gravitate to iPhone first, which becomes self-fulfilling. You can see this clearly on Android tablets – magazine apps have low use on Android so are slow to support Android, so users who want magazine apps don't buy Android tablets.