The first operating system Apple talked about on stage at WWDC on Monday was iOS 12, which is now available in beta version to developers and anyone else interested in trying Apple's new tricks right away.
But Apple did not have time to dive into all the new iOS 12 tricks, especially the kind of features that would reveal secrets about unreleased iPhone and iPad products. That said, we now know that the TrueDepth camera which makes Face ID possible is heading to the iPad.
Various rumors said the iPad is getting Face ID in the future. That doesn't necessarily mean the tablet will have a notch like the iPhone X, but the 3D facial recognition system is almost definitely coming, according to discoveries made in the iOS 12 beta.
For starters, iOS developer Guilherme Rambo found evidence in iOS 12 beta code that the new operating system contains several references to Face ID that are not visible to early adopters, including a Face ID & Passcode menu that's coming to the iPad. Like so:
The Face ID setup UI is finally working on iPad. Clearly not done yet as can be seen by the descriptions mentioning "iPhone". But it's a start :) pic.twitter.com/PVQgfbne15

— Guilherme Rambo (@_inside) June 5, 2018
Moreover, Face ID is getting an upgrade which seems to target iPads more than iPhone. On the iPhone X, you can now "set up an alternate appearance," which is a fancy way of saying that you can add a secondary face to Face ID.
The feature isn't as useful on iPhone as the iPad. The latter is more likely to be shared with family and friends, and support for multiple people is welcome. Of course, if you share your iPhone X with your kids or significant other, then setting up a second Face ID profile makes sense on the iPhone as well — here's an image from 9to5Mac that shows the new Face ID feature: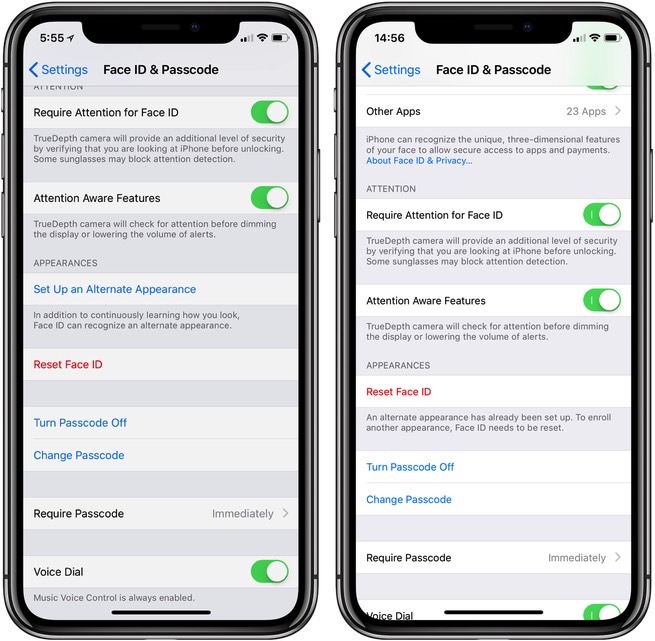 Finally, there's' one more hint that a notch design is heading to the iPhone, and that's support from iPhone gestures.
"iOS 12 for iPad includes updated gestures that make it easier to navigate," Apple says on its website. "You can now go to the Home screen by swiping anywhere on the Dock. Get to Control Center more conveniently with a swipe from the top-right corner."
Yes, it makes perfect sense for Apple to try to offer users the same experience across devices, and the iPhone X gestures are so much better than the physical home button. But this is also an indication that an iPad's redesign might be in the works.