Despite overwhelmingly positive reviews, the reality is that Apple's HomePod hasn't gained much traction in the marketplace. Amid reports that HomePod sales have been disappointing and that inventory has been piling up at some Apple retail stores, a new research report from Strategy Analytics seems to confirm what we've known for some time now — the HomePod isn't flying off the shelves.
Apple of course doesn't disclose specific HomePod sales figures, but Strategy Analytics claims that Apple during the first quarter of 2018 sold 600,000 units, earning it a market share of about 6%. In stark contrast, Amazon during the same quarter sold an estimated 4 million Echo speakers, giving it an impressive marketshare of 43.6%. Following not too closely behind, Google during the March quarter sold an estimated 2.4 million Google Home speakers, good enough for a 26.5% share of the smart speaker market.
Speaking to the growing interest in smart speakers overall, Echo shipments year over year increased by an impressive 102%. Google exhibited even stronger growth, with Google Home sales jumping by an astounding 709% over the last 12 months.
"Amazon and Google accounted for a dominant 70% share of global smart speaker shipments in Q1 2018 although their combined share has fallen from 84% in Q4 2017 and 94% in the year ago quarter," David Watkins of Strategy Analytics said. "This is partly as a result of strong growth in the Chinese market for smart speakers where both Amazon and Google are currently absent. Alibaba and Xiaomi are leading the way in China and their strength in the domestic market alone is proving enough to propel them into the global top five."
The full quarterly breakdown can be seen below.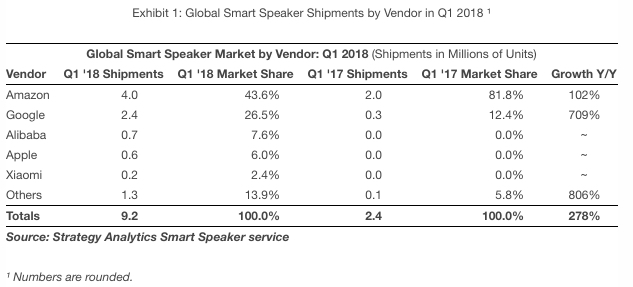 With the benefit of hindsight, it's starting to look like Apple simply priced the HomePod too high. With a base price of $349, Apple's smart speaker is vastly more expensive than competing products from the likes of Amazon and Google. What's more, the HomePod was hurt by stunted Siri functionality. So even though sound quality on the HomePod is unrivaled amongst other smart speakers, it appears that a top of the line intelligent assistant coupled with 'good enough' sound quality is what consumers are mainly interested in.
That said, there are rumblings that Apple in the future may roll out a more affordable version of the HomePod in the $150 range.