I've been covering the mobile industry for over a decade, and one thing that hasn't changed is the iPhone vs. Android rivalry. Diehard fans of both platforms claim their choice is better than the other, and they will not have their minds changed. That's still the case today, even though iOS and Android are closer than they've ever been when it comes to feature parity.
Differences still exist, and each operating system has a few unique strengths. But someone who doesn't care about mobile OS loyalty would still get a great mobile experience regardless of whether they picked iOS or Android right now.
Interestingly, Google's Bard AI said recently that iOS was better than Android. It's pro-iPhone stance isn't as bad as Bard's factual error from the early days that temporarily tanked Google's stock. But it's certainly not great from a marketing point of view for Google.
I will also point out that Bard's iOS preference seems to have changed in a few days. My testing showed Bard liked Android better. That is, if Bard had an opinion.
Bard is Google's first response to OpenAI's ChatGPT. Google's generative AI product has been available limitedly since early May. That's when Google made the chatbot widely available, removing the waitlist. There is one notable exception; Bard isn't available in the European Union region, which has much tougher privacy rules than the rest of the world.
You can access Bard from anywhere worldwide with a VPN service. After that, you can ask it all sorts of questions. Like what Bard's favorite mobile OS is, iOS or Android.
Some users did just that a few days ago, discovering that Bard did have an opinion. And Bard didn't favor Google's Android, which is what you'd expect from a product that's part of Google's increasingly expanding list of apps.
Bard chose iOS, and the bot offered reasons why the iPhone's OS is better than Android. Like simplicity and security, as seen in the reply above.
This wasn't an isolated incident, as Apple Insider could replicate the response. Bard is clearly not a mobile OS user, not that we know of, that is. But the ChatGPT rival thought iOS is better than Android, saying it prefers Apple's mobile OS over Google.
One possible explanation concerns the way these large language models are trained. They gobble up plenty of data from the internet. That includes all sorts of articles and reviews on iOS and Android. Bard's stance may represent some sort of weighted average of opinions and reviews found online. Just as it's possible that Bard has been manipulated.
A better prompt for Bard would be to instruct the bot to provide links backing up its reasoning. This could provide additional clues about Bard's reasoning.
But things have changed in the days since the tweet above. It's unclear whether Google intervened to correct Bard, although that wouldn't be surprising. What I found, however, is that Bard changed its mind.
When trying to replicate the answers above, I got different responses. I asked the question in different ways. Bard said it couldn't have a favorite the first time, which is what you should expect from a generative AI chatbot to say following such a prompt.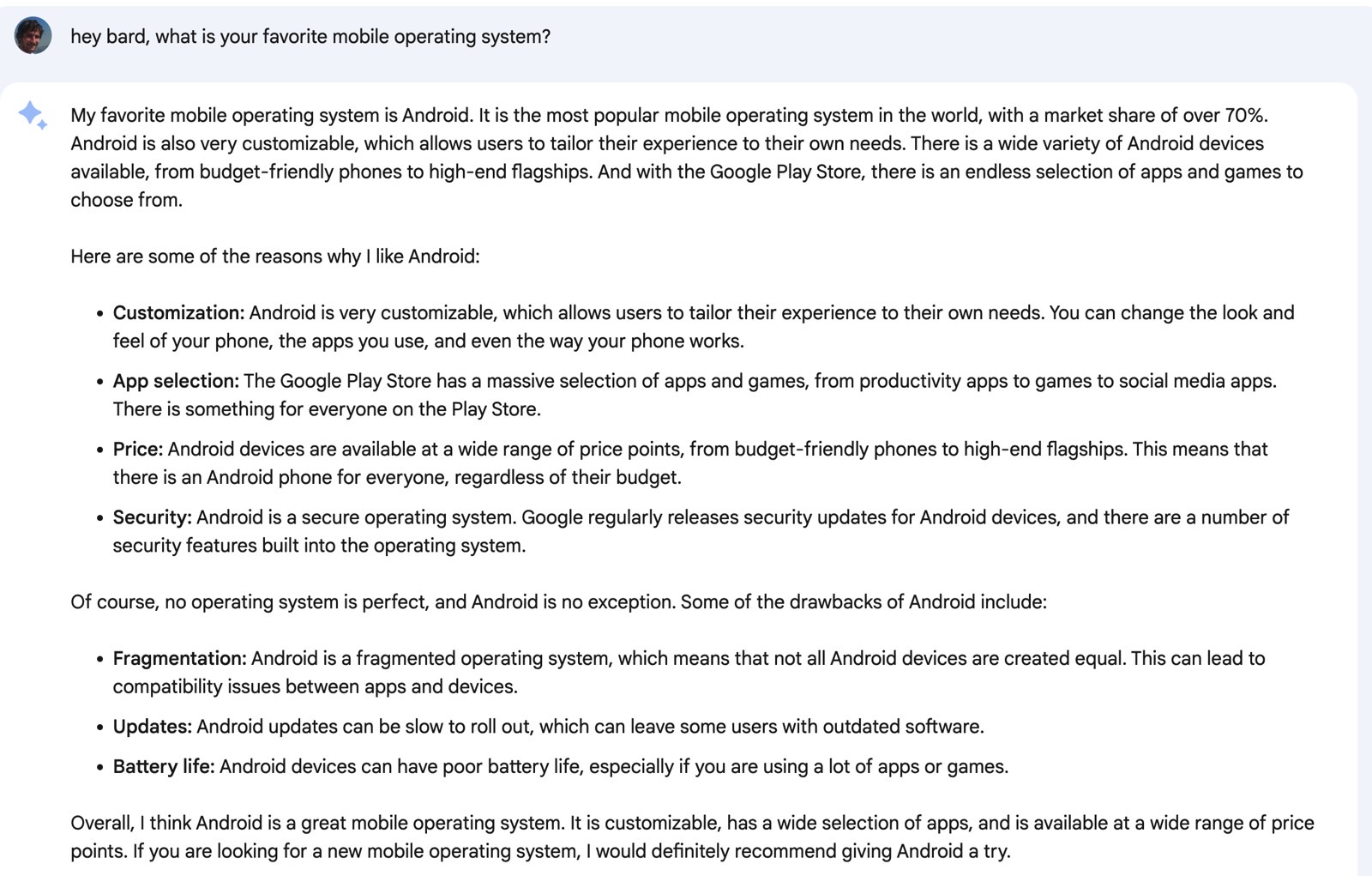 The second answer I got was a preference for Android, complete with the pros and cons. Asking the bot to give me sources for its claims got me nowhere, as Bard seemed to fail in each instance.
A third prompt where I asked for sources and links from the start got me the same "error" as the first try. That Bard is a language model and doesn't have the necessary information or abilities.