Google probably competes with the NSA for first place in knowing a lot about basically everyone. That's understandable given the large number of useful services it offers for free, as the data it collects is then used to also serve you better tailored ads inside those services. That's how Google makes its money.
However, user data is also a highly prized commodity nowadays for a different reason. It can be used to train artificial intelligence, and bring AI features to regular computing experiences. Using your private data, AI would be able to act as a better virtual assistant, ready to deliver the things you need when you'd need them, without specifically asking for them.
However, training AI may be seen by some as an assault on one's privacy, as there needs to be a constant flow of data from the user to the company developing AI features. Google, surprisingly, decided to go for a different approach for training AI, one that will protect your privacy better than before.
Called Federated Learning, the new AI training procedure will take advantage of your smartphone's processing powers. Rather than feeding raw data to Google's servers directly, Google will use your personal computer to generate results and improve its apps with AI powers.
"It works like this: your device downloads the current model, improves it by learning from data on your phone, and then summarizes the changes as a small focused update," Google explained.
"Only this update to the model is sent to the cloud, using encrypted communication, where it is immediately averaged with other user updates to improve the shared model. All the training data remains on your device, and no individual updates are stored in the cloud."
Google said in a blog post that it's currently testing Federated Learning with its Gboard keyboard app on Android.
"When Gboard shows a suggested query, your phone locally stores information about the current context and whether you clicked the suggestion. Federated Learning processes that history on-device to suggest improvements to the next iteration of Gboard's query suggestion model," Google added.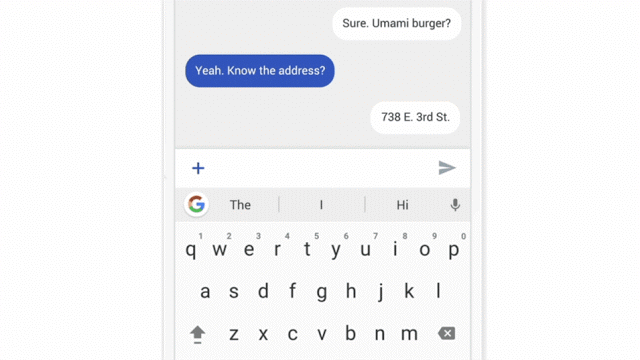 If you're worried about unwanted side effects of Federated Learning effects on your phone, including battery life depletion and data overages, you should know that Google plans to only use it when your handset is idling while connected to a power source and to a "free" source of Internet — your Wi-Fi qualifies.
Your data never leaves the device, yet Google is able to improve the AI during the process. To make sure that your data can't be compromised while conclusions are sent to Google, the company is also using algorithms that only allows servers to decrypt updates received from users only if a minimum number of users have participated.