Google may soon offer Android users a new type of Google Play experience: A Play Pass subscription service that would offer access to a bunch of paid apps for a monthly fee. The feature isn't confirmed, and Google has yet to make an announcement, but code in the Play Store app hints that the feature is in development.
According to xda-developers, the feature was first discovered in late June by XDA Recognized Developer Kieron Quinn, who discovered "Play Pass" as an in-development Play Store feature. The code showed that Play Pass had something to do with a subscription, without revealing additional details.
A few days ago, a friend of Quinn sent him a screenshot from a new Google Opinion Rewards survey he received. The question asked the respondent to "imagine your app store has a subscription that offers hundreds of dollars worth of paid apps and games for a monthly fee. How well does "Pass" describe this service?"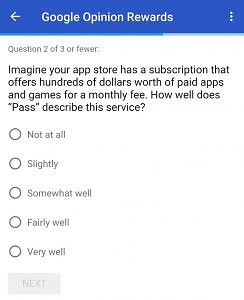 The language Google used for the question seems to corroborate the earlier discoveries, suggesting that Google is indeed developing some sort of subscription service for paid Android apps. xda also notes that Google sends surveys about new products or services that might be in testing, so this isn't likely just a coincidence.
It's unclear when Google would launch such a service or how much it'll charge for it. Should Google go forward with it, the Play Pass may become a major new Google Play feature, one that would not have a correspondent on Apple's App Store.