Google first announced the new Pixel Slate tablet early last month during its big Pixel 3 press conference in New York City. At the time, the Pixel Slate looked like a great addition to Google's Chrome OS lineup, offering users a high-end tablet to complement the Pixelbook notebook PC. As anyone who has ever used a Pixelbook can confirm, it's by far the best Chromebook on the planet. While the bulk of the Chromebook models out there look to offer decent specs at bargain-basement prices, the Chromebook is a premium option for people who want more power. This is especially important these days, since so many children go through the education system using Chromebooks provided by their schools. What happens when they get older and they want more power out of the platform they've grown to love. The Pixelbook happens, that's what.
Following Google's Pixel Slate unveiling nearly two months ago, the company has been quiet about its new Chrome OS tablet. That silence was broken on Tuesday morning, however, when Google announced release details and pricing for its exciting new tablet lineup.
The Pixel Slate is a perfect fit for Google's Pixel product lineup. Where smartphones and laptops are concerned, the Pixel lineup consists of premium products that offer flagship performance at flagship prices. The company's Pixel 3 series phones costs as much as $1,000, while the Pixelbook laptop has a retail price that starts at $999 and climbs as high as nearly $2,000. Now, Google has a premium tablet to complement the rest of its premium products.
While tablets with traditional mobile operating systems like Android can be priced as low as $50, Google's new Pixel Slate starts at $599. That's still $200 less than the entry-level 2018 iPad Pro model, but it's a hefty chunk of change. With the Pixel Slate, $599 gets you 4GB of RAM, a 32GB SSD, and an Intel Celeron processor.
Bumping the same chipset up to 8GB of RAM and a 64GB SSD adds $100 to the price tag, and another $100 gets you the same RAM and storage but with a faster 8th-generation Intel Core m3 processor. Then there are two high-end Pixel Slate builds, 8GB RAM/128GB SSD with an 8th-generation Intel Core i5 processor for $999, and 16GB RAM/256GB SSD with an 8th-generation Intel Core i7 processor for $1,599.
The Core i7 build is the most powerful Chrome OS device on the planet. Apple doesn't yet offer a 13-inch MacBook Pro with Intel's 8th-generation Core i7 processor, but a similar build with Intel's Core i5 costs more than $2,000.
Google sent me the Intel Core i5 powered version of the Pixel Slate to review, which isn't the top-of-the-line model but still provides more than enough power to get a feel for what the Pixel Slate can do. Unfortunately, review units were delayed until last week, and Black Friday week happens to be one of BGR's busiest weeks of the year. As a result, I haven't had much time to spend testing the Pixel Slate. I have spent enough time with it to whip up an abridged review though, so I'll run through the most important things you need to know if you're considering the Pixel Slate.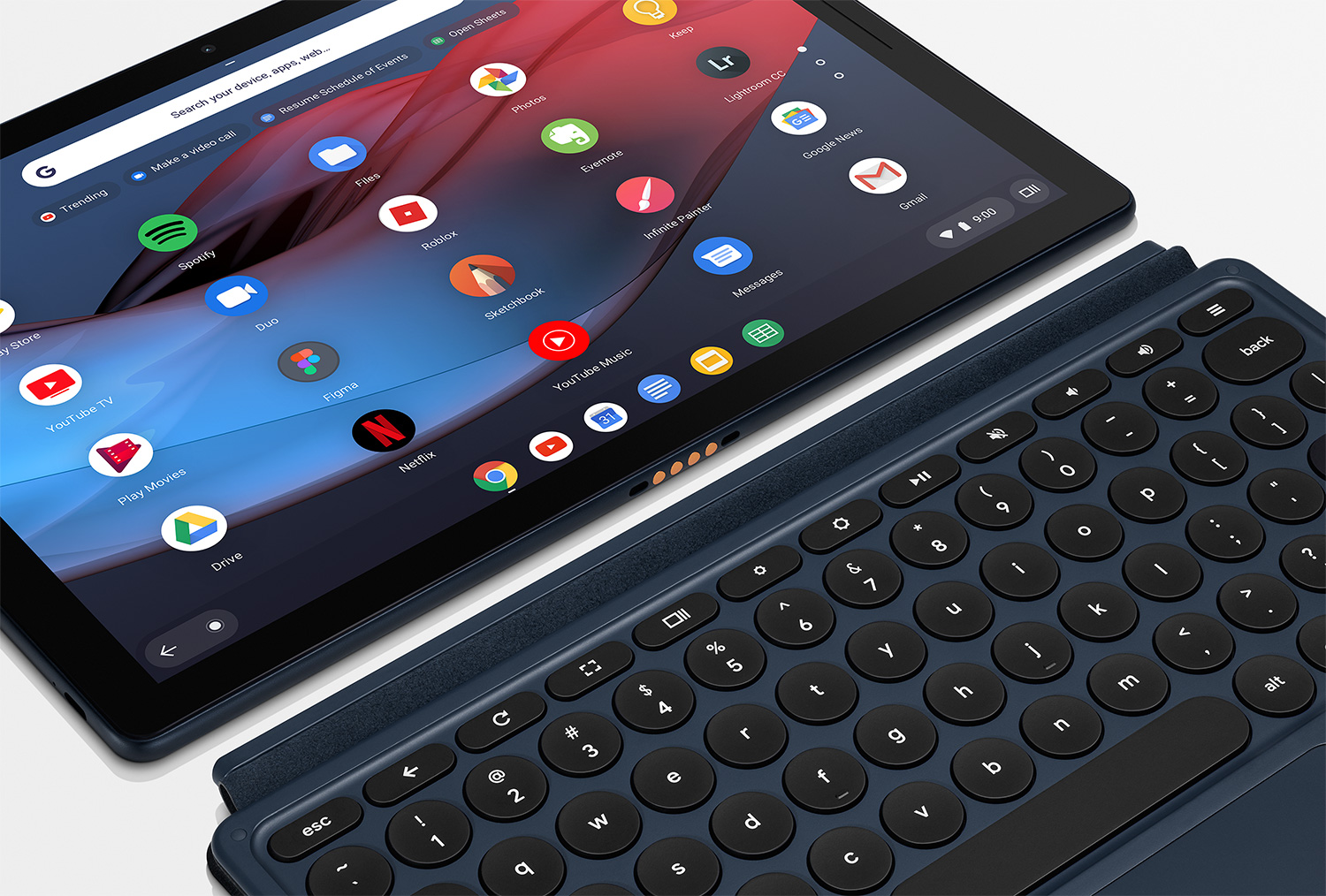 First things first, the 12.3-inch LCD display is gorgeous. Google calls it an "All-new Molecular Display," and it packs impressive 3,000 x 2,000 pixel resolution. That adds up to more than 6 million pixels and a pixel density of 293 pixel per inch. Images on the screen are wonderfully sharp, colors are bright and vivid, and it packs great contrast. Front-firing stereo speakers flank the screen and offer audio that's loud and clear, while an 8-megapixel front-facing camera above the display is perfect for video chats.
Despite the high-resolution screen and the powerful specs, I've found battery life to be very impressive during the time I've spent testing the Pixel Slate. Google says it offers all-day battery life with about 12 hours of usage per charge, and I can confirm as much. Also nifty is the fast-charging support. Connect the included charger to either of the Pixel Slate's two USB-C ports, and you'll add 2 hours of usage time with just a 15-minute charge.
The Pixel Slate's design and build are terrific. The housing is made entirely of smooth black aluminum other than the silver power button with integrated fingerprint reader, and the front is 2.5D glass. The tablet is quite thin at just 7mm, which is thinner than a Pixel 3 smartphone as well as Apple's latest iPhones, and at 1.6 pounds, it weighs just a touch more than Apple's latest 12.9-inch iPad Pro.
Google's Pixel Slate Keyboard is a must-have accessory to get the most out of the Pixel Slate, so you can go ahead and add $199 to the price of whichever model you plan on purchasing. It sports a smart design that draws power from the Pixel Slate via a proprietary port along the bottom edge of the tablet, which means it never needs to be charged. It sports backlit keys with good feel and short throw, but for whatever reason Google decided to make them round instead of square. It's not difficult to type on or anything, but it's not as comfortable as typing on a normal keyboard.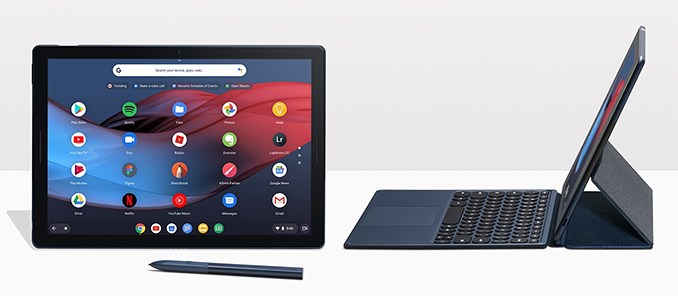 A cover on the back of the Pixel Slate Keyboard covers the back of the tablet and it has a great design with a magnetic strip at the top. This way you can slide the magnet up and down the back to get the exact amount of tilt you want in any situation. Also cool is the fact that the Pixel Slate's "tablet UI" automatically switches to a "desktop UI" as soon as it's docked on the keyboard, and it switches back to the tablet UI when disconnected.
Google's Pixelbook Pen stylus also works with the Pixel Slate, of course, offering a wide range of writing and drawing features enabled by Wacom AES technology, which includes enhanced tilt support and pressure sensitivity.
The tablet UI, seen above, offers a home screen with a grid of apps and a search box at the top. There's also an on-screen back button that appears in the bottom-left corner to make navigating by touch easier. In desktop mode, a blank slate appears above the dock and menu bar at the bottom of the screen.
Multitasking in either mode couldn't be easier. Any open app can be dragged to one side of the screen of the other and it's instantly resized to occupy exactly half of the display. Once two apps are open side by side, the divider in the middle of the screen can be dragged to either side to adjust windows sizes. The Pixel Slate also supports external monitors, keyboards, and mice to enable a full desktop experience.
In addition to the Chrome browser and various Chrome apps, the Pixel Slate also supports Google's Play Store and all of the Android apps within. Some apps work better than others, but just about all of the major apps you use from big-name developers probably work fine. This is obviously a huge deal for the Pixel Slate and other Chrome OS devices, since app support had previously been something of an issue. I streamed videos in Hulu and Netflix, chatted with coworkers in Slack, and all of my files were accessible as soon as I set up the Pixel Slate thanks to Dropbox. If you can do it on your Android phone, you can do it on the Pixel Slate.
As far as performance is concerned, the Core i5 version of the Pixel Slate is a screamer. Since the Chrome platform is so lightweight and apps are so well optimized, the combination of Intel's 8th-generation Core i5 processor and 8GB of RAM provides way more power than most users will ever need. Even while performing heavy edits in Lightroom, with music streaming in the background, the Pixel Slate couldn't be any smoother.
The Chrome ecosystem is filled with hybrid devices that slap touchscreens on laptops, and Chrome is great for touch. Even still, the Pixel Slate is the first Chrome tablet of consequence. It can be used as a supercharged Android tablet thanks to Android app support, but it's also a workhorse for desk work or even visual artists thanks to Pixelbook Pen support.
The Pixel Slate is available for purchase beginning immediately from Google's online store and pricing breaks down as follows:
$599 (4GB RAM, 32GB SSD, Intel Celeron processor)
$699 (8GB RAM, 64GB SSD, Intel Celeron processor)
$799 (8GB RAM, 64GB SSD, 8th Gen Intel Core m3 processor)
$999 (8GB RAM, 128GB SSD, 8th Gen Intel Core i5 processor)
$1599 (16GB RAM, 256GB SSD, 8th Gen Intel Core i7 processor)
Google Pixel Slate specs
Dimensions
Height: 7.0mm
Length: 290.85mm
Width: 202.04mm
Weight
[EN-US]: 1.6 lbs
[EN-GB, EN-CA, FR-CA]: .731g
Display
All-new Molecular Display
12.3" LCD 3000×2000 LTPS
Touchscreen display with Pixelbook Pen support
Processor
Powered by 8th Gen Intel Core m3, i5 or i7 Processor, or Intel Celeron Processor
Memory (RAM)
Options include: 4GB, 8GB, or 16GB
Storage
Options include: 32GB, 64GB, 128GB, or 256GB
Battery
Up to 12 hours of use
48 WHr battery
USB-C 45W charge adapter (5V/3A, 9V/3A, 15V/3A, 20V/2.25A) that also works with Pixel phones
Fast charging: Up to 2 hours in 15 min
Included adaptor also works with Pixel phones
Materials
Anodized aluminum body
CorningⓇ GorillaⓇ Glass 5
Color
Midnight Blue
Wireless
WiFi 802.11 a/b/g/n/ac, 2×2 MIMO, dual-band (2.4 GHz, 5.0 GHz)
Bluetooth® 4.2
Audio
Dual front-firing speakers for better surround sound
2 mics for improved noise cancellation
Camera
Front camera: Duo Cam optimized for video calling: 8MP, ƒ/1.9 aperture, 1.4um pixel size, wide field of view, 1080p video at 30fps
Rear Camera: 8MP, ƒ/1.8 aperture, 1.12um pixel size, Auto Focus, 1080p video at 30fps
Sensors
3-axis Gyroscope/Accelerometer
Ambient Light Sensor
Hall Effect Sensor
Ports
Two USB-Cs for charging, 4K display output and quicker data transfer.
Accessory connector for Pixel Slate Keyboard.
No charging or pairing required.
Security
Pixel Imprint fingerprint sensor on power button with dedicated microcontroller
Titan™ C security chip for better on device security.
Operating System
Chrome OS