We have several exciting new phone launches to get through before Google finally releases its upcoming new Pixel 3 and Pixel 3 XL smartphones. HTC and LG both have flagship phones set to be released in the coming weeks, and then all eyes will turn to Samsung when it unveils its new Galaxy Note 9 flagship phablet. The buzz surrounding the Note 9 will likely be short-lived considering how boring an update it's shaping up to be, but then Apple will launch not two but three new iPhone models, including a second-generation 5.8-inch iPhone X, a larger "iPhone X Plus" with a 6.5-inch OLED screen, and a third new model with a similar design, a 6.1-inch LCD screen, and a much lower price tag. Once all of that is out of the way, however, Google will enter the spotlight with its new Pixel 3 and Pixel 3 XL smartphones.
We still likely have about 5 months to wait before Google's new Pixel phones are released, but that hasn't stopped a series of Pixel 3 XL prototype photos from leaking online this week. The images reveal a completely overhauled design, and now that design has been shown off in stunning detail by a graphic designer.
We learned a whole bunch of important details about the Pixel 3 XL from the prototype photos that leaked on Thursday. We can now seemingly confirm that the front of the phone will be an iPhone X ripoff, though of course that information isn't at all unexpected. Google added official support for display notches in Android P, so it only stands to reason that it would release a new phone of its own with a notch. Lo and behold, the Pixel 3 XL has a giant notch at the top of the screen.
Within the Pixel 3 XL's notch we find an ear speaker and not one but two front-facing camera lenses. Interestingly, there is no dual-lens camera on the back — only on the front. There's also a big "chin" bezel below the display on the Pixel 3 XL because Apple is still the only company willing to invest the time and money into a brilliant solution to eliminate it.
While the back of the Pixel 3 XL looks similar to last year's Pixel phones at first glance, it's actually quite different. The entire back of the phone is glass, suggesting that Google plans to introduce wireless charging support. After all, OnePlus is the only company so far this year that decided to switch from sturdy aluminum to fragile glass for no good reason at all. Wireless charging hasn't yet been confirmed for the Pixel 3 or Pixel 3 XL, though.
Based on the Pixel 3 Xl photos that leaked, a graphic designer who goes by "Phone Designer" on Twitter decided to create accurate renders of Google's upcoming next-generation flagship phone. So now, instead of only having blurry shots to go by, we can take a look at Google's new Pixel 3 XL design in stunning detail. The image at the top of this post gives us a look at both the front and back of the Pixel 3 XL, and a second image shows the new back design in greater detail.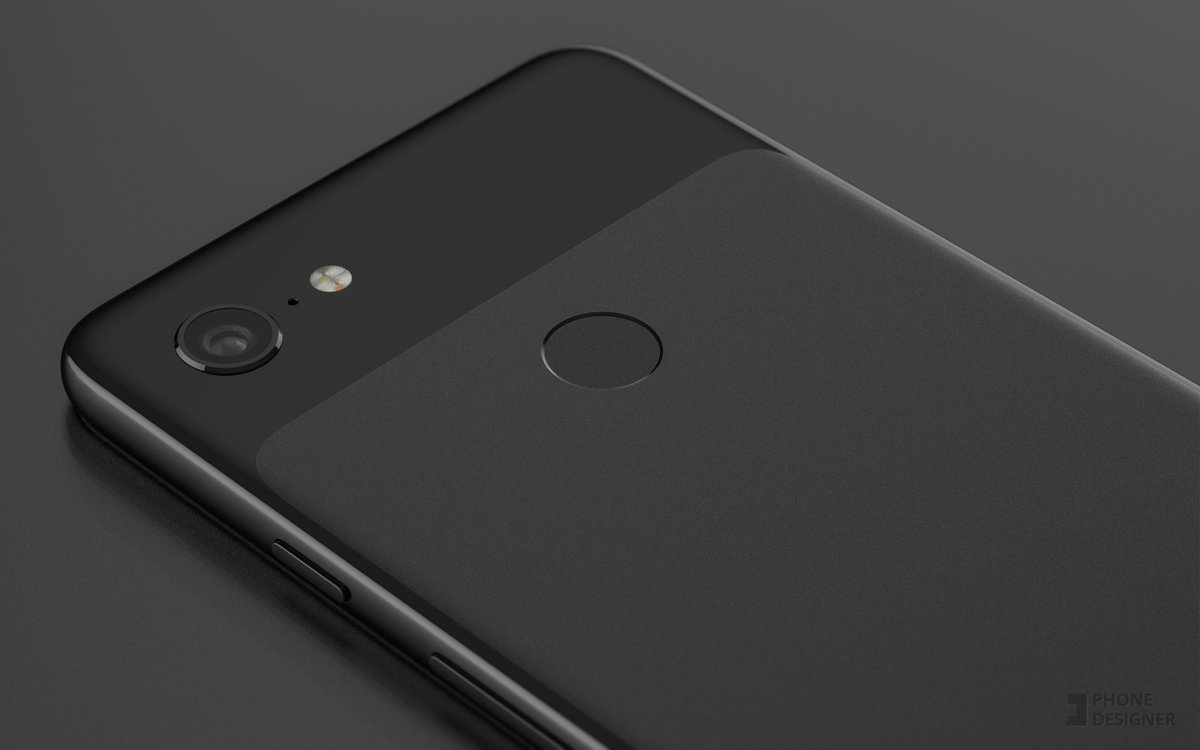 Google's previous-generation Pixel phones have been released in October 2016 and October 2017, so it's likely that Google will launch the new Pixel 3 and Pixel 3 XL in October this year. That would mean production likely hasn't yet begun, but the design is likely finalized by now so the leaked prototype and subsequent renders seen above are likely an accurate depiction of the Pixel 3 XL we'll see released later this year.