With summer movie season fast approaching, you're likely deciding which movies you have to see in theaters, which you should probably see, and which you can just avoid. In order to make this process as painless as possible, Google began rolling out a new feature in Search this week that puts all the information you need front and center.
From now on, when you search for "movies" or "showtimes" on Google from your mobile device, you'll see a detailed summary of every movie that is currently showing at theaters in your area. You can filter by days, genres, critic scores and more, and with a couple of taps, you can purchase a ticket from a variety of online ticket services.
But what if you're not sure if you want to spend your hard-earned cash on Ready Player One or A Quiet Place? Just tap on the movie you're interested in and a card will pop up, providing a synopsis of the movie, link to the trailer, cast list and review scores from IMDb, Metacritic and Rotten Tomatoes. If you like what you see, a second tab on the card will provide an extensive list of showtimes at theaters near you, from which you can buy a ticket.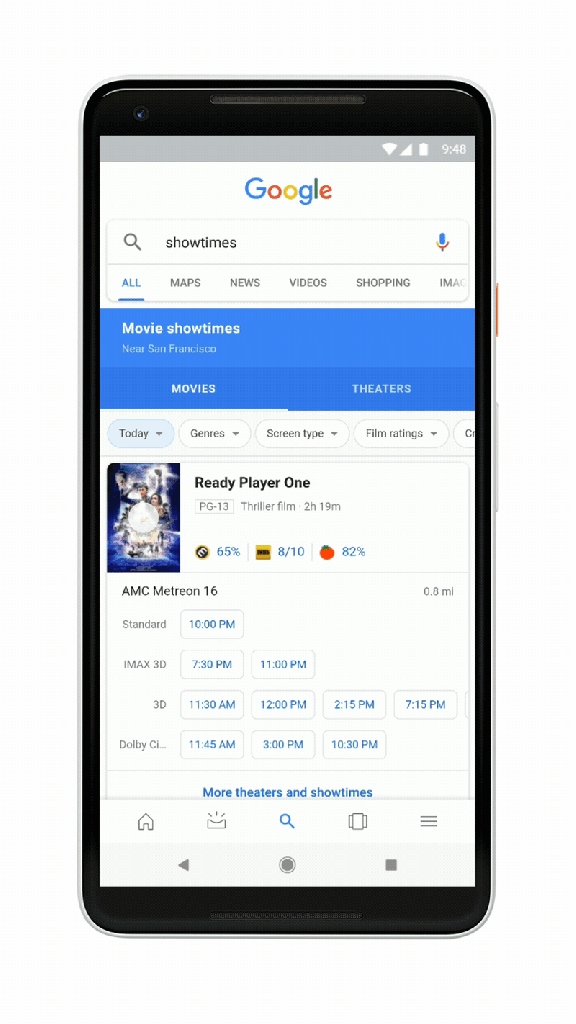 Like many of the features Google has added to its mobile search site in recent months, the movie-centric feature is incredibly slick and easy to use. At the moment, it's only available on Google Search in mobile browsers and on the Google app for Android, but it will come to the Google app on iOS soon as well.