Google has been testing parking features in Google Maps for a while now, since parking is obviously such a crucial part of the entire driving and navigating experience. But it looks like Google is rolling out automatic parking suggestions to more users, so don't be surprised to find the feature next time you plot a navigation course.
The way the feature works is pretty interesting, too. Per Android Police, Google Maps will now issue prompts mid-trip that offer to add a stop on your route for recommended parking locations. Unless you act quickly, the prompt will disappear and you'll have to wait for a new one.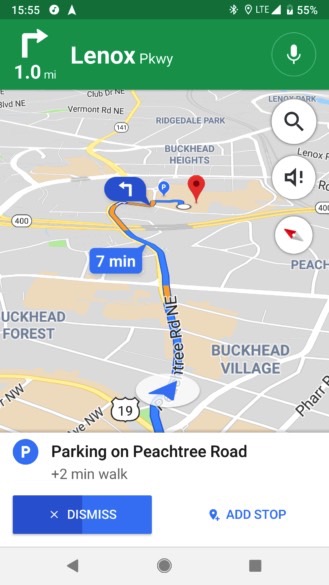 What's also interesting is that there's no way to enable or disable the new feature at this time, and you don't have to update your app to get it. It's just sitting there, waiting to be discovered — and apparently, it's annoying drivers who are using ride-sharing apps like Lyft.
The feature builds on previous Google Maps parking-related features. Initially, Google Maps would inform users of the parking situation at your destination. The feature covered just a handful of cities at first, before expanding to other regions. Every time, however, Google explained the new parking-related app improvements.
This time around, the automatic parking suggestions seem to have popped up automatically on phones without warning. Obviously the more you use Google Maps, the more likely it'll be to notice it and take advantage of it. You should be on a relatively new version of Google Maps to access the feature, preferably the latest. Also, the Android version seems to be more likely to offer you parking suggestions, but people have also reported seeing the notification pop up on their iPhones. It's a bit odd that Google hasn't announced the new feature or mentioned it in any release notes, but it's still something that plenty of people will find useful.