After a bit of a dry opening, Google has picked up the pace at its I/O 2018 keynote with the reveal of new voices, new features and new functionality for Google Assistant. First of all, Google announced that it will make use of its WaveNet system to introduce six new voices for the Assistant, each of which sound more natural than the standard voice. And once of those new voices will be John Legend's, in case you want to talk to a celebrity in your home.
After revealing that Google Assistant will be available in 30 countries and 80 languages by the end of the year, Scott Huffman, VP of Engineering, showed off a new feature called Continued Conversation. When the new feature arrives, you will only have to say "Hey Google" once, and you can converse naturally from there.
Two other features that will make conversations with Google Assistant more natural are called Multiple Actions and Pretty Please. Multiple Actions means that you can ask Google Assistant complicated, multi-part questions, and it will understand how to separate the answers. For example, if you ask "What is the weather and who do the Cavaliers play tonight?," you'll receive two individual responses, back to back.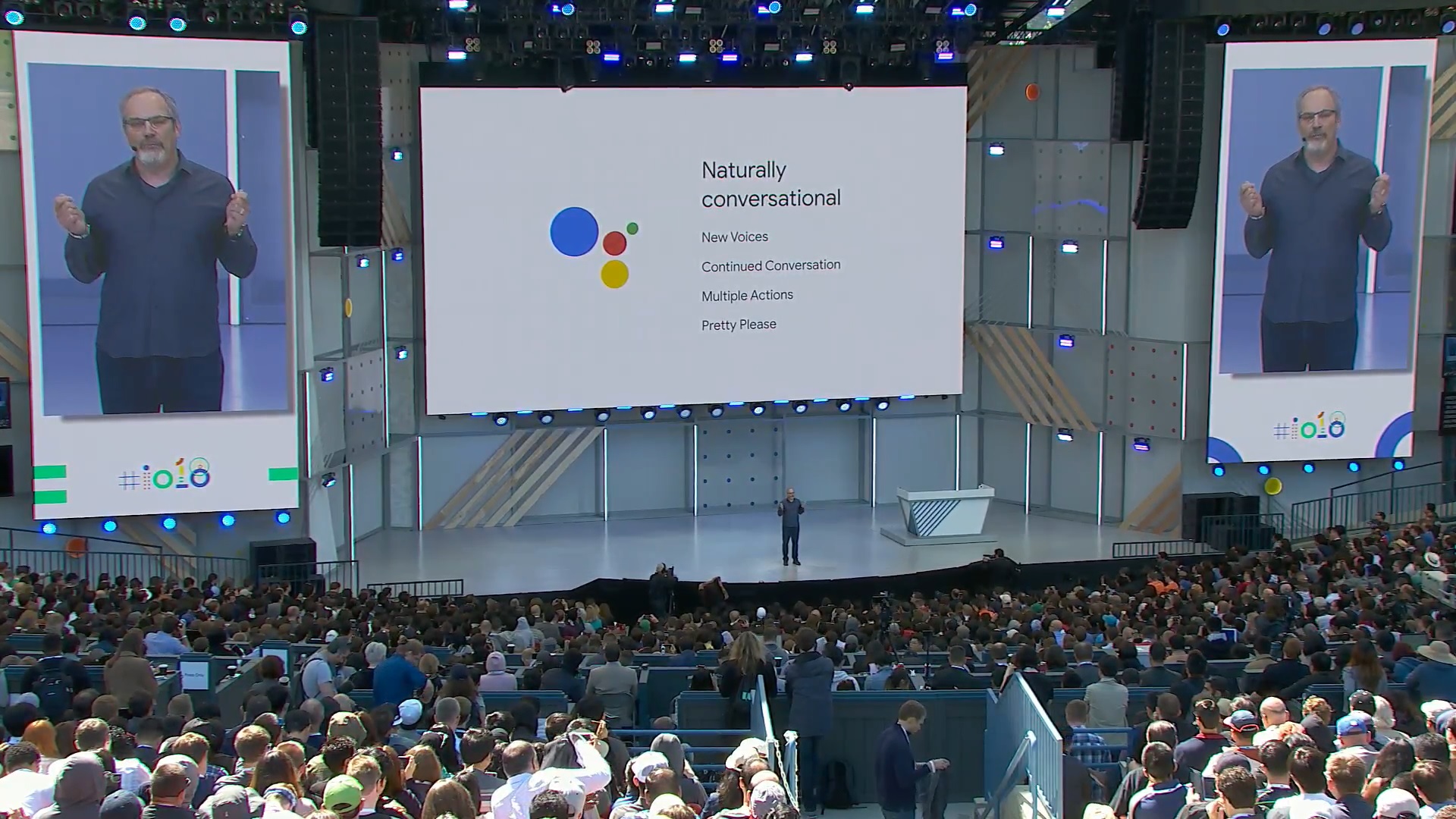 Pretty Please is exactly what it sounds like. Rather than demanding your computerized assistant around, you can now say "please" and "thank you" as you would to a real person, and Google Assistant will understand. Google positioned this as a good way to teach kids manners rather than having them shout demands.
Google also showed off a redesigned Google Assistant UI for the smartphone, bringing full-screen results to your phone's display when you ask Google Assistant a question. In the demo, Google's Lilian Rincon asked the assistant who Camila Cabello was, adjusted the temperature in her living room, and even placed an order at Starbucks. You can swipe up at any time with the new mobile Assistant to see a rundown of your day. It'll be available on Android this summer and iOS before the end of the year, but no specific dates were shared.
Finally, after showing off Google Assistant in Google Maps (also coming this summer), Pichai returned to the stage to share the most impressive demo of the day. Dubbed "Google Duplex," the upcoming feature for Google Assistant will allow users to tell their assistant to make an appointment for them, at which point Google Assistant will make the call itself and talk to the person on the other line. It is both terrifying and incredible impressive.
Those are the highlights from the Google Assistant segment of the keynote, but stay tuned for more.