Google's I/O 2018 developer conference just kicked off, but Google is already announcing small additions to some of its core products. Gmail just received a redesign to freshen up the visual language, but now Google is adding a text prediction feature called Smart Compose, which should make writing repetitive emails that much easier.
Smart Compose will suggest what you might be about to type next, much like predictive texting on your smartphone. The difference here seems to be that Google's AI will take a bigger-picture view and tailor recommendations specifically to you. If you start typing "My address is," Gmail will fill in the rest.
Smart Compose will be coming to all users sometime this month, Sundar Pichai told attendees at the conference. To get started, make sure you've enabled the new Gmail by going to Settings > "Try the new Gmail." Next, go to the general tab in your settings, scroll down and enable "experimental access." If you want to switch back, you can always uncheck the box.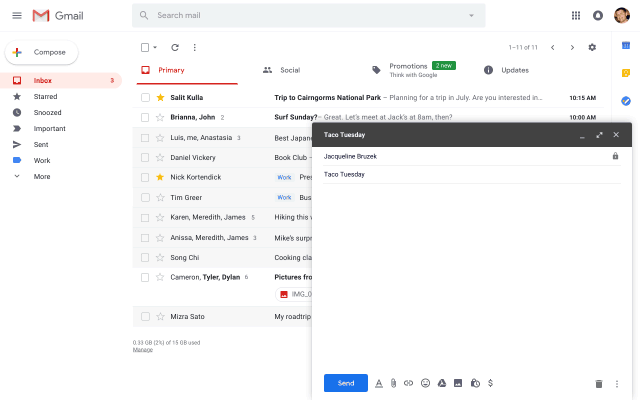 In addition to Smart Compose, Google also announced new features for Google Photos. The headline feature is also powered by Google's AI, and is called Smart Actions. It will recognize people in photos, match those people up to contacts in your phone, and then offer to share the photos directly to them, which should be a huge help for those friends who are always taking photos but never sending them to you.
It will also automatically offer image improvements like brightness and color settings for images to make them look better. Best of all, Google Photos will also recognize when you've taken a picture of a document, flatten it, and turn it into a PDF ready for emailing.