The Galaxy S8 may not be able to beat the iPhone 7 and iPhone 6s in speed tests, but it still delivers remarkable performance. The phone is the first one to offer users new 10nm chips from Qualcomm and Samsung, the same kind of chip technology that will be found in various other flagship handsets this year, including the iPhone 8. But chip manufacturing process is only part of the story. Sure the smaller chips get the more efficient and the faster they become, but these mobile chips are all based on ARM designs. So whenever ARM releases new chip designs, it's good news for smartphone lovers.
ARM did exactly that at Computex — it announced a couple of new processors that are likely going to power next year's phones, including the Galaxy S9 that Samsung is already working on.
These chips are the ARM Cortex-A75 that will likely be used by Qualcomm, Samsung, TSMC, and others to create flagship mobile chips, and the Cortex-A55 that will power many of the future mid-range handsets. Finally, there's also a new Mali-G72 graphics processor for next year's phones.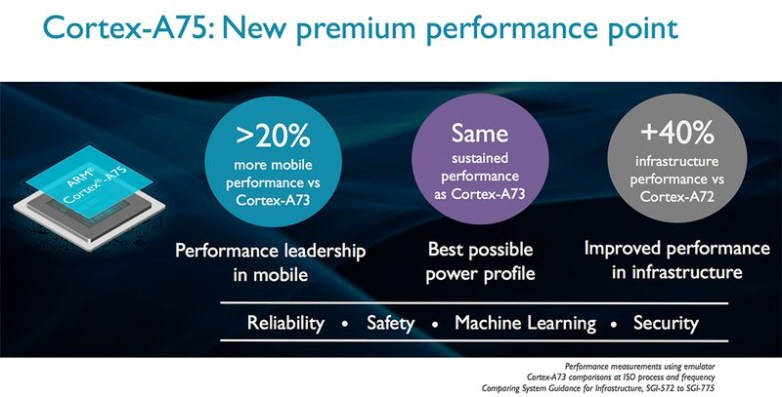 As expected, all these chips are more efficient and faster than previous iterations. But ARM's new silicon is getting ready to embrace the future. That means the company optimized its new chips for machine learning (ML), artificial intelligence (AI), augmented reality (AR), and virtual reality (VR), which are going to become core technologies for smartphone makers, if they don't already are.
One interesting evolution of ARM's chip designs is the new Dynamiq CPU that affects big.Little technology going forward. In the past, device makers would have to pair a similar number of big cores with small cores. That's how you end up with eight-core designs such as the Qualcomm Snapdragon 835 in the Galaxy S8.
Going forward, Dynamiq will let companies mix and match the big and little cores as they see fit. Future eight-core chips may feature one big core and seven small ones, a design that could offer increased efficiency and reduce costs.
The Cortex-A75 chip offers double-figure performance across the board, according to The Verge. That means 22% better than the A73, 16% higher memory throughput, and a 34% bump in Geekbench scores. The chip is 20% faster in single-core use, and it's optimized for future Windows-based laptops that will be built on ARM devices.
The A55 will also be faster than its predecessor, with ARM expecting a 10-30% improvement, up to 15% better power efficiency, and up to 18% faster single-thread performance.
Finally, the Mali-G72 is supposed to be 17% better than the G71 in ML benchmarks. The GPU is 25% more energy efficient than its predecessor, and offers 20% better performance density.
The first chip designs based on ARM's latests innovations are expected to hit the market next year, and we definitely expect the Galaxy S9 to be one of the devices that will make use of ARM's new chips.