With Apple's hotly anticipated iPhone X release now behind us, tech fans are moving on to the next big smartphone launch set to take place. Samsung's upcoming Galaxy S9 and Galaxy S9+ are expected to be unveiled just over two months from now, and they should be solid upgrades from 2017's Galaxy S8 and Galaxy S8+ — at least, in terms of performance.
As far as hardware design goes, Samsung unfortunately had to cancel the Galaxy S9 with the exciting new all-screen design everyone was looking forward to so much. In its place, we'll get a Galaxy S9 model that looks almost identical to this year's S8. Almost, yes, but there are a few key design differences, and now a new leak appears to confirm at least one important change.
If all the leaks, rumors, and information from our own trusted sources is to be believed, Samsung's Galaxy S9 and Galaxy S9+ will essentially be "S" upgrades. As Apple had done every other year with its iPhone lineup until recently, the new Galaxy flagships will feature upgraded internal components in a hardware design that looks almost identical to the previous-generation model.
In this case, Samsung is said to have been working on an exciting new Galaxy S9 design that featured an even better screen-to-body ratio than seen on the already-impressive Galaxy S8. Unfortunately, the design was cancelled for reasons unknown, and we're left with a rehash of the current-gen Galaxy S8's design. To be fair, however, the Galaxy S8 already has one of the best smartphone designs the world has ever seen, so it might not be such a bad thing to have it stick around for another year.
The front of the Galaxy S9 is expected to be just about identical to the Galaxy S8's face. Around back, however, rumors have suggested that Samsung finally plans to move its awful off-center fingerprint sensor so that it's centered beneath the camera. Now, a new leak from an anonymous user on Chinese microblogging service Weibo appears to have posted a photo that confirms the new placement of the Galaxy S9's fingerprint scanner.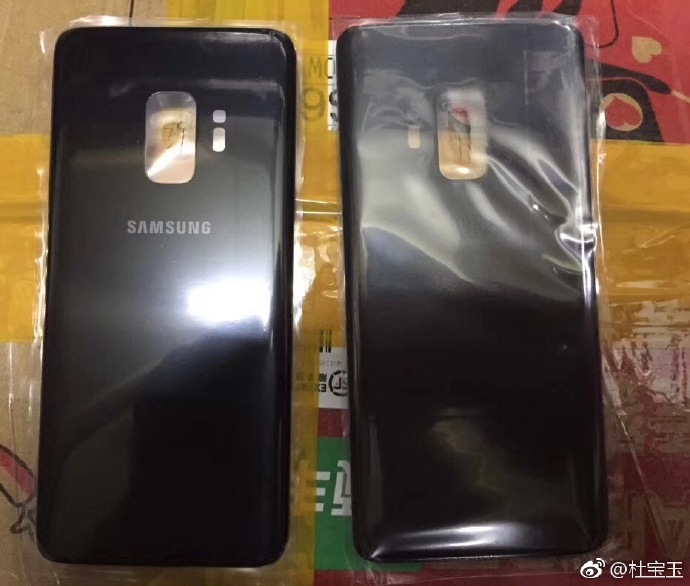 The photo shows the inside and outside of what is believed to be an authentic rear cover from the upcoming Galaxy S9. Galaxy S8 users will instantly recognize that there is no opening for the off-center fingerprint reader from the back of this year's flagship phones. Instead, spaces for the LED flash and heart rate monitor can be seen next to a single large opening when the camera lens and fingerprint sensor should be located.
Samsung isn't expected to unveil the Galaxy S9 and Galaxy S9+ until late February, so we'll see plenty of leaks before then that should offer further confirmation of this new design.